The COMO Shambhala Estate boasts an attractive spa, Kedara (formerly The Source), set further down the hill near a natural spring and waterfall. Toya Mampeh, the spring, is known in local lore for its healing properties. This mineral-infused water also feeds the chlorine-free Vitality Pool. Pick a custom-made treatment, stretch out over Yoga exercises, head up a climbing wall, or limber up in the Pilates Studio. Three, five and seven-night retreats are available, and the spa offers a wealth of ayurvedic, cleansing, get fit, stress management and rejuvenation programmes. The COMO is actually in Payangan, about a half hour's drive north of Ubud.
9 / 10
Location
Past lush rice fields and rural villages, a small country lane arrives at COMO Shambhala Estate, which sits on a lush expanse of property lining the sacred Ayung Valley. Peace and tranquility abide, the only sound chirping of birds and the ever-present buzz of tropical insects. There's nothing nearby, which is the point, but if you need a little action, Ubud town centre is only six miles (10 km) away. Allow two hours to reach Ngurah Rai International Airport.
10 / 10
Environment
The design is minimal and natural, with all materials inspired by the resort's surroundings. Indigenous plants and trees, local wood and stone, and traditional décor immerses guests into Balinese culture. The wellness aspect shines through from the welcome drink onwards (if you must know, a cucumber, honey, lime and ginger concoction), with the entire resort conspiring to make you feel healthier.
There are two swimming pools cut into the rocks, decks to sunbathe and bales to have treatments and Pilates sessions in. The sound of the river, the waterfall and all of nature's family croaking and singing at the same time, along with the shockingly wonderful humidity, all filled my every pore with tenderness and energy. 
9 / 10
Treatments
A highlight of the property is the possession of one of Bali's eight sacred natural springs, from which water is drawn to use in all the spa treatments – a visiting tea master proclaimed this water to be the purest he's seen in the world. Another highlight is the Zen-like wellness centre. Upon arrival, guests booked in the wellness programme (which has an extra nightly fee) are given a consultation, with questions ranging from diet, to sleep to caffeine consumption, then prescribed treatments and activities based on their personal lifestyle and goals.
Treatments range from colonics, massages and meditation, to yoga, Ayurveda and digital detox. There are also two fitness centres, a tennis court, an outdoor pool with picturesque views, three natural rock spring pools, and various open-air yoga pavilions. Just like each guest's wellness plan, service is very personalised, including personal assistants to ensure every need is met. Service is extremely hands on, so you'll need to speak up if you'd like less attention.
One wellness activity per day will be included in stay. Private movement and mindfulness sessions, body care and facial treatments and massage therapies, will all be available during the stay. They also invite us to join sessions from thier daily schedule of activities such as Hatha yoga, Pilates and Pranayama meditation.  
The à la carte menu that you will be prescribed at the start of your stay will form an integral part of your wellness experience. Menus consist of a perfectly calibrated mix of raw and cooked ingredients with very specific nutritional purposes to nourish you during your stay. Only the freshest, natural and organic ingredients are used in COMO Shambhala Cuisine — all sourced locally and according to seasonality.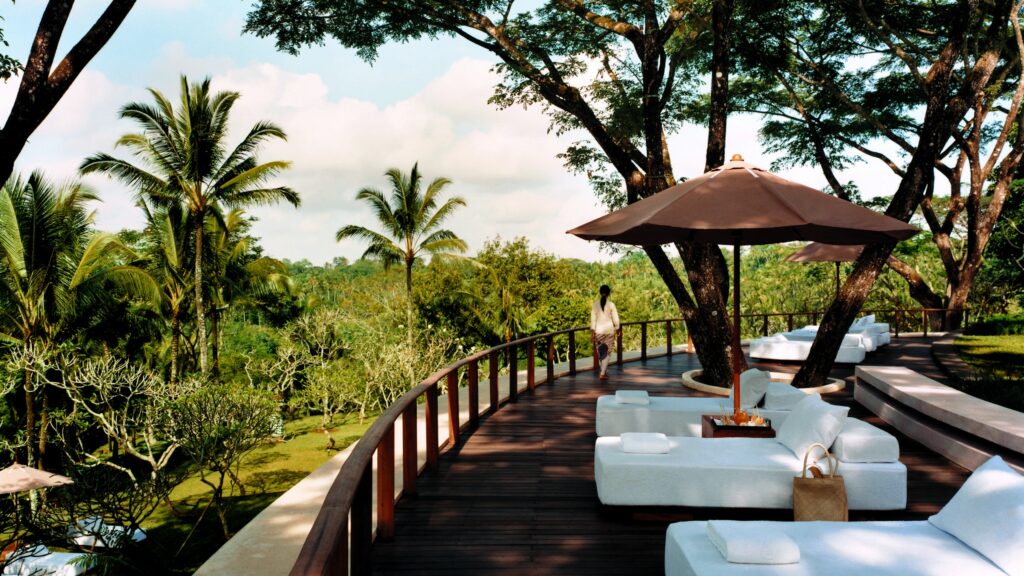 Programme dates can be arranged according to Eve Persak's availability in Bali and guest's travel plans. COMO Shambhala Estate offers a range of luxury accommodation ranging from intimate Garden Rooms to Residential Villas.   
Programme inclusions: 
• Nutritional therapy consultation per seven-night stay, including a diet plan 
• Prescribed à la carte menu featuring COMO Shambhala Cuisine 
• Personalised activity schedule 
• One wellness activity per day including, private movement sessions, mindfulness sessions, body care, facial treatments and massages 
• Accommodation 
• Daily breakfast, lunch and dinner 
• Services of a Personal Assistant 
9 / 10
Accomodation
Elegant, dark-wood rooms are set in homelike residences, each with a private pool, a communal lounge area, and a fire pit lit each evening by the residence's personal assistant. There are also one and two-bedroom villas. Daybeds encourage lounging, as do open-air soaking baths. Healthy, alcohol-free minibars and wide tea selections continue the wellness theme, though there's also French press coffee (don't panic, stiff drinks can be ordered).
8 / 10
Food and Drink
There are two restaurants on the Estate: Glow and Kudus House. Both are architecturally beautiful and overlook the gardens that surround. Glow is more open, spacious and also has a raw menu and food is available all day. Kudus House stands in a 155 year old former Javanese residence and has a more traditional Indonesian menu, offering breakfast and dinner. All food at the Estate is organic, seasonal, fresh from local fields and completely delicious. It makes being a vegetarian really easy with choices like spicy young coconut noodle and vegetable salad with cashew nut dressing, but they equally have fish and meat dishes that are divine.
Kudus House is the à la carte breakfast venue, which is set in an ornately carved, 100-year-old wooden house relocated from central Java. Daily juice and health tonics with names like 'relief' featuring pear, celery and cucumber, take up multiple menu pages. Although there are a number of healthy breakfast options such as mung bean and tofu dahl, or mango and chia muesli, if you're feeling a little deprived there are also more indulgent choices like buckwheat pancakes or eggs Benedict.
The main restaurant, Glow, features sunset facing views of the valley, and spa-inspired, locally sourced choices. Imports are limited, so don't expect fancy caviars or cuts of beef. Vegetarian and vegan options are plentiful, and additional dietary requests are expected and well catered to.