Mortgage Rates Today – A review of things you need to know before you go home on Monday; ASB and TSB change mortgage rates, services sector strong despite issues, Govt 'misleading' on EV utes, swaps firm, NZD holds, & more

Here are the key things you need to know before you leave work today.
MORTGAGE RATE CHANGES
ASB cut its 1yr rate and raised its 3, 4, and 5 year fixed rates to levels of its main rivals. More here. TSB raised is three longest rates too.
TERM DEPOSIT RATE CHANGES
No changes to report here today.
THE RETURN SURGE ENDS
The number of New Zealand citizens returning long-term was at its lowest level in April since records began in 2002. But +6300 people still arrived here (net) in the year.
AVOIDING A DOUBLE-DIP
Economists have been upwardly adjusting their economic forecasts in recent days in the face of stronger-than-expected data and the major bank economists now see first quarter GDP producing a positive figure – that is, economic growth.
STRENGTH DESPITE CHALLENGES
Supply-side issues are weighing on the services PSI. New orders came in with a very high index level of 62.1 recording a strong sector. But tourism and education remain a drag on the overall sector and that especially affects Auckland. Despite that, the May level was well above its long-term 'normal' and despite those supply issues. It is a sector where the expansion remains strong.
MISLEADING SIGNALS
The new car importers lobby group, the MIA, is worried that Government ministers have been "potentially misleading" in their upbeat assessments of the coming availability of EV utes. The MIA says "despite comments by some Government Ministers this morning, manufacturers of current popular makes of utes have confirmed they will not have battery electric (BEV) utes of their brands coming to the market in the next 12 to 24 months … our expectation is plug-in hybrid (PHEV) utes might become more widely available by 2025 and full battery electric (BEV) utes after that."EV Utes on Mass not Yet.pdf
UPCOMING DATA
Please note that the May REINZ data will be available here at 9am tomorrow.
GOLD SOFT
Compared to where we opened this morning, the gold price is down -US$12 and now at US$1866/oz in early Asian trading. It closed in New York at on Saturday at US$1878/oz and in London at US$1881/oz.
EQUITY MARKETS THIN
There are public holidays in many key equity markets today. Most of Australia is closed for their Queens Birthday holiday. In Shanghai and Hong Kong, it is a long weekend for their Dragon Boat Festivals. Tokyo is open and has started with a +0.4% rise in early trading. The NZX50 Capital Index is open and is -0.3% lower in late trading. The S&P500 futures index suggests Wall Street will open flat.
SWAP & BONDS YIELDS UP
We don't have today's closing swap rates yet. If there are significant changes again today, we will update this item. They probably held. The 90 day bank bill rate is unchanged at 0.32%. The Australian Govt ten year benchmark rate is up +4 bps at 1.46%. The China Govt ten year bond is up +3 bps at 3.15%. The New Zealand Govt ten year is up +1 bp at 1.65% and now the same as the earlier RBNZ fix of 1.66% (-1 bp). And the US Govt ten year is up +3 bps to 1.46%.
NZ DOLLAR HOLDS
The Kiwi dollar is holding at 71.4 USc and just marginally above where it was this morning. Against the Aussie we are little-changed at 92.7 AUc. Against the euro we are still at 59 euro cents. That means the TWI-5 is still at 73.2 and marginally off its low from where we opened this morning.
BITCOIN JUMPS
The bitcoin price has found its wings today and is now at US$39,222 and up +5.0%% from where we opened this morning, spruiked by Elon Musk talking his book. His cult followed. Volatility in the past 24 hours has been extreme at +/- 7.1%.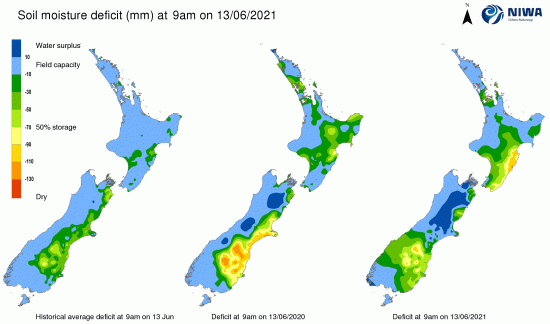 This soil moisture chart is animated here.
Keep ahead of upcoming events by following our Economic Calendar here ».
Mortgage Rates Today – A review of things you need to know before you go home on Monday; ASB and TSB change mortgage rates, services sector strong despite issues, Govt 'misleading' on EV utes, swaps firm, NZD holds, & more

Tag: Mortgage Rates Today