InvestorPlace – Stock Market News, Stock Advice & Trading Tips
Advanced Micro Devices (NASDAQ:AMD) may have crushed it in 2020, but after soaring more than 75% since last January, AMD stock has less room to run in 2021. Even as many factors continue to work in its favor.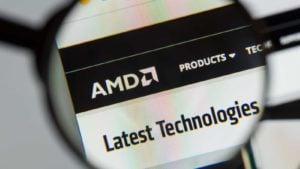 Source: Casimiro PT / Shutterstock.com
That's why it's been a losing trade to bet against it in the past year. The novel coronavirus wound up being a tailwind rather than a headwind.
While many industries struggled, this company's end-users in the cloud-computing and gaming industries thrived. This is turn allowed the company to continue to not only meet, but beat expectations.
On the right side of many megatrends, it's clear the growth train isn't slowing down anytime soon. However, for those looking for big returns out of this stock, the ship may have already sailed.
That's not to say shares are set to crater from here. Barring an overall market correction, I'm doubtful shares will fall from today's levels (around $91 per share), back to below $60 per share. Yet, shares may be more likely to "grow into their valuation" than head higher, from here.
Why It's Too Late to Buy AMD Stock
There's no denying that Advanced Micro Devices has some of the strongest prospects out there. As our own Matt McCall discussed, the AMD has big exposure to several key megatrends. These include AI, cryptocurrencies, and self-driving cars.
Accelerating chip demand from these emerging end-users, coupled with increased demand from existing end-users in cloud computing, gaming, and other industries, may mean continued above-average growth in the coming years.
In addition, AMD has also gained significant ground against Intel (NASDAQ:INTC) when it comes to CPUs. No longer the scrappy underdog, as of late the company has given its long-dominant rival a run for its money.
However, both these factors (demand acceleration, market share growth) are more than reflected in its current share price. Sure, this hasn't so far been a concern among investors when it comes to AMD stock. But, it may start to make a difference in the coming months. Especially if two things happen.
First, if the company fails to gain more ground against its longstanding rivals. Second, if tech stocks cool off, or correct, in the coming months, it will be hard for shares to rally significantly higher from today's price levels.
AMD May Grow Into Its Valuation
My "on the fence" view of AMD stock isn't based on the company's fortunes fast reversing in the coming year. Instead, it's based more on investors stepping off of the gas, and letting his high-flying stock grow into its valuation.
I see this happening if the company's increases in CPU and GPU market share come to a halt. As rivals fight back, investors may be less willing to increase the stock's growth premium.
With a new CEO at the helm, and other large-scale changes, Intel is trying to shake off its "dinosaur" reputation, and turn itself back around. It may be harder going forward for Advanced Micro Devices to gain additional CPU market share.
Market share gains in the GPU space may be difficult as well going forward. As this Fintech Zoom commentator recently noted, leading GPU name Nvidia (NASDAQ:(NVDA)) could regain the ground it's recently lost to AMD.
Besides its own underlying improvements, a big factor in this stock's stellar 2020 performance was investor enthusiasm for big tech stocks. Even if markets overall do not correct (as some currently fear), we could see investors continue to rotate out of 2020's "winners," and into sectors that underperformed in the prior year.
Again, barring an overall market correction, I don't see AMD's stock price falling significantly from here. But, I wouldn't count on this stock producing returns in the next twelve months on par with its performance over the last twelve months.
Bottom Line: AMD Is Hardly a Screaming Buy
The issue with AMD stock is not that it's set to fall big from today's prices. Rather, the issue is that, after its impressive run since last March's "coronavirus crash," the stock is running out of runway in the near-term.
It's possible that the stock gets another boost when it announces earnings after the close on Jan 26, bit while solid results could help push shares above $100 per share, additional runway beyond that may be limited. Even as some analysts (like Wells Fargo's Aaron Rakers) have given the stock a stunning $120 per share price target.
Even so, considering the risk shares "grow into the valuation," as rivals catch up (and tech stocks potentially correct or cool off), there's not much reason to buy AMD stock at today's prices. Bottom line: don't bet against it, but stay on the sidelines for now.
On the date of publication, Thomas Niel did not (either directly or indirectly) hold any positions in the securities mentioned in this article.
Thomas Niel, a contributor to InvestorPlace, has written single stock analysis since 2016.
The post It's Hard to Bet Against Advanced Micro Devices, but Shares Could Be Topping Out appeared first on InvestorPlace.
The views and opinions expressed herein are the views and opinions of the author and do not necessarily reflect those of Nasdaq, Inc.