Boeing News – Boeing's Biggest Obstacle to Reboot is Boeing

To get Brooke Sutherland's newsletter delivered directly to your inbox, sign up here.
Boeing Co. is on the cusp of a major comeback — if only it can get out of its own way. 
Demand for air travel is snapping back much faster than expected from the devastation of the pandemic, led by a sharp rebound in domestic trips within the U.S. and China. After more than a year cooped up in their homes, people are eager to take advantage of the accelerating vaccine rollout and a loosening of travel restrictions to visit friends and family. Even the outlook for business travel is brightening, with Delta Air Lines Inc. and United Airlines Holdings Inc. predicting that corporate road warriors will start to return in greater numbers domestically by the fall as more offices and schools reopen. International travel remains hobbled but there's a growing effort by countries to take a data-driven approach to assessing risks rather than defaulting to keeping borders closed. Boeing has previously projected a return to pre-pandemic levels of passenger traffic by 2023 or 2024 but Chief Executive Officer David Calhoun said this week that the recovery has been "more robust than I ever imagined."
With traffic rebounding at such a brisk pace, the debate in the aerospace market is quickly shifting from whether there will be enough passengers to whether there will be enough planes. Airbus SE last week announced plans to aggressively ramp up production of its best-selling A320 series jet starting later this year, with a goal of exceeding the pre-pandemic pace by 2023. But Boeing is standing pat. That's in large part a reflection of the outsize impact China has on the demand picture for its jets. The country was the first to ground Boeing's 737 Max after two fatal crashes and it's been a notable holdout on blessing the jet for a return to flight amid ongoing trade tensions with the U.S. "If I'm not allowed to serve, I cede global leadership in an industry [that] our country and our company has enjoyed for quite a long time," Calhoun said Thursday at the Bernstein Strategic Decisions conference. But for all of the flag waving, Boeing's ability to poke itself in the eye remains unrivaled. Case in point, Calhoun also spent a decent amount of time during Thursday's presentation talking about the latest in an unfortunate series of delivery hiatuses, this one affecting the 787 Dreamliner. 
It may seem jarring to talk about delivery delays being problematic at the present moment. It wasn't long ago that airlines were seeking to defer every handover they could — if not outright canceling orders. But there are early signs that carriers are rethinking those decisions and starting to plan for growth again. Air Lease Corp. has said some customers that canceled orders for the Max during the pandemic are now looking to reverse course. Fresh interest for the jet has trickled in from existing customers, including lessor SMBC Aviation Capital and Ryanair Holdings Plc. Southwest — which flies an all-737 fleet and is the largest Max customer — topped up its order in March and recently told the Dallas Morning News the carrier could need hundreds more airplanes to support its growth plans.
Before the pandemic, there was actually a shortage of airplanes, particularly the narrow-body workhorse jets used primarily for domestic jaunts but increasingly for ocean-crossing journeys as well. Boeing and Airbus couldn't make enough of them as the supply chain struggled to keep up with steadily climbing production rates. When the Max was grounded, airlines were indignant that Boeing had delivered a flawed product and left them out of the loop on key elements of the flight-control software system blamed for the accidents. But they were mostly frustrated because they wanted the seats on those planes and not having them was costing them money. 
Calhoun predicted the big U.S. airlines would be supply-constrained again by this summer as they rebuild their networks. During the pre-Covid part of the Max crisis, airlines scrambling to make up for the lost capacity flew larger jets than needed or retrofit older planes. But those options look less viable in the pandemic recovery. The oldest, gas-guzzling models were the first to be retired when the pandemic hit. Fuel costs have climbed but debt is still cheap. With the airlines under pressure to improve their sustainability profile and keep operating costs low, they may be more motivated to purchase more fuel-efficient new models than drag the clunkers back out of the garage. If this trend materializes, it sets up Boeing to finally clear out the glut of inventory it's amassed over the course of the Max crisis and pandemic, and chip away at its more than $40 billion of net debt. But to state the obvious, the company first has to be able to actually deliver planes to the customers who want them.
In April, Boeing recommended operators temporarily ground recently built Max jets and again halted deliveries. The issue was an electrical glitch tied to degraded connections for certain cockpit components after a change in manufacturing processes. It proved much more easily fixable than the reworking of the flight-control software system blamed for the two Max crashes. The roughly five-week delivery hiatus came to an end in mid-May. But shortly after the Max's most recent woes were sorted, Boeing halted deliveries of its wide-body 787 Dreamliner — also for the second time. Undelivered jets had piled up in Boeing parking lots for five months as engineers worked to inspect and repair tiny wrinkles in the inner lining of the Dreamliner's carbon frame. The company broke the lull in March but paused shipments again in late May after the Federal Aviation Administration sought additional information about changes to analytics and process controls in the production process.
It's unclear how long this latest 787 delivery halt will last. There are no new problems with the airplane itself, but as part of the previous pause the company reworked its systems to "be more perfect," Calhoun said. "Anything that's different requires a vote and requires a deep look by the FAA, and they just have questions about the approach that we took. Not objections, just questions," he said. "And I don't want to ever repeat the mistake of us trying to pressure them to do things faster than they would otherwise do them and as diligently as they would otherwise do them. I'm still in that frame of mind. I will stay in that frame of mind and it's going to create some instability." Boeing had previously projected it would deliver most of the 100 Dreamliners it had in inventory by the end of this year and Calhoun said he anticipated the company would still process the "lion's share" of those handovers even with this pause. 
These recent issues are more hiccups than catastrophes, and Boeing's deference to the FAA is a welcome change. But the delivery interruptions are still annoying for customers who have had to deal with problem after problem from the company for several years now. It's an unsightly and untimely reminder that Boeing's effort to overhaul its culture and prioritize quality control and safety over profits remains a work in progress. There were also flaws with the company's Starliner spacecraft, setbacks with its much delayed 777X jet and a long run of glitches with its KC-46 military aerial tanker. The company is also facing cost overruns and other headaches with a project to replace the Air Force One jets. Calhoun bristled when questioned about this pileup of manufacturing miscalculations on Boeing's April earnings call, pointing out Airbus has had its share of production issues as well. That may have been true in the past but now Airbus is looking at a clear runway to further press the market share advantage it won during the Max crisis into a pandemic recovery. Boeing is still mired in problems of its own making.  
Deals, Activists and Corporate Governance
Trane Technologies Plc is getting a new CEO. Mike Lamach is stepping down in July after more than a decade in the role and will be replaced by the company's chief operating officer, Dave Regnery. Lamach will continue to serve as executive chairman until the first half of 2022. He's one of the most revered CEOs in the industrial world, and the good things I heard about him from analysts and investors led me to profile Lamach last fall. He oversaw a transformation of Trane from a ho-hum heating and air-conditioning business shackled to a security unit and a diversified industrial products arm into a focused company that's leading the way on more environmentally friendly technologies. Over the course of Lamach's tenure, shares of the company have returned more than 700% in total after adjusting for the 2013 spinoff of lockmaker Allegion Plc and the reverse Morris trust transaction completed last year for its industrial business. That's nearly double the performance of the S&P 500 Index.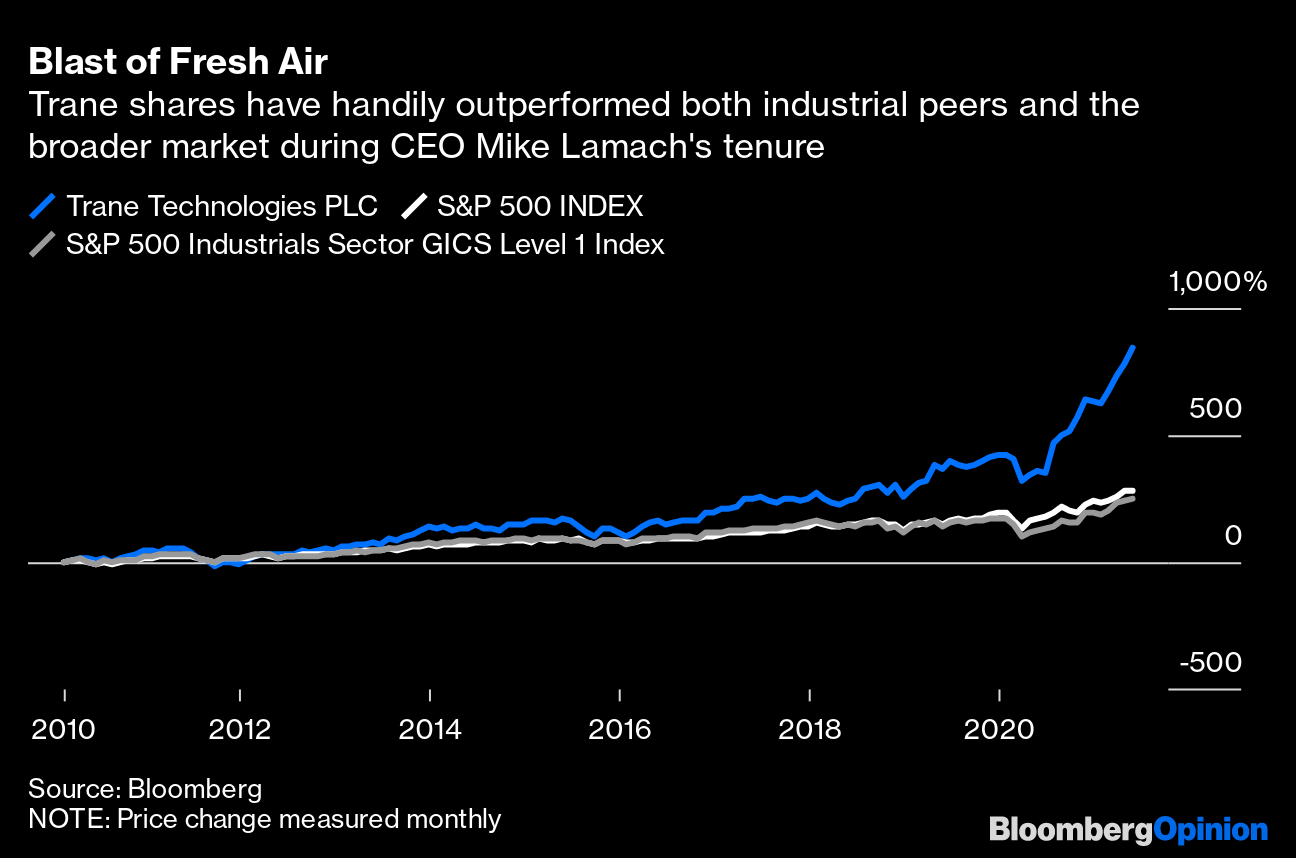 A decent chunk of those gains have come over the course of the pandemic as Trane capitalized on a boom in demand for better indoor air quality and furthered its commitment to environmental, social and governance initiatives, including an explicit link between sustainability goals and executive compensation. Lamach will be missed but Regnery has been his right-hand man and has experience running all of Trane's main business units as well as interacting with the investment community. Trane shouldn't skip a beat during the transition. 
Exxon Mobil Corp.'s board will now feature three nominees from activist investor Engine No. 1 in a stunning turn of events for a blue-chip company that was previously considered untouchable. The thrust of Engine No. 1's campaign was to force Exxon to better prepare for a world in which the fossil fuels at the heart of its current business are no longer the default energy source. For Exxon specifically, this forced injection of fresh ideas about the company's role in a low-carbon future can only be a good thing — even if management may not feel like it at the present moment, my colleague Liam Denning wrote. But this is also a  pivotal moment for ESG investing. Investors don't only want companies to say the right things when it comes to climate change and good corporate governance; they want them to mean it. That sounds rather obvious but it really wasn't until recently. Perhaps the showdown at Exxon is more the exception than the rule. But it's clear that sheer size and even financial performance aren't the shields they once were. General Electric Co. investors generally love what CEO Larry Culp has done to turn the company around and yet a majority of those who participated in the company's annual meeting still voted against his rejiggered pay package. That shareholder vote was nonbinding but it still sends a message. Hopefully companies are listening.
Welbit Inc. is now at the center of a food-equipment bidding war. Ali Group, a closely held maker of gelato dispensers and donut fryers, offered $23 a share in cash for the company. According to a proxy filing update, Welbilt's board has deemed Ali's offer (worth about $4.6 billion including debt) reasonably likely to lead to a deal that's superior to the all-stock transaction it agreed to with Middleby Corp. in April. Middleby's bid is worth about $21 a share, based on recent market prices. The food fight stems from a growing push to digitize and automate more of the cooking and dining experience as the restaurant industry recovers from the pandemic and struggles with labor shortages. Middleby said this week that second-quarter orders were trending up 23% in its commercial food-service arm compared to 2019 levels. Consolidation offers an opportunity to combine research and development spending and sell more products to more customers. Middleby has argued that its offer for Welbilt is still superior because it's made more progress with antitrust filings and because the stock payout gives the target company shareholders the chance to benefit from future growth. But Welbilt shares are now trading above Ali's bid, signaling traders expect Middleby to not only match that price but top it. That may be a stretch: The valuation of Middleby's initial proposal was already rich and unlike Ali, it has public shareholders to answer to. 
Tidbits. GE said the Department of Justice had concluded its review of the merger of the company's GECAS jet lessor business with AerCap Holdings NV. The deal is on track to close later this year or early in 2022, CEO Culp said Friday at the Bernstein conference. German chemical giant BASF SE and private equity firm Clayton, Dubilier & Rice are reportedly considering exit options for the Solenis water-treatment business they co-own. They're seeking a valuation of as much as $5 billion including debt, people familiar with the matter told Bloomberg News. Apollo Global Management Inc. agreed to buy EmployBridge, which generated close to $3 billion in revenue last year from providing staffing services to industrial firms. Terms weren't disclosed. 
Bonus Reading
The Covid Trauma Has Changed Economics – Maybe Forever
'Covid Zero' Policies Make Asia a No-Go Zone for Air Travel
The $100 Billion Market for Carbon Offsets Faces Rifts on Rules
Hedge Funds Keep Cutting Bullish Wagers on Commodities 
How the World Ran Out of Everything
Hedge Funds Are Missing a Very Obvious Target: Anjani Trivedi
Boeing to Test 'Curtain of Air' to Fight Covid in Jet Cabins
The Southwest Is America's New Factory Hub. 'Cranes Everywhere.'
This column does not necessarily reflect the opinion of the editorial board or Bloomberg LP and its owners.
To contact the editor responsible for this story:
Beth Williams at [email protected]loomberg.net
Boeing News – Boeing's Biggest Obstacle to Reboot is Boeing

Tags: Boeing News