Tesla News – Tesla Stock price Up 1% – Time to Buy Tesla Stock?

This time last year, everyone would have jumped at the opportunity to buy Tesla stock. The company was posting impressive numbers across the board, and it was in the run-in to become a member of the S&P 500 index.
Now, the company- already an S&P 500 inductee – appears to have been struggling. 22021 hasn't exactly gone as planned for the Tesla stock price, and those looking to buy Tesla stock will need to be careful and pick their points carefully.
Tesla Stock Performance 2021
Tesla began 2021 on a relative high, with its stock trading at $702.40. The stock continued a bullish run and hit a high of $901.24 on January 25. Sadly, the stock began a lengthy dip.
The stock rebounded slightly as the company announced a $1.5 billion Bitcoin investment, but even that couldn't save it for long. TSLA bottomed out on March 5, hitting $539.08. The stock has been looking to climb back to its lofty heights, but things haven't exactly gone to plan. The stock has continued to trade within that range, and its high since bottoming out has been $780 – hit on April 14.
With a current price peg of $610.12, TSLA isn't exactly in its strongest position. So, skepticism is understandable for those looking to buy Tesla stock.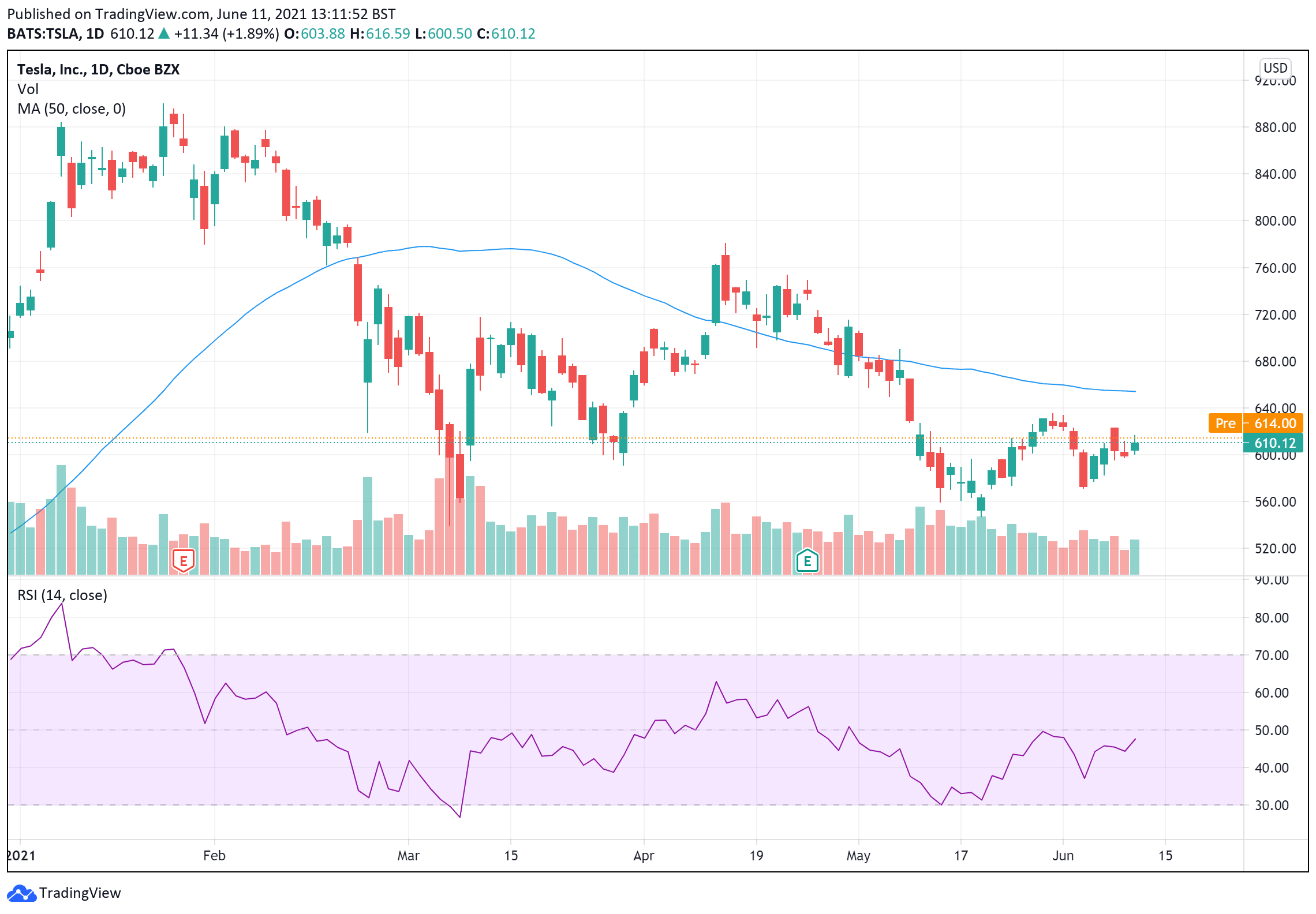 The stock is currently holding a relative strength index (RSI) of 46.42, which shows that it is underbought. However, with the stock price trailing the 50-day moving average, concerns are consistent that it could still dip in the coming days.
Tesla Hits a Snag in China
China has always been a big part of Tesla's growth. The country is the world's largest market for electric vehicles, and it has been the driver behind Tesla's big sales in the past year. The company made $3 billion in sales in China for Q1 2021, accounting for 29 percent of global sales in the quarter. That number is up from 21 percent for all of 2020.
However, sales in China dropped sharply in April. According to reports, Tesla sold 25,845 made-in-China vehicles in April – down 27 percent from the 35,478 sold in March. Tesla also exported 14,174 cars from its Shanghai gigafactory in April, although its March figures are undisclosed.
The company has suffered in China, with reports of vehicle crashes and explosions. Negative reports like these affected Tesla's stock even more – especially in a period when the stock was already declining.
Beyond the dwindling sales, Tesla has also paused the expansion of its Shanghai plant. Growing tensions resulting from the former U.S. administration's tariffs have affected the country, and the Biden administration has yet to show signs of advancing economic talks with China.
Numbers for this month haven't exactly been better. Uncorroborated reports from The Information revealed that net orders in China dropped to about 9.800 in May, down almost 50 percent from over 18,000 in April.
Concerns Over First-Quarter Numbers
Tesla reported glistering numbers in Q1 2020. Revenues jumped 74 percent to hit $10.39 billion, marking the best revenue growth in 10 quarters. Adjusted earnings of $0.93 a share also beat the $0.79 a share estimates from Zack's Investment Research.
However, analysts had some concerns about how Tesla's earnings performed. In Q1, Tesla got revenue through regulatory credits of $518 million – a 46 percent increase year on year. The company also sold $272 million worth of cryptocurrency in the quarter, notching a $100 million profit. Recall that the company bought $1.5 billion in Bitcoin in February.
All in all, Tesla made $618 million through non-sales ventures. With $1.58 billion in EV tax credits gotten in 2020, it only made $721 million. All of these have raised red flags, especially among those looking to buy Tesla stock.
Expansion Efforts on the Way
Despite all of this, there is a lot to look forward to. Tesla is currently working on an expansion, in line with Musk's vision to build 20 million EVs every year over the next decade.
The company's expansion efforts include the construction of a manufacturing plant in Berlin, where it would manufacture the Model Y. There have been some bureaucratic issues with the plant, but Tesla remains optimistic.
Tesla is also working on its fourth plant near Austin, Texas. The plant will be the company's largest, spanning 2,000 acres. It will handle Cybertruck production – as well as that for the Model 3 and Model Y.
Tesla is also set to unveil the Model S Plaid – the fastest car in its fleet. These developments should excite investors.
Looking to buy Tesla shares now? Invest at eToro!
75% of all retail investor accounts lose money when trading CFDs with this provider.
Tesla News – Tesla Stock price Up 1% – Time to Buy Tesla Stock?

Tags: Tesla News