In a week shortened by the start of the Christmas holiday season, investors will be watching developments on Capitol Hill where reports at time of writing US lawmakers have ironed out remaining sticking points to an additional stimulus bill and are poised to vote on the aid package on Sunday. Uncertainties on that front kept investors on the edge Friday when the major equity indices fell, ending their three-day winning streak.
Barring any last minute sticking points, the vote could provide $900 billion in additional aid to people and businesses affected by the COVID-10 pandemic. With the stimulus package being the major market-moving event before the new year holidays, below are three stocks we're monitoring next week for their company-specific news.  
Investors will be closely watching Tesla (NASDAQ:) on Monday when the electric carmaker becomes part of the Index, achieving blue-chip status and commanding one of the top weightings in this prestigious benchmark.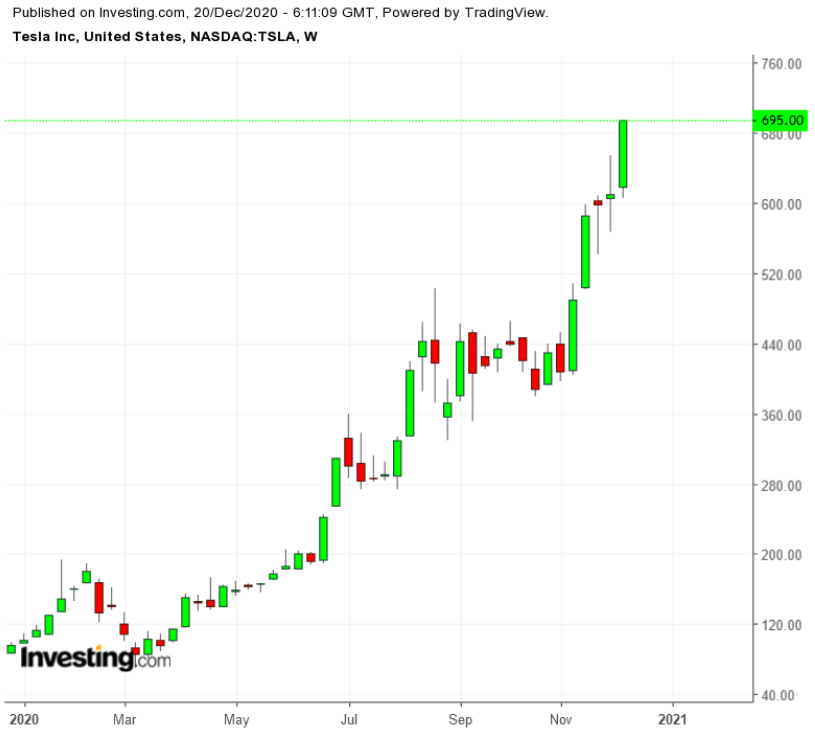 In the run-up to this historic moment, Tesla stock has soared, gaining about 43% in just the past 30 days. It closed on Friday up 5.96% at $695 a share.
What's boosting the stock now: the move will require index funds that track the SPX to purchase billions of dollars worth of Tesla stock to match their holdings with the broader index. With a market capitalization of more than $600 billion after a 700% rally this year, the Palo Alto, California-based electric vehicle maker will be joining as the seventh-largest company by weight on the index. 
This year's reversal in Tesla's fortune came after the company managed to for five straight quarters, a successful completion of a giga factory in China and the start of construction of another similar plant in Germany.
Before the S&P debut, many analysts warned that Tesla shares are vulnerable to a significant pullback following the SPX listing as the rise in share value hasn't been matched by similar increases in the company's financial results.
Moderna (NASDAQ:) stock may see some activity after the drugmaker gained emergency use authorization for its COVID-19 vaccine in the US on Friday. Buying shares of the companies that are developing vaccines against COVID-19 has been a great bet this year.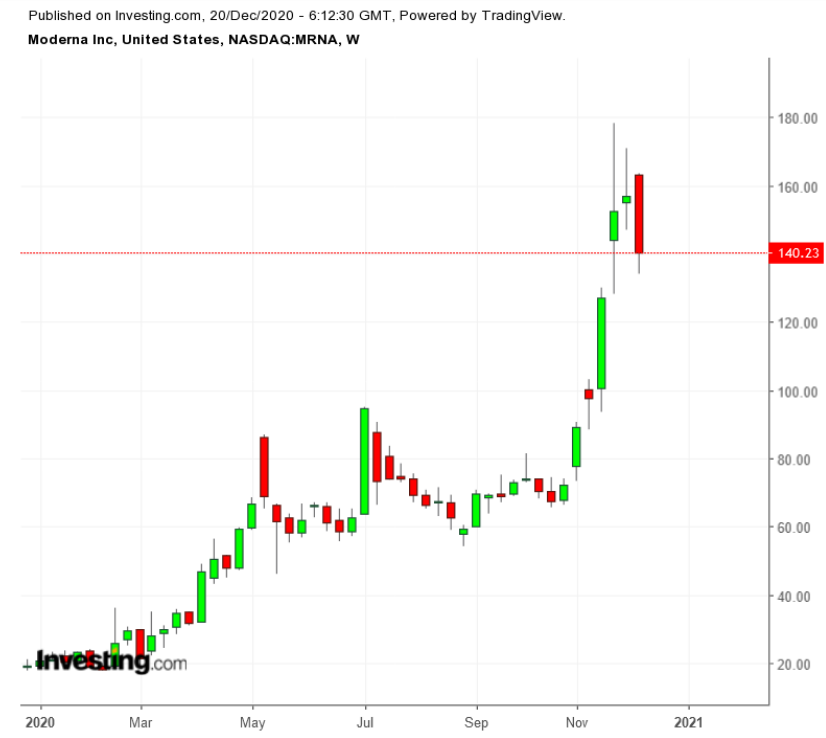 Some of the leading candidates in the race to beat the deadly virus have seen the value of their stocks more than double in just a few weeks. Moderna's COVID-19 vaccine is the second vaccine to gain emergency authorization from US regulators this month after the one developed by the drug giant Pfizer (NYSE🙂 and its German partner BioNTech (NASDAQ:).
The vaccine is the first product from Moderna, whose stock has surged more than 600% this year, to be cleared for use. Delivery of the vaccine to the US government will begin immediately and an application for full approval is expected next year, Moderna said in a statement.
"I am proud of what the Moderna team has achieved in collaboration with our partners," Stéphane Bancel, the company's chief executive officer, said.
"We remain focused on scaling up manufacturing to help us protect as many people as we can from this terrible disease."
3. Nike 
Nike (NYSE🙂 shares are likely to see buying interest during the upcoming trading week after the world's largest sportswear company reported that topped Wall Street expectations after Friday's close. The upside results were fueled by e-commerce sales and rebounding growth in China.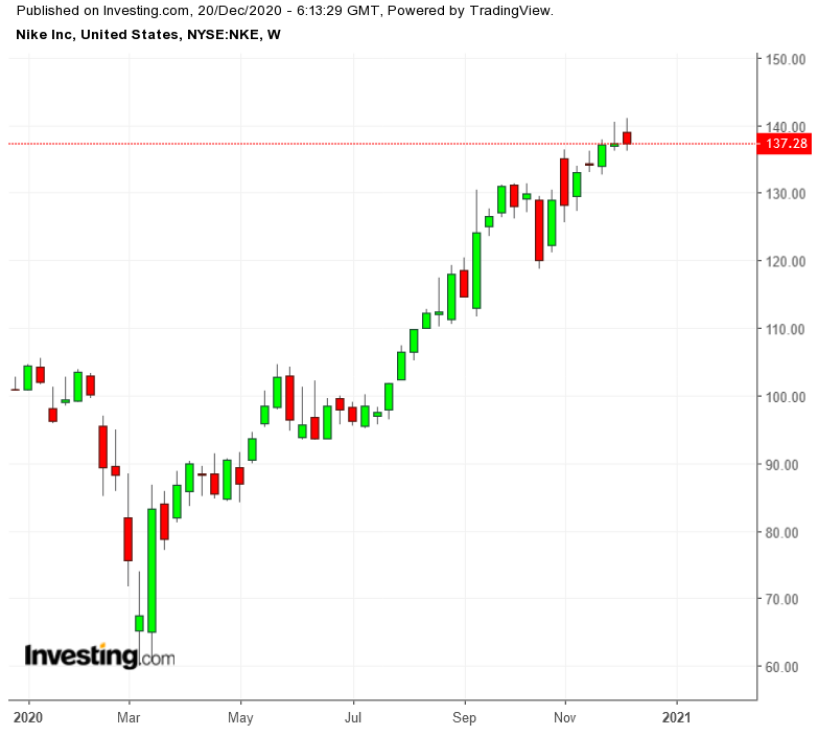 Sales rose 8.9% to $11.2 billion in the quarter ended Nov. 30, while earnings grew to $0.78 a share, compared with a $0.62 estimate.
"These are times when strong brands get stronger," Chief Executive John Donahoe said during an earnings conference call.
"Permanent shifts toward digital, athletic wear, and health and wellness, continue to offer us incredible opportunity."
With sales gaining momentum after the pandemic slump, Nike raised its fiscal 2021 outlook, calling for revenue to rise at a low-teens percentage year-over-year. Nike shares jumped more than 5% in after-hours trading, adding to their 35% rally this year. They closed on Friday at $137.28.