Paypal Stock – PayPal to allow crypto payments, Musk says chip drought will hit Tesla
"The most spectacular personal loss of wealth in history."
These are the words billionaire investor Mike Novogratz used to describe on Twitter the consequences of the collapse of U.S. investment firm Archegos Capital.
Shares in banks Credit Suisse and Nomura, among Archegos's prime brokers, sank by 14 and 16.3 percent respectively on Monday.
Pressure is mounting on global lenders linked to the U.S. firm's downfall, amid reports of losses in the region of $6 billion, according to Reuters. 
In other news, the car industry is making headlines today with Sweden's Volvo announcing it will give 24 weeks of paid parental leave to all its 40,000 employees across the world, Germany's Volkswagen confirming it will rename its U.S. unit "Voltswagen of America," as it further commits to its electric future and Tesla's Elon Musk warning against a shortage of battery cells that could halt it scaling up production of the Tesla semi truck.
Elsewhere, today's graph looks at parental leave in Europe (spoiler: Sweden is strongly at the top), an interview on the current crisis in Syria, for which the United Nations and the European Union hope to raise $10 billions in aid at the fifth Brussels conference on the country, and a video about how green energy might actually be endangering wildlife in Germany.
Read on for more of the day's business news in full. 
Giulia Carbonaro
Digital correspondent 
P.S. Did someone forward this to you? Sign up here
Trade has started moving again through the Suez Canal after the 400-meters-long container ship Ever Given was freed following six days blocking the vital shipping route. Egyptian authorities say it will take around three days to clear the backlog of hundreds of vessels waiting to transit through the canal.
PayPal is set to announce later today that U.S. customers who hold cryptocurrency in their digital wallets will now be able to use it to make purchases through its system.
Elon Musk has warned the global semiconductor drought will further hit his electric vehicle company Tesla. In a tweet, he said the chip shortage will make it difficult to scale-up production of the Tesla semi truck.
German auto maker Volkswagen announced on Tuesday it will rename its U.S. unit "Voltswagen of America" as the company goes electric.
The fallout of U.S. investment firm Archegos Capital is likely to cost some global banks billions of dollars in losses, including Switzerland's Credit Suisse and Japan's Nomura – $6bn, as reported by Reuters. 
Deliveroo's initial public offering on the London's Stock Exchange due on Wednesday will be priced at 390 pence a share [$5.34], the bottom of its initial range. Just over a week ago, the food delivery company had hoped to raise $12.2bn, but it's now valued at $1.8bn less than its original expectations.
Nike is suing Brooklyn art collective MSCHF over its controversial "Satan Shoes," launched in collaboration with rapper Lil Nas X. The 666 shoes – which are modified Nike Air Max 97 sneakers containing a drop of real human blood in the soles and featuring a pentagram and an inverted cross – sold out in less than a minute at launch, for $1,018 a pair.
The U.S. Customs and Border Protection (CBP) will seize all disposable gloves made by Malaysia's Top Glove, the world's largest producer of latex gloves, after concluding the company uses forced labor in production. 
The European Securities and Markets Authority, Europe's markets watchdog, will be fining credit rating agency Moody's $4.3 million over breaches of conflict of interest rules in Britain, France, Germany, Italy and Spain. The biggest fine, $3.2 million, was imposed on Moody's UK.
Volvo Cars will give its 40,000 employees worldwide the right to six months of paid parental leave in a bid to increase gender equality and attract talent. The Swedish auto maker's new policy is in line with Sweden's national parental leave policy, one of the most generous in the world (see graph below), with 480 days to be shared by both parents at 80 percent of their salary.
The U.S. 10-year Treasury yield, a key measure of long-term borrowing in the country, hit a 14-month high, topping 1.77 percent, as the U.S. vaccination program and planned fiscal boost make investors optimistic about the economic recovery.
French consumer confidence unexpectedly hit a three-month high in March, despite extended COVID-19 restrictions in the country. The INSEE statistics agency reported households' confidence in the economic situation has risen to 94 this month, up from 91 in February. But the numbers are still below the long-term average.
WATCH: Wind power is Germany's fastest-growing energy source, expected to reach about 85 percent of all energy consumed in the country by 2050. But wind turbines can also pose a threat to wildlife, with thousands of birds getting killed each year flying into them. Can there be a balance? 
The European Union and the United Nations are co-hosting the fifth Brussels Conference on Supporting the future of Syria and the region on 29-30 March 2021, which hopes to generate pledges of $10 billion – $4.2 billion for humanitarian relief inside Syria, and the rest for refugees sheltering in the region. 
We talked to Simon Neaime, professor of economics and finance at the American University of Beirut, about the current situation in Syria and how Brussels will address this most critical humanitarian crisis, both inside the country and in the region.
What's the current situation in Syria?
In Syria the economy is really collapsing, the whole country is collapsing.
After 10 years of war, the war has drained all of Syria's economy. So you have a devastated infrastructure. Cities, the industrial cities in Syria, have been totally destroyed and you don't have any economic sector that is functioning. The pound has been depreciating at a high rate from 50 Syrian pounds per dollar, up to 3,000 today. The GDP in Syria has lost 60 percent of its value. Half of the Syrian population has been displaced either internally or externally. Here in Lebanon, we have about 1.5 million Syrian refugees. You have also similar numbers in Jordan and in Turkey. So really, I mean, Syria is today in a mess.
But do you think the pandemic has pushed Syria and the plight of its people down the international agenda?
The amount or the extent of financial support that the West can provide to Syria has been severely affected by the pandemic. We know that now the European Union countries are worried about how to deal with a pandemic and its devastating consequences on the GDP of the EU, on the unemployment rates and so on and so forth. So we really have a problem as a result of the pandemic and badly needed help for Syria is something that's not obvious under the current conditions.
And finally… Countries have been making great progress in recent years to bring more gender equality into the workplace, including granting more parental leave days to both mothers and fathers. In this graph, we show the maternity and paternity leave situation in the EU and the UK in 2019, the latest data available.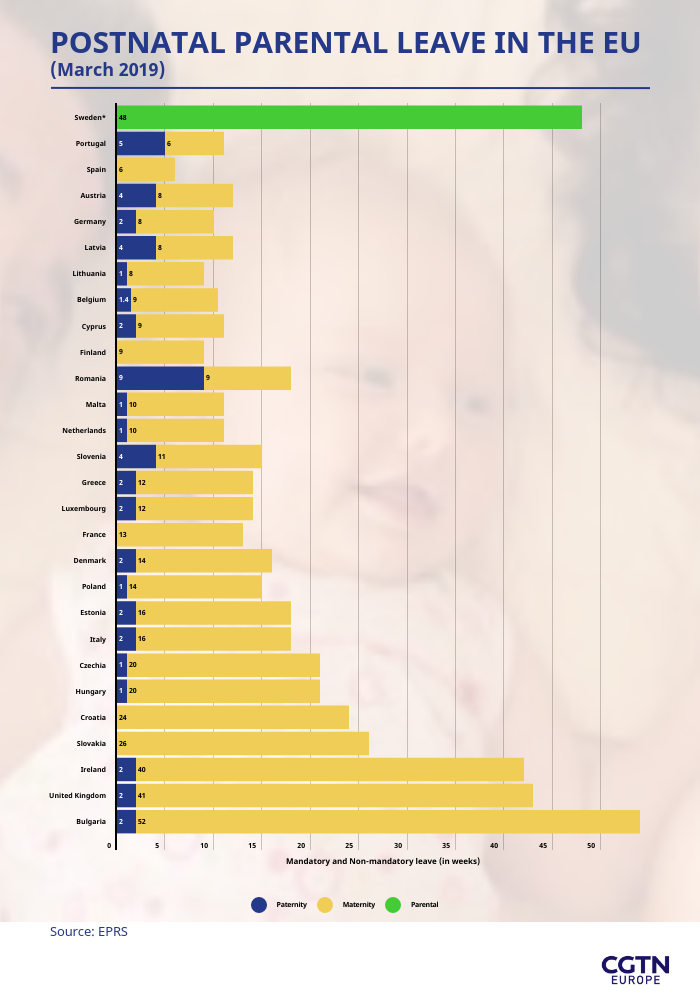 Source(s): AFP
,Reuters
Paypal Stock – PayPal to allow crypto payments, Musk says chip drought will hit Tesla

Tags: Paypal Stock