Paypal Stock – The Boy With The Turquoise Ribbon | Webster Kirkwood Times
As the director of the Congenital Diaphragmatic Hernia Clinic at St. Louis Children's Hospital, Neonatologist Dr. Tasnim Najaf treats children born with a rare defect — a hole in the diaphragm. The condition allows a child's abdominal organs to enter the chest, impairing normal lung function. The children she treats are considered the sickest in the neonatal intensive care unit.
Najaf's patients often have chronic lung issues and check in with her regularly. During a check-up several years ago, one of her patients — a 7-year-old boy — told her he had taken his shirt off at school, which lead to questions from his peers about his scars. The doctor went to find a book to help him explain his condition to his classmates, but her search came up empty.
Najaf then went to Webster Groves resident Sarah Smith, nurse coordinator for the Fetal Care Center at Children's Hospital, to ask for help.
"She came to me a few years ago and said, 'We should write a book about this,'" said Smith, a former preschool and elementary school teacher. "We got together subsequently with Teresa Starkey, a child life services person who helps children and families understand their diagnosis."
The three authors created a script, but realized they needed an illustrator to complete the project. Enter Webster Groves High School junior Amelia Dorsey, a Girl Scout looking for a project to earn her Gold Award.
Dorsey met with the writing team to learn more about Congenital Diaphragmatic Hernia, then got to work sketching scenes for the book. 
"When I was thinking of the concepts, I wanted it to look like the boy himself was drawing it," said Dorsey. "I just thought it was sad that there were no resources for these kids who have this disease to teach others about it. I really wanted to help them."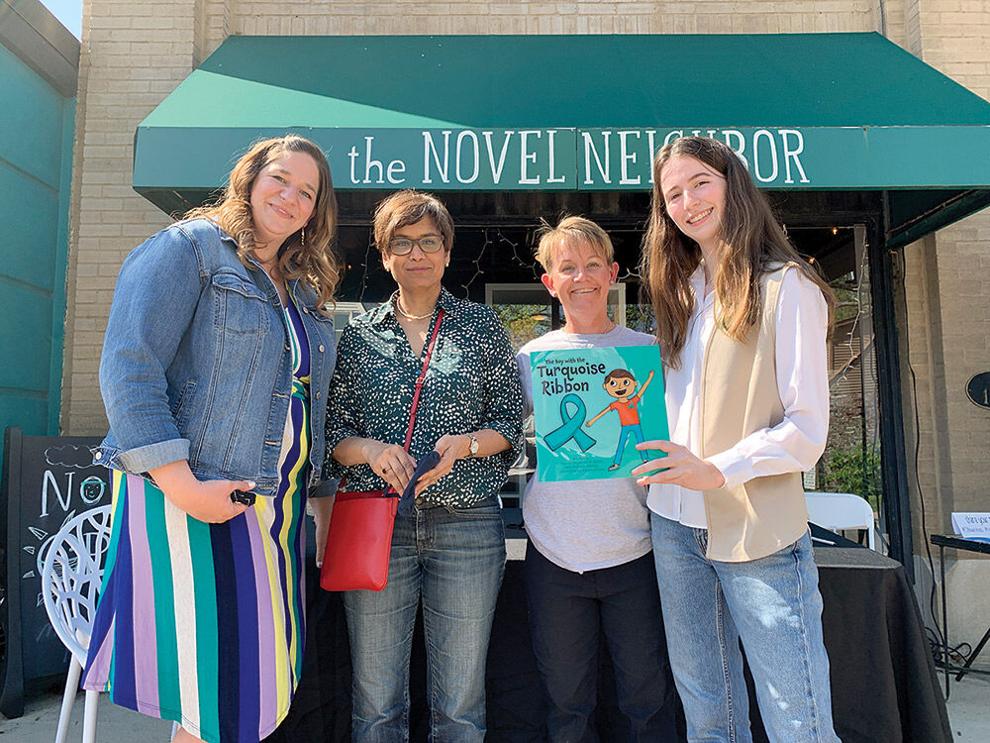 "The Boy With The Turquoise Ribbon" follows Thor, a 7-year-old boy, as he navigates his diagnosis and treatment, and ultimately overcomes Congenital Diaphragmatic Hernia. It covers the basics of the disease, as well as how to treat others who might seem a little different.
"He introduces himself. He talks about how he's similar to his peers, but goes into his differences and the reason why," said Smith. "He goes through what CDH is, how it's found, talks a little about his stay in the neonatal intensive care unit and all the things that happened there.
"He talks about why he has scars on his neck and his belly," she continued. "It goes into why he's a little bit smaller than some people and why he didn't eat as much as his peers when he was little, and how he goes back to the doctor every year. He talks about the people who helped him along the way to get stronger. It ends with making a point: If you see someone with scars, ask about them. Don't talk about them behind their back."
The book's whimsical illustrations are full of diversity. When designing her characters, Dorsey said she wanted to make the book accessible to as many children as possible.
"Anyone can have this disease, so it shouldn't be limited to one person. I wanted to show lots of different people," said Dorsey.
When planning for the book began, a turquoise ribbon symbolized support for CDH patients. The official design has since changed to a pink and blue ribbon with clouds, though many still use the turquoise ribbon. A note at the beginning of the book explains the change.
"The Boy With The Turquoise Ribbon" is available for purchase at The Novel Neighbor,  7905 Big Bend Blvd., or online through PayPal at tinyurl.com/zu3649c5. When buying through PayPal, purchasers can order a book for themselves or leave a note and donate a copy to those in need.
Paypal Stock – The Boy With The Turquoise Ribbon | Webster Kirkwood Times

Tags: Paypal Stock