Home Gym – Gym junkies trade in dumbbells for yoga mats amid pandemic

Yoga gained several fans during the lockdown and the pandemic, with even the most hardened gym junkies turning to it in the last two years. In fact, now that gyms are reopening, many of those who wouldn't dream of missing a day of gymming pre-pandemic are no longer in a hurry to return to it. They cite their newfound love for yoga as the reason for this, as it has not only kept them fit but even kept mental stress and anxiety at bay. On International Yoga Day, we chart the rise in yoga's popularity during the pandemic and why former gym enthusiasts – as well as Bollywood celebs and social media influencers – can't get enough of it.
No equipment, easy-to-follow tutorials: Reasons behind yoga's lockdown success

When gyms were shut in the first phase of the lockdown, lack of equipment at home forced many to look at other forms of workout, and that was when they decided to take up yoga. "I was confused about how to work out at home. Being a gym junkie, I was used to working out with weights and machines. When I looked up 'home workouts' online, almost every second post on social media was about yoga, and because there was so much content already available, that was easy to follow, I started doing yoga in April last year. I opted for beginner flow and as my flexibility improved I switched to some advanced asanas. I could see a change in my body. I never felt exhausted, like I sometimes used to when I would go to the gym, and I have better stamina now," says Srijita Mehra, a Gurgaon resident, who is working as a marketing professional.


Breathing exercises that help boost immunity added to yoga's appeal
Former anchor and now a motivational speaker, Vanndana Vaadera, tells us that she switched to yoga last year "because I knew there were breathing exercises and yoga asanas that could help in boosting immunity". "It was the need of the hour," says Vaadera, adding, "I have been doing kapalbhati, pranayama, singhasan and anulom vilom regularly. I do feel stronger and better than before." Fashion designer Gautam Gupta says he was inspired by his mother to take up yoga to build immunity. "She has always been doing yoga and breathing exercises and when she had COVID last year, thankfully, her recovery was quick, while breathing exercises helped her a lot. Once you start doing yoga, you also feel more energised and it helps you improve concentration. I take one hour online class each day and I am a follower of yoga for life now," says Gautam.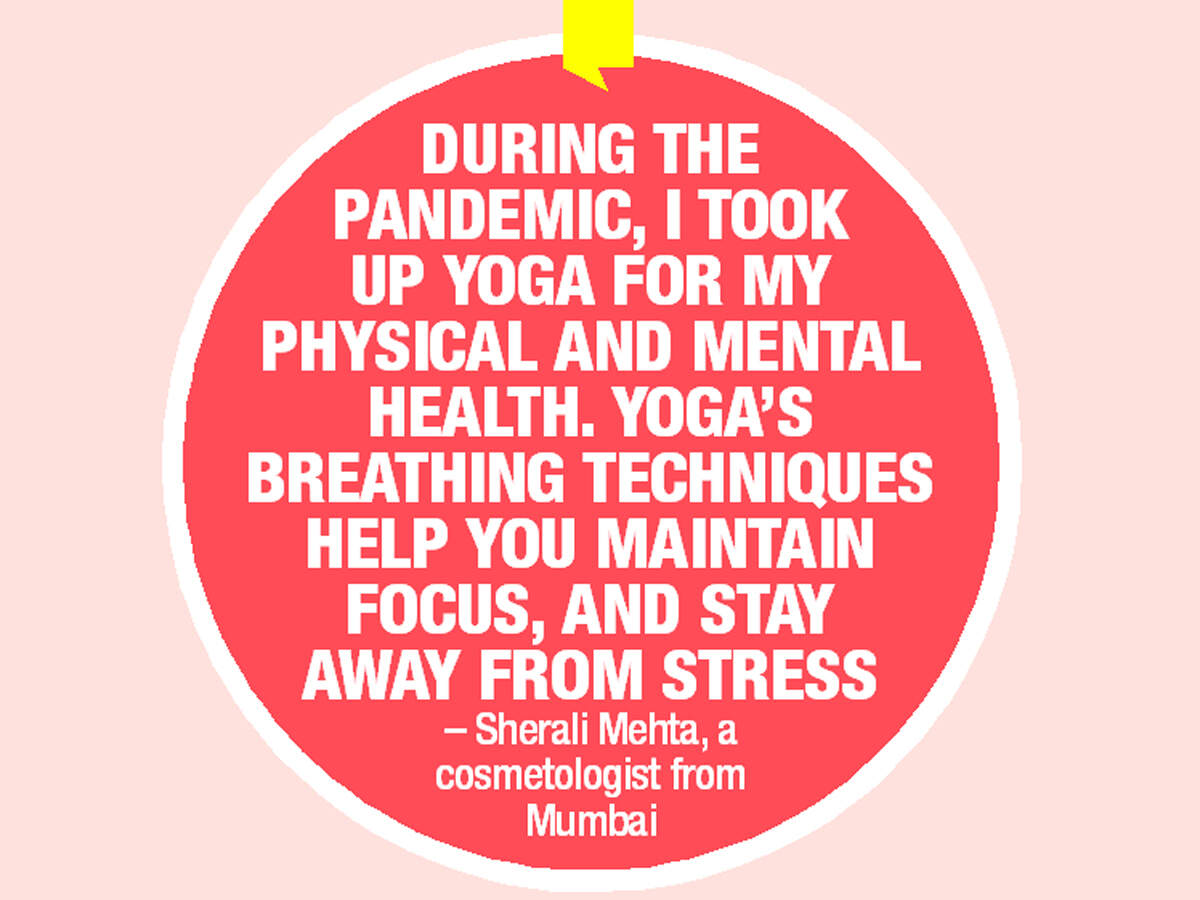 'Yoga helped me deal with anxiety while living alone'

While maintaining physical strength and fitness was the reason many took to yoga initially, over time, they say that it helped them stay away from anxiety and stress, too. Mumbai-based communication professional Krapika Singh says, "Staying alone for more than a year now has not been easy. I used to work out in a gym before the lockdown last year, but started doing yoga in March 2020 because it's something we can do at home while other workouts need equipment. Yoga has brought a lot of patience in me and kept me away from anxiety, which is a very common feeling when you stay away from family. I am also a certified yoga trainer now, so it has also changed my life."

Home Gym – Gym junkies trade in dumbbells for yoga mats amid pandemic]

Tags: Home Gym