Home Gym – Where to Order Meals in Singapore This Week: Lucali BYGB, Blue Jasmine, Goodwood Park Hotel, Buona Terra, Oriole

By Destin Tay
May 17, 2021
Make the most out of your mealtime with our roundup of timely treats for delivery
In-store dining may be out for the time being, but our island's bevy of restaurants are primed and ready with takeaway and delivery options to make eating in special again. Hunker down with Blue Jasmine's new signature Thai dishes, or take your pick from Goodwood Park Hotel's dining outlets. Need a guilt-free bite after completing that 30 minute home workout? Oriole's new plant-based burgers and sandwiches are sure to satisfy. 
Indulgence is also still a possibility; Buona Terra's new drive-through and delivery service will allow you to enjoy a Michelin starred five-course tasting menu from the comfort of your own home. Alternatively, share a slice with family through Lucali BYGB's 24/7 delivery service.
Related: 10 Stylish New Restaurants in Singapore to Visit in 2021
The Singaporean outpost of famed Brooklyn pizzeria, Lucali, is officially the first pizzeria in Singapore to offer 24-hour islandwide delivery, 7 days a week. If you'd rather forgo to wait, curbside takeaway is a speedier option to scratch the itch for Lucali staples like the rustic calzone, cacio e pepe, and the ever-popular spicy rigatoni. Do also save space for a slice of the signature 18-inch Original Pizza Pie. 
For those who will sorely miss the feeling of being out and about, Lucali BYGB will also be expanding its monthly Smashable Sessions into Instagram Live. Join owner Gibran Baydoun through a virtual late-night wine masterclass alongside New York's best sommeliers, chefs and foodies—the perfect accompaniment for a night in with good nosh. Order here.
Lucali BYGB | 66 Kampong Bugis, Level M, S(338987) | 8284 1325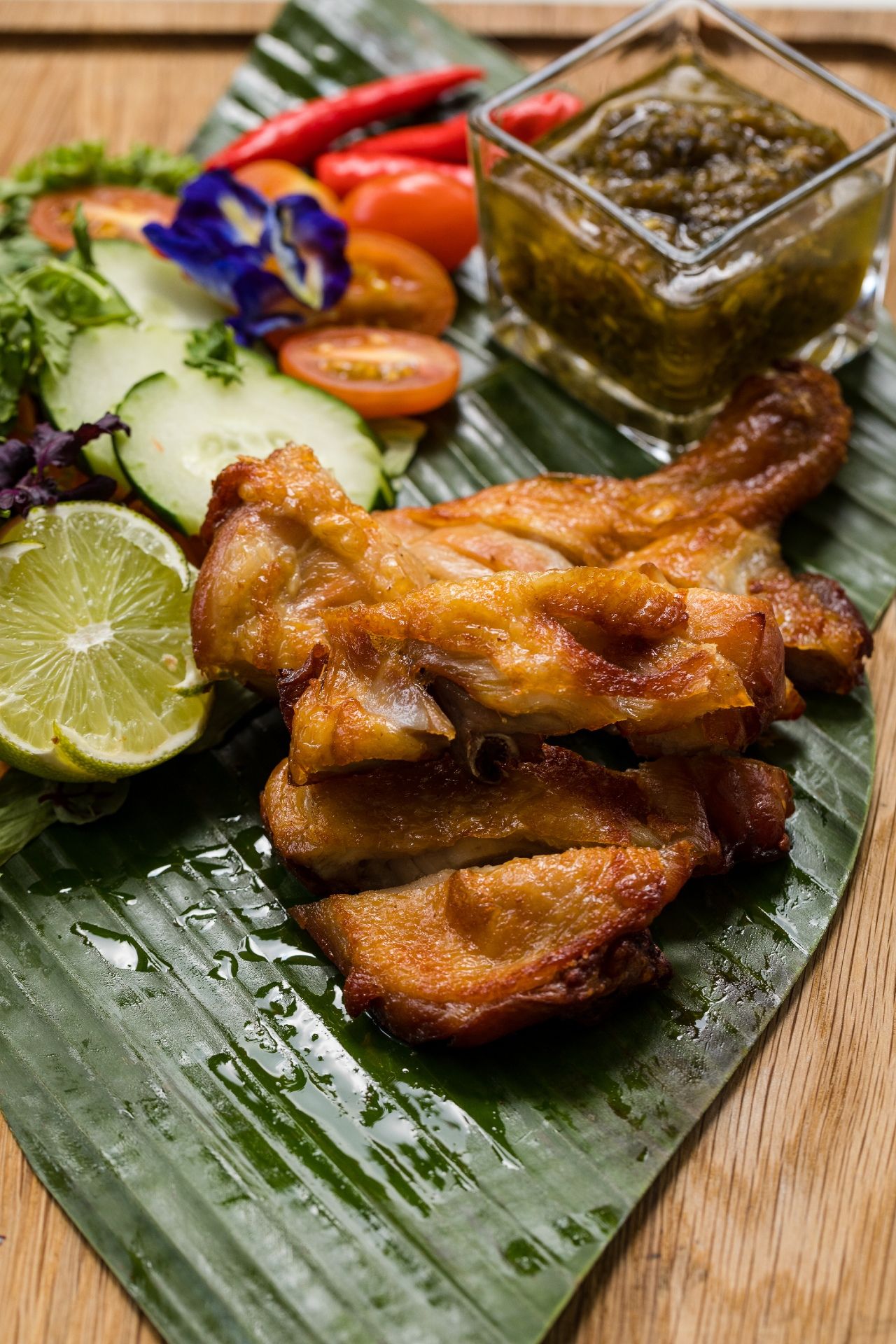 Whisk the tastebuds away to a trip through Thailand with Blue Jasmine's new line of signature Thai dishes of classic regional specialities and street food staples. Start the journey in Northern Thailand with the new sundried chicken with green chilli; follow along the coast with the aromatic Chiang Rai style stir-fried basil squid kaprao; and end with a Southern Thai favourite of gaeng som, a spicy-tangy orange curry brimming with chunks of sea bass and green papaya.
Fans of Blue Jasmine's Cha-Om Omelette will also enjoy the new Cha-Om crab meat fried egg. Think chunks of crab meat and acacia leaves paired with nam prik kapi, a moreish concoction of shrimp paste, palm sugar, dried shrimps and pea eggplants. Order here.
Blue Jasmine | 10 Farrer Park Station Road, Level 5, Park Hotel Farrer Park, S(217564) | 6824 8851
Related: Asia's 50 Best Restaurants Awards: Thai Chef Jay Fai Receives Icon Award—Asia 2021
Goodwood Park Hotel has expanded its list of renowned delicacies available for takeaway and delivery from the Coffee Lounge and Min Jiang. Savour a hearty Taiwanese porridge bento with equally comforting à la carte dishes like the deep-fried pomfret in 'Feng Sha' style, or enjoy a mid-morning yum cha from Min Jiang's dim sum selections. Favourites include the wok-fried carrot cake with special XO sauce. Otherwise, The Deli is ready to add decadent desserts to your home table.
Durian aficionados will not want to miss out on this year's Durian Fiesta which introduces new items like the D24 pandan Waffle Cake and the D24 & Sweet Potato Chestnut Tartlets. The former sees rich D24 pulp nestled between fluffy pandan waffles for a nostalgic treat, while the latter, a reimagined Mont Blanc with a flavourful combination of purple sweet potato purée, D24 pulp, and chestnut almond cream. Order here.
Goodwood Park Hotel | 22 Scotts Road, S(228221) | 6737 7411 (Coffee Lounge, Min Jiang, and The Deli) 6774 0122 (Min Jiang at Dempsey)
For those with a penchant for luxury, Buona Terra's exclusive takeaway and delivery menu may just be what you need. À la carte options include beef agnolotti with black truffle and cold capellini pasta with sea urchin and tomato essence. The From Land and Sea mains are ripe for sharing, including a hefty 1.3kg OP rib steak and the salt-baked Catch of the Day, the latter of which comes complete with hearty potato salad and herbs zabajon.
Can't decide? Place your night in the capable hands of chef Denis Lucchi and his Experiential five-course Tasting Menu, which will highlight the week's seasonal picks. Run the gamut with Buona Terra's cellar concierge and round off the meal with a hand-selected wine, Champagne or whisky.
Related: Discover Veuve Clicquot and Yayoi Kusama's Tribute to the La Grande Dame of Champagne
Plant based is in, and Oriole's lineup of reinvented burgers and sandwiches will be an environmentally conscious way to indulge. Get messy with the Ramly inspired Mission Impossible or savour a stretchy cheese pull with the Tindle Surprise. Oriole also gets creative with Karana jackfruit mix—while traditionally used as a substitute for pulled pork, Oriole mixes kizami nori in to create shredded tuna in Jack's Tuna Melt, complete with a vegan Worcestershire sauce and Monterey Jack cheese.
Oriole | 96 Somerset Road, #01-01, Pan Pacific Serviced Suites Orchard, S(238163) | 6238 8348


Home Gym – Where to Order Meals in Singapore This Week: Lucali BYGB, Blue Jasmine, Goodwood Park Hotel, Buona Terra, Oriole]

Tags: Home Gym