Cinedigm Stock price Forecast July 2021 – Time to Buy CIDM? | Fintech Zoom

Cinedigm (CIDM) stock rose sharply yesterday but was trading lower in early price action today. What's the forecast for CIDM stock and should you buy the stock in July 2021?
CIDM is a Los Angles-based entrainment company. It is an independent streaming entertainment company. The stock has almost doubled so far in 2021 and is outperforming the markets by a wide margin.
Cinedigm stock technical analysis
Cinedigm stock is not looking very bullish on the charts. It trades above the 10-day and 20-day SMA (simple moving average) but trades below the 30, 50, and 100-day SMA. The stock has found strong support at the 200-day SMA which is currently at $1.13. However, it is facing resistance at the 50-day SMA. The 14-day RSI is 49.8 and indicates neither overbought nor oversold positions. RSI values above 70 signal overbought levels while values below 30 signal oversold positions.
67% of all retail investor accounts lose money when trading CFDs with this provider.
CIDM stock recent developments
Yesterday, Cinedigm reported its preliminary results for the fiscal fourth quarter of 2021 that ended in March 2021. It reported total revenues of $8.3 million in the quarter. Its streaming channel revenues increased 197% year-over-year in the quarter and 39% sequentially.
Notably, the streaming war is heating up as legacy media companies like Disney, HBO, and Discovery are emerging as strong competitors to Netflix and Roku. Netflix is also planning a foray into video games that will help it increase the appeal of its services. Given its higher charges than streaming peers, Netflix would need to think of innovative ways to fend off competition.
Cinedigm reduces its debt
During the quarter, Cinedigm reached an agreement with AMC entertainment to sell its legacy digital cinema equipment. It would get $10.8 million as net proceeds over the next two years from the transaction. During the quarter, CIDM lowered its total debt by $37.3 million. It had total debt of $11.9 million at the end of the period. In the most recent update, it said that it has repaid all the loans, and it is a debt-free company now.
Streaming revenues rise
During the quarter, the company acquired several streaming companies. "We have now successfully completed the transition of Cinedigm from its legacy digital cinema equipment business to a high-growth, independent streaming entertainment channel and content company, underscored by the mix in our revenues this quarter, where streaming/digital revenues represented 75% of total revenues versus 48% in the fourth quarter last year," said the CEO Chris McGurk. Notably, the company hasn't yet filed the 10-K and blamed the COVID-19 pandemic for the delay.
Cinedigm streaming minutes rise
Cinedigm's streaming business continues to progress well and in June its total streaming minutes were 504.1 million. It was a new milestone for the company as its monthly minutes surpassed 500 million for the first time.
The company has been growing on the back of acquisitions and McGurk is optimistic about the business strategy. "We believe our current strategy puts us one step ahead of potential competitors as it enables us to acquire accretive independent streaming assets while rapidly growing the business organically," said McGurk.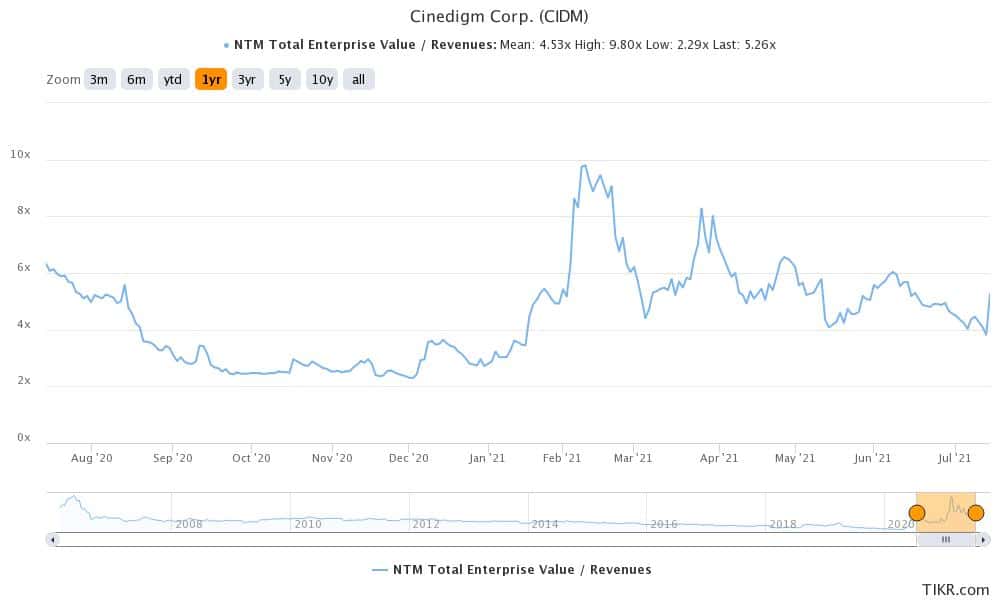 CIDM stock forecast
Only two analysts are covering CIDM stock and both of them have a buy rating. Its average target price of $3.25 is a premium of over 140% over current prices. Benchmark has a $3.5 target price on the stock while Alliance Global Partners has assigned a target price of $3.
CIDM stock currently trades at an NTM (next-12 months) EV-to-sales multiple of 5.3x. The multiples seem attractive considering the strong growth that the company is reporting.
Cinedigm stock is currently down over 37% from its 52-week highs of $2.33. The company is a penny stock as its stock price is below the $5 threshold specified by the SEC.
Overall, if you are willing to take the extra risk associated with penny stocks and want exposure to a growing streaming company, CIDM would fit the bill.
67% of all retail investor accounts lose money when trading CFDs with this provider.
Cinedigm Stock price Forecast July 2021 – Time to Buy CIDM? | Fintech Zoom

Tags: Roku Stock, Roku, NASDAQ: ROKU.
Stock Market, Latest News on C N N.