Stock Futures – Stock Markets Today: Vaccine stand-off, Fed's taper comments, Musk and Gamestop
Good morning. Europe's vaccination drama, Fed in focus and a short squeeze gets supercharged. Here's what's moving markets.
Shambles
As global Covid cases surpass 100 million, the EU's late and stumbling vaccination campaign threatens to deepen what already looks likely to be a double-dip recession. On Tuesday, the International Monetary Fund downgraded Europe's growth outlook while upgrading its global forecast on China's V-shaped recovery. Under pressure to expand inoculation and exit economically damaging lockdowns, Germany has called on the EU to restrict vaccine exports outside the bloc after similar steps by the U.S. AstraZeneca, which has drawn ire over delayed vaccine deliveries, faces European government officials this evening, in a call to resolve a standoff that is threatening to delay vaccinations further. 
The T-Word
The U.S. Federal Reserve finishes its first meeting of 2021 today, and Chairman Jerome Powell's comments on future bond buying will be watched closely. Powell, whose four-year term ends in February 2022, is likely to sound more cautious this week about tapering the Fed's massive asset purchases — even though the economic outlook has brightened further thanks to an expected big budgetary boost from President Joe Biden. Most respondents in a Bloomberg survey last week don't expect a taper of purchases until 2022. Just like the pace of asset purchases, interest rates are expected to remain unchanged for now.
Nonstop
GameStop surged in post-market trading on Tuesday, after Elon Musk tweeted about a Reddit forum's coordinated attack on short sellers of the stock that's now in its third week. The billionaire meme-aficionado's tout has sent the video game retailer's rally well past 900%, while short interest has held steady at a massive 140% of float. Michael Burry, the fund manager of 'Big Short' fame whose mid-2019 revelation of a long position in the stock helped trigger the frenzy, has now KOYNT1UM0Z" itemprop="suid"/>called it "unnatural, insane, and dangerous." Still, the persistent short squeeze has made millionaires out of armchair traders on the WallStreetBets forum, prompting some to wonder how capital gains tax works. 
Euro Scrutiny
European Central Bank policy makers have agreed to look deeper into the euro's appreciation against the dollar since the start of the pandemic, focusing on whether it's driven by differences in stimulus policies compared with the U.S., according to officials familiar with the matter. The review could shape how the ECB responds to an issue that has alarmed policy makers, who worry that the euro's strength over the past year depresses inflation that is already below zero. That could force the central bank to provide more monetary stimulus, even as it acknowledges mounting risks to financial stability.
Coming Up…
European stock futures are pointing modestly lower, and some of the day's biggest earnings news is already out. Results of Swiss chocolatier Barry Callebaut and chemicals group Lonza both missed estimates. Sweden's largest bank SEB posted better net income than expected, while Sweden's largest toilet paper maker Essity posted full-year performance in line with views. Earnings of Dutch telecoms firm KPN and production figures of gold miner Fresnillo are also due this morning. Italian shoemaker Tod's is expected after European markets close. In the European evening, get ready for the Fed rate decision, as well as earnings from Apple, Facebook and Tesla.
What We've Been Reading
This is what's caught our eye over the past 24 hours. 
And finally, here's what Cormac Mullen is interested in this morning
The fund manager of the future is crushing the market and has gone heavily overweight U.S. tech stocks. No, it's not the Robinhood contingent but the AI Powered Equity ETF, an exchange-traded fund driven by artificial intelligence. The fund now has more than 37% of its holdings in tech, a rise of 9 percentage points from around the time of the U.S. election, according to data compiled by Bloomberg. It has halved cyclical industrial exposure to about 3%. The ETF has risen some 12% so far this year versus a near 3% gain in the S&P 500 and beat the U.S. equity benchmark by about eight percentage points last year. The fund's "manager," a quantitative model which runs 24/7 on IBM Corp.'s Watson platform, looks to be doubling down on disruptors and shows little interest in the reflation trade which recently gripped the market. It has about doubled its position in Tesla Inc. over the period to 4.5%, the data showed, despite "human" qualms about its valuation. Despite slashing health care exposure, holdings in vaccine maker Moderna Inc. have gone to 2.8% from 1.1%. As Nicholas Colas, co-founder of DataTrek Research, put it Tuesday, the portfolio of well-known stocks covering well-understood themes looks like that of a successful 1990s hedge fund manager.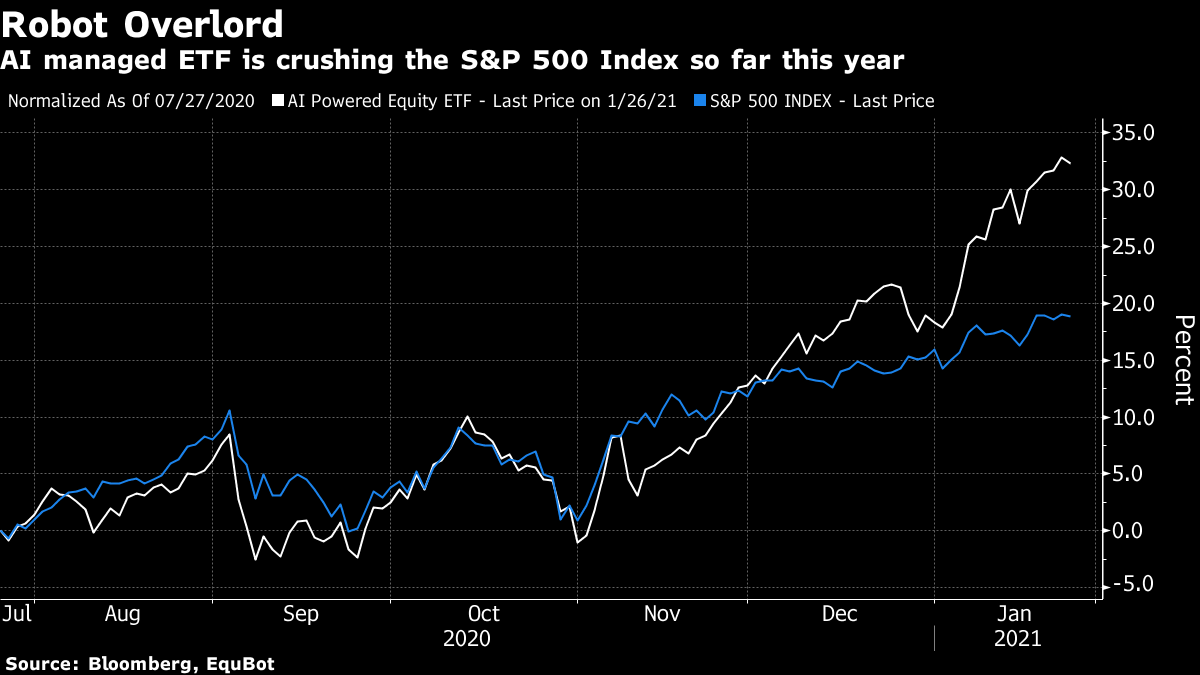 Cormac Mullen is a cross-asset reporter and editor for Bloomberg News in Tokyo.
Like Bloomberg's Five Things? Subscribe for unlimited access to trusted, data-based journalism in 120 countries around the world and gain expert analysis from exclusive daily newsletters, The Bloomberg Open and The Bloomberg Close.
---
Stock Futures – Stock Markets Today: Vaccine stand-off, Fed's taper comments, Musk and Gamestop