Stock Futures Today – China Stocks Approach This Year's Low as Traders Sell Favorites
Mainland traders rushed to offload institutional favorites on Thursday, as concerns about lofty valuations and tightening liquidity conditions sent China's stock benchmark tumbling by the most in seven months.
The CSI 300 Index fell 3.2%, the most since July, dragged lower by materials and consumer firms. The liquidity-sensitive ChiNext gauge of small caps fell 4.9% as China's central bank drained money from the banking system through open-market operations on Thursday. Overseas investors sold a net $1.1 billion of Chinese shares via Shanghai and Shenzhen stock connects, the most since September.
Kweichow Moutai Co. slumped 5%, leading the decline. The firm had recently been one of the most popular trades in China, with shares up more than 30% year-to-date through its Feb. 10 record. Longi Green Energy Technology Co., another popular stock, fell 9.2% while Tongwei Co. dropped by its 10% daily limit after rallying 41% this year through Feb. 10. Investors, who had crowded around growth stocks in the alcohol or new energy sectors, are turning wary that those shares have risen too high, too quickly.
"The trend is a continued shying away from overvalued stocks favored by institutional investors," said Mou Yiling, analyst at Kaiyuan Securities Co. "We expect the pullback in heated sectors such as baijiu to last as long as a year."
China's Top Stock Funds Trashed by $111 Billion Moutai Wipeout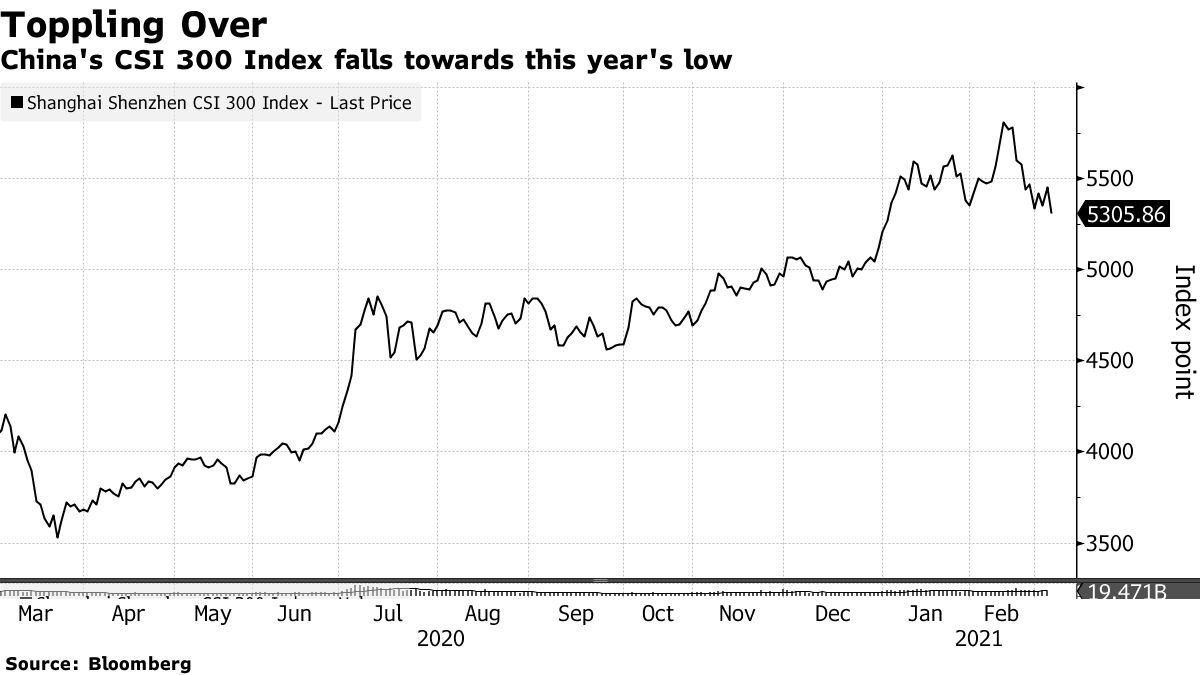 Thursday's rout comes as U.S. stock futures PFE1RT1UM0X"/>fell after an overnight surge in sovereign bond yields that dragged down shares on Wall Street. China led losses amid the PFE1RT1UM0X"/>worst drop in MSCI Inc.'s Asia-Pacific gauge this week.
It also comes after a warning from China's top banking regulator on Tuesday that he's "very worried" about risks emerging from bubbles in global financial markets and the nation's property sector.
Investors will remain sensitive to talk of bubbles going into the National People's Congress meeting on Friday, which will lay out China's economic goals and policy priorities. In a note on Thursday, Axi Chief Global Markets Strategist Stephen Innes wrote that "any focus on the authorities leaning against leverage via policy tightening will be closely watched" given the banking regulator's comments.
Meanwhile, Hong Kong's Hang Seng Index was 1.9% lower, led by the commerce and industry sector including Tencent Holdings Ltd., which was down 3.7%, and Meituan, which dropped 7.7%.
— With assistance by Catherine Ngai, April Ma, and Jeanny Yu
---
Stock Futures Today – China Stocks Approach This Year's Low as Traders Sell Favorites