Stock Futures Today – Stock Markets Today: AstraZeneca Vaccine, Merkel's Successor, Cryptocurrencies
Good morning. A common vaccine policy is called for, the battle to replace Angela Merkel has heated up even more and the semiconductor industry remains keenly in focus. Here's what's moving markets.
Common Policy
European Union governments have been urged to adopt a common approach to advice on the AstraZeneca vaccine which would limit the shot to people over the age of 60, an attempt to unify the bloc's approach after the disparities in policy in recent weeks. The UK., which reopened non-essential retail and leisure outlets on Monday, has hit its target of offering a Covid vaccine to all over-50s a few days early. In the U.S., meanwhile, Federal Reserve policymaker James Bullard said that getting three-quarters of the population vaccinated would be a signal that the pandemic crisis is nearing an end, providing fuel for the central bank to consider tapering its bond-buying program.
German Showdown
The race to replace Angela Merkel took a dramatic turn this week as the parties within her conservative alliance split on who should be the bloc's candidate for chancellor, setting the stage for a tense showdown before the country's elections in September. Officials in Merkel's Christian Democratic Union are concerned that the battle to replace her — between CDU party leader Armin Laschet and Bavarian premier Markus Soeder — risks losing the chancellery. Soeder is likely to continue to make his case on Tuesday.
Chip Competition
The semiconductor sector got another shot in the arm on Monday after Nvidia said it will offer its first server microprocessors, muscling into rival Intel's most lucrative market and setting up a new front in the increasingly competitive market. Nvidia jumped, while Intel dropped after the news. The move came as U.S. officials held a meeting with a number of chief executives on the chip shortage which has hit the global car market. President Joe Biden told the companies represented at the meeting that he has bipartisan support for his plan to provide $50 billion for semiconductor manufacturing and research to address the issue.
Coinbase Fever
Bitcoin edged closer to a new record on Monday and remains around the $60,000 mark in what promises to be a big week for the cryptocurrency world. The gains appear to be partly driven by anticipation of Coinbase Global, the exchange at the center of the speculative frenzy in cryptocurrencies which is expected to go public this week with a valuation that could hit the $100 billion mark and provide investors keen to tap the crypto market with a new way to play. The hotly contested position of the market's third-largest coin also seems to have been secured by Binance Coin, which has rocketed in value recently.
Coming Up…
European and U.S. stock-futures are mixed heading into Tuesday, after gains in Asia which followed trade data in China that pointed to a recovery in global demand. Europe's earnings calendar is topped by online delivery firm Just Eat Takeaway and sneakers and sports-apparel retailer JD Sports Fashion. UK. GDP data tops the economic agenda. Watch for any impact from a report that U.S. Treasury Secretary Janet Yellen will decline to name China as a currency manipulator later this week. Plus Ramadan, observed by hundreds of millions of Muslims worldwide, begins.
What We've Been Reading
This is what's caught our eye over the past 24 hours. 
And finally, here's what Cormac Mullen is interested in this morning
The pound is having a reversal of fortunes and its slide threatens to break technical support levels that could point the way to further downside. Having fallen out of an uptrend in place from September last week, the British currency is now testing its closely-watched 100-day moving average against the U.S. dollar. Sterling has fallen about half a percent against the greenback this month amid concern about the UK. vaccine rollout and is the worst performing of the Group-of-10 currencies. The decline comes after a five-month hot streak, when it rose about 8%. Leveraged fund positioning in futures markets remains net long, which raises the risk of a bout of profit-taking if the moving average breaks. That would leave pound bulls hoping the next line of support — a key Fibonacci level — will be enough to stop a further selloff as a breach there opens up a move back down toward its lows of the year.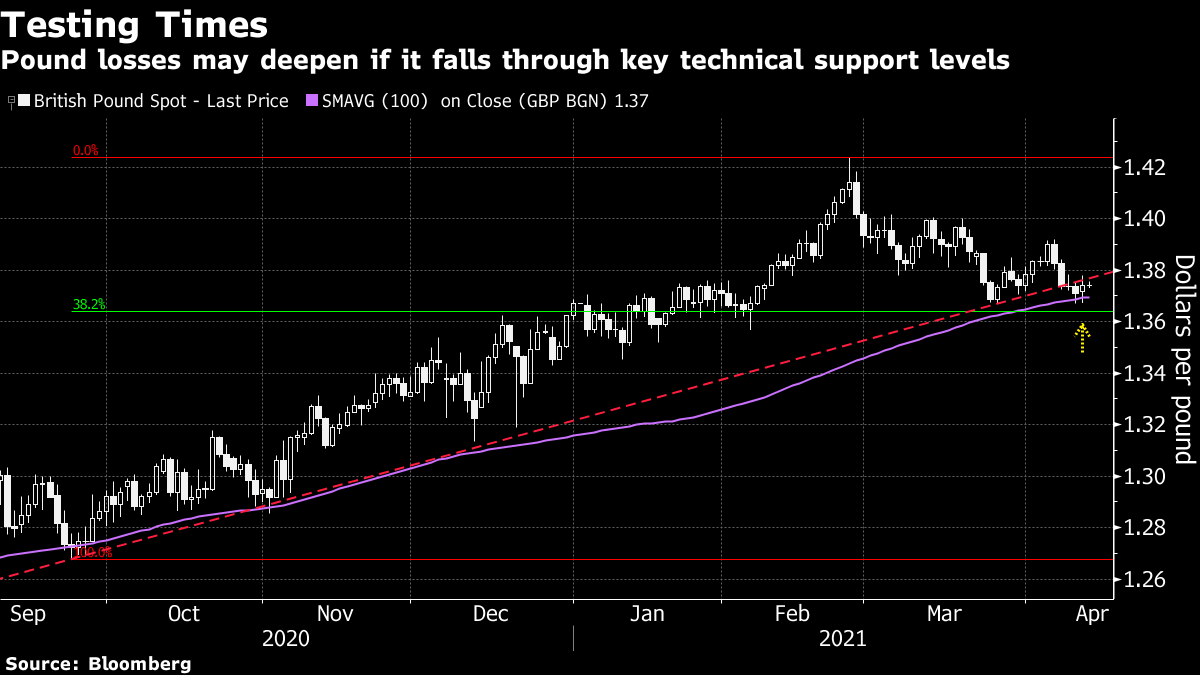 Cormac Mullen is a cross-asset reporter and editor for Bloomberg News in Tokyo.
Like Bloomberg's Five Things? Subscribe for unlimited access to trusted, data-based journalism in 120 countries around the world and gain expert analysis from exclusive daily newsletters, The Bloomberg Open and The Bloomberg Close.
— With assistance by Gearoid Reidy, and Cormac Mullen
---
Stock Futures Today – Stock Markets Today: AstraZeneca Vaccine, Merkel's Successor, Cryptocurrencies