Stock Futures Today – Stock Markets Today: India Covid Cases, UK Elections, China Tensions, Inflation
Good morning. India records a new daily record of Covid-19 cases, the UK. votes in local elections and tensions with China are ramping up. Here's what's moving markets.
Variant Struggles
India posted a record number of daily Covid-19 cases as it remains the epicenter of the crisis. Its struggle to track new variants could also worsen the situation. There was some encouragement, however, from data showing Moderna's shot bolsters antibodies against other virus strains. Meanwhile, the UK. is set to lift the ban on international leisure travel to a handful of countries on Friday. In the U.S., the Centers for Disease Control and Prevention predicted Covid-19 cases in the country could see a sharp decline if vaccination efforts continue to prove successful.
Policy and Polls
There's plenty to watch in the UK. on Thursday. The Bank of England's latest decision is coming, with watchers searching for signs of policy tightening ahead, with some banks saying investors should prepare for higher borrowing costs even if they take some time to materialize. Plus, local elections are taking place across the UK., marking a major electoral test for Prime Minister Boris Johnson and for Labour leader Keir Starmer in the north of England, plus potentially providing a steer on current attitudes to Scottish independence. The country has also sent Navy patrol ships to Jersey amid a blockade threat by French fisherman.
China Tensions
G-7 diplomats singled out China over a variety of subjects in a final statement seen by Bloomberg, including over alleged human-rights abuses, actions on Taiwan and incursions in cyberspace. It marks another increase in tensions with Beijing after the European Union had signaled it would not ratify an investment deal with China as long as its officials are sanctioned. The Biden administration, meanwhile, plans to build off the deal reached with China under Donald Trump, while adding the removal of tariffs will depend on the outcome of upcoming conversations between U.S. chief trade negotiator Katherine Tai and her counterparts. China also halted economic dialogue with Australia, signaling tensions in this relationship too.
Inflation Jitters
No matter how hard central banks try to assuage them, inflation concerns are not going away and the debate rages on as to whether actual price pressures are going to materialize. Investors are jittery, watching on as commodities like lumber and copper surge, alongside multiplying supply shortages. Four Federal Reserve policymakers echoed each other in saying U.S. inflation is unlikely to get out of control, while European Central Bank chief economist Philip Lane played down the pressures, saying they won't stage a lasting comeback in Europe. Yet more uncertainty exists in the form of turnover at the Fed, raising the question of who will be chosen to take the places at the top.
Coming Up…
European and U.S. stock-futures are relatively flat, following a muted session in Asia amid worries about Chinese trade tensions. The economic agenda is topped by German factory orders, services activity in the UK. and later jobless claims in the U.S. Some bellwether stocks are reporting in Europe, with numbers from German carmaker Volkswagen and brewing giant Anheuser Busch-InBev topping the bill. In the U.S., the market will digest earnings from ride-sharing firm Uber Technologies and later we'll have an update from home exercise company and lockdown winner Peloton Interactive, which tumbled yesterday after recalling treadmills on safety concerns.
What We've Been Reading
This is what's caught our eye over the past 24 hours. 
And finally, here's what Cormac Mullen is interested in this morning
Having noted in mid-March that markets may have seen peak speculation, signs are now emerging that the bandwagon brigade are hurtling towards a few exits. The retail-favorite ARK Innovation exchange-traded fund fell for a seventh straight day Wednesday in its longest slide in nearly two and a half years. Cathie Wood's flagship ETF has suffered from the recent slump in highly-valued technology shares and in April saw its first monthly net outflow since October 2019. Five straight days of outflows have totaled almost $770 million. The selloff has pushed the fund out of the uptrend that began in March last year and culminated in a more than 350% rise to its peak in February. While the ETF is now trading about two standard deviations below its 50-day moving average — often a sign that a selloff is overdone — it needs to recapture that uptrend soon or face further pressure.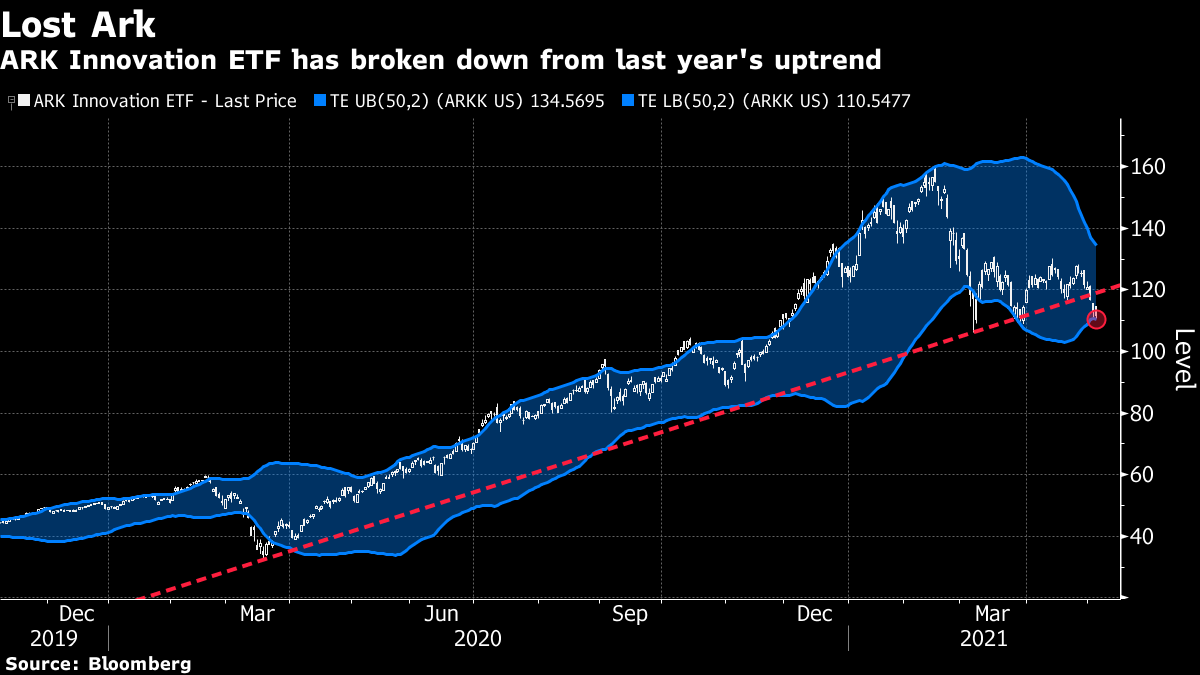 Cormac Mullen is a cross-asset reporter and editor for Bloomberg News in Tokyo.
Like Bloomberg's Five Things? Subscribe for unlimited access to trusted, data-based journalism in 120 countries around the world and gain expert analysis from exclusive daily newsletters, The Bloomberg Open and The Bloomberg Close.
— With assistance by Cormac Mullen, and Gearoid Reidy
---
Stock Futures Today – Stock Markets Today: India Covid Cases, UK Elections, China Tensions, Inflation