Stock Market Analysis Today – Innovation, not low costs, will energise Hong Kong stock market, finance chief says in defending tax increase
Raising the tax on stock trading in Hong Kong will not undermine the city's competitiveness as a global financial hub, a top official has said, arguing it is innovative policies rather than low costs that will energise the market.
A day after revealing his annual budget, Financial Secretary Paul Chan Mo-po defended raising the stamp duty on stock transactions from 0.1 per cent to 0.13 per cent amid a record deficit, explaining that the city's main competitor was mainland China, where markets are associated with greater restrictions and expenses.
On Thursday, he doubled down on his determination to promulgate the plan on August 1, over the industry's objections.
Get the latest insights and analysis from our Global Impact newsletter on the big stories originating in China.
What did Paul Chan do right and why are pro-Beijing lawmakers still grumbling?
Chan said investors were primarily trading mainland securities on the Hong Kong stock exchange, where more than half of about 2,100 listed companies were from China. Those mainland firms also accounted for 80 per cent of the market capitalisation and 90 per cent of the turnover in the local bourse, he said.
"That effectively means investors are trading in Chinese companies listed in Hong Kong or through the [transborder trading] stock connect schemes and are bullish about the country's economic development," he told a radio show. "Overseas investors' growing interest in Chinese stocks is an irreversible trend."
Therefore, he said, Hong Kong's key competitor in stock trading was mainland markets, which charge a 0.1 per cent levy on investors who sell stocks, in addition to restrictions on capital accounts.
In Hong Kong, the stamp duty only applies when investors buy or sell a stock.
"In a HK$1 million (US$129,000) transaction, the extra payment is only HK$300," Chan said. "We are not in a race to compete on low costs, instead, we need to come up with innovative policies to energise the stock market."
Hong Kong Exchanges and Clearing (HKEX) was second globally in initial public offerings last year after the United States' Nasdaq. As a string of mainland companies seek secondary listings in Hong Kong amid the ongoing US-China political fallout, turnover on the stock market has thrived, increasing from a daily average of about HK$100 billion last year to HK$200 billion recently.
The city government expects to earn about HK$12 billion in extra revenue annually from the stamp duty increase, the first in 28 years. It comes after years of on-and-off calls for a review of the city's simple tax regime.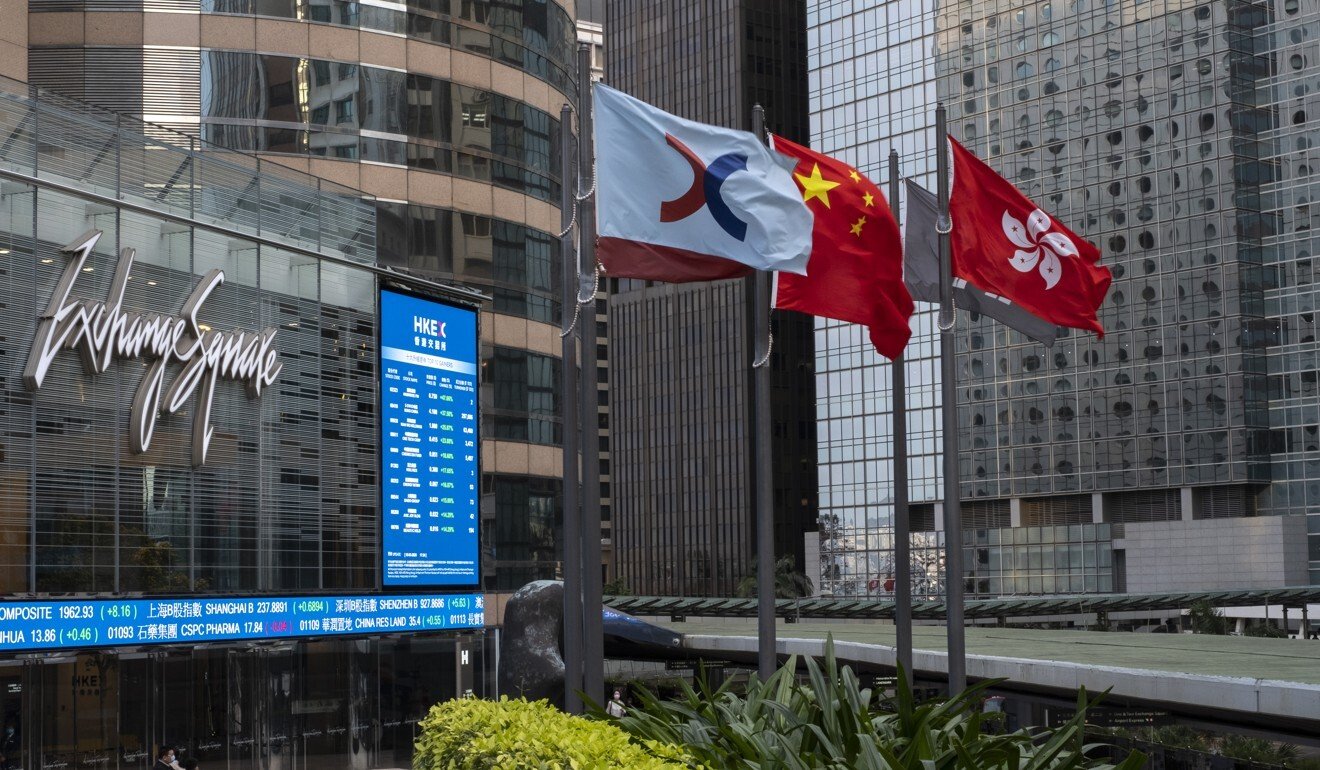 Chan said the government was internally reviewing the city's tax system as it searched for more revenue.
He said new taxes some had called for – including a vacancy tax on property developers who hoarded new flats, a goods and services tax, or a capital-gains tax – would each have different impacts on society, businesses and individuals.
"We are in a deep recession, and are cautious about introducing or raising taxes," he said.
He added that factors determining potential tax changes included their impact on the city's competitiveness, how much the Inland Revenue Department would gain, if residents could afford them and whether they aligned with best global practices.
The Hong Kong stock market rebounded 356 points, or 1.2 per cent, to 30,074 on Thursday following a 3 per cent drop a day before.
Hong Kong raises equity trading stamp duty first time in three decades
Brokers are widely opposed to a higher stamp duty, while the HKEX has expressed disappointment at the increase.
But at a morning Legislative Council meeting, Chan reiterated the government's commitment to carrying it through, shrugging off "wishful thinking" that it could be retracted and saying even the suggestion could spark speculative trading.
"I don't want to create any misunderstanding or leave room for wishful thinking for the market so that it may still wonder whether we will put it in place or not. Such a riddle itself could become a factor of speculation," he said.
"The most important thing for a financial market is certainty. So after reaching the decision to do it following a thorough deliberation, we will do it," he added.
Pro-establishment lawmaker and leader of the Liberal Party Felix Chung Kwok-pan agreed the higher levy would be the simplest and fastest way – with the least impact to the public – to boost government revenue.
He added he did not believe the move would equate to Hong Kong losing business to markets such as Singapore, which is not a popular destination for mainland listings.
Additional reporting by Chris Lau – South China Morning Post


Tag: Stock Market
---
Best Stocks:
---
 Stock Market Analysis Today – Innovation, not low costs, will energise Hong Kong stock market, finance chief says in defending tax increase