Stock Market Analysis Today – Reddit GameStop Shenanigans Point to Stock Market Bubbles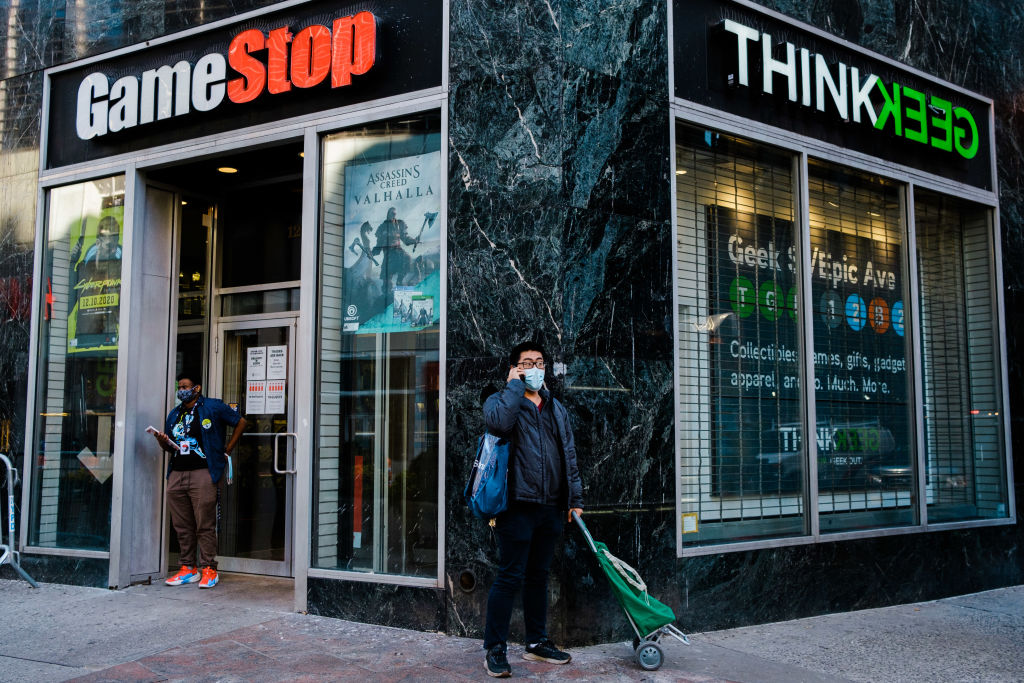 This is Bloomberg Opinion Today, a triple-leveraged junk bond ETF of Bloomberg Opinion's opinions. Sign up here.
Today's Agenda
Wacky Markets Can Always Get Wackier
The film version of "Cloudy With a Chance of Meatballs" is about a guy who invents a machine that turns water into food. This is great, theoretically, until the machine goes haywire, rockets into the sky and starts spewing car-sized meatballs and other cuisine, turning this would-be solution into a big problem.
That brings us to the Federal Reserve. It's meeting this week, which is a boring thing to type, especially with the Fed on autopilot, pumping cheap money into the economy as fast as it can for as long as it can. This is great, theoretically, like a machine that turns water into food, except that all the cheap money is feeding market imbalances that are not unlike clouds filled with giant, deadly meatballs. The Fed's job is a lot harder than it looks, Mohamed El-Erian writes, having to balance a short-term economic slowdown against decent long-term prospects and the accumulation of those meatball clouds. 
Take the corporate bond market, which has gone from merely bonkers to full-on truck-sized bananas in the past year, with U.S. non-financial corporate debt soaring to more than 90% of GDP from less than 75%, as Tara Lachapelle and Brian Chappatta write. Instead of trying to prune that debt this year, companies are selling more of it to finance huge mergers and acquisitions. Should be fine!
Meanwhile, the stock market continues to skyrocket, slipping further from the surly bonds of reality, John Authers writes, with a whole dashboard of data to back him up. One piece of evidence is how Redditors these days can just up and decide to pump stocks such as GameStop to ludicrous heights on a whim. Matt Levine points out there is at least a shred of fundamental basis for the rally in a company running a bunch of empty video-game stores in ghost malls. But this gets us back to the meatball thing: Human-scaled meatballs are fine. Sears Tower-scaled meatballs may cause indigestion, or worse.
Stimulus May Get Less Stimulative
The Fed cutting off easy money could puncture these bubbles. But the chances of that happening are falling as hopes for a new round of fiscal stimulus start to fade. Republicans and some moderate Democrats are balking at President Joe Biden's $1.9 trillion relief package. Michael R. Strain suggests Biden jump on one of the bipartisan compromise plans floating around, which he argues will still be enough to help the economy without burning up any of Biden's political capital.  
One idea Biden should drop is boosting the federal minimum wage to $15 an hour, Michael argues. He and other conservative economists think this will hurt job growth at the worst possible time. In fact, Karl Smith suggests abolishing the minimum wage altogether would create jobs.
Whatever happens with all that, there's no doubt America's unemployment benefit system is outdated and full of holes, writes Claudia Sahm. She offers some ways to reform it and get more assistance to the people who really need it. 
Biden's plan to send $1,400 checks to everybody might at least have bipartisan appeal, because free money, duh. But that may send help to some people who don't really need it, writes Sophia Campbell. If you're one of those people, then you have a moral obligation to consider passing that money on, she writes.  
Further Stimulus Reading:
Biden Needs an Innovation Agenda


Tag: Stock Market
---
Best Stocks:
---
 Stock Market Analysis Today – Reddit GameStop Shenanigans Point to Stock Market Bubbles