Stock Market Analysis Today – Stock Markets Today: AstraZeneca vaccine; Fed minutes; Twitter-Clubhouse talks
Good morning. Stocks rise as central bank stimulus is seen outweighing vaccine stumbles, and Twitter briefly held talks to buy Clubhouse. Here's what's moving markets.
Deep Divisions
Investors are mostly shrugging off a warning from the European Medicines Agency that there's a possible link between AstraZeneca's Covid-19 vaccine and a rare type of blood clot in the brain, despite some concern the update could undermine inoculation efforts. Among more than 20 million who have received the shot in Britain, 79 have suffered blood clots, with 19 dying. Still, the UK. recommended not using Astra's vaccine on those under 30, while Italy followed Germany and France by recommending it only for people over 60. The European Union says ministers have "different interpretations" of the safety report, indicating what may be deep divisions on the way forward.
More Time Needed
Traders overnight were mostly focused on minutes from the U.S. Federal Reserve, which suggested no imminent change to economic stimulus. It will likely be "some time" until substantial further progress toward the maximum-employment and price-stability goals will be realized, according to the record of the March gathering, where officials left their asset purchase program of $120 billion per month unaltered. The committee deliberately presented a "united front," according to one commentator, though there is a sense among some officials that vaccines and fiscal and monetary support could lead to a stronger-than-expected rebound. Stock futures are positive and the dollar is steady. Meanwhile, vaccine euphoria may be over for the pound, according to some investors. 
Clubbing Together
Twitter held talks in recent months to acquire Clubhouse, the audio-based social network, Bloomberg reports, while adding that discussions are no longer ongoing and it's unclear why they stalled. Clubhouse lets users host their own online radio shows, with listeners able to tune in to hear interviews or panel discussions and ask to participate in live chats. The companies discussed a potential valuation of roughly $4 billion, people familiar with the matter said. Twitter boss Jack Dorsey is bullish on the potential for audio as a new way for people to interact on his platform. 
Chunky Sale
The second largest block trade on record just took place, after Prosus priced its placement of Chinese internet giant Tencent Holdings' stock to raise HK$114.2 billion ($14.7 billion). It's smaller only than the U.S. Treasury Department's $20.7 billion sale of insurer American International Group shares in 2012. The fundraising may give internet investor Prosus another shot at securing a mega-deal after losing an $8 billion battle to buy UK. food group Just Eat at the start of last year.
Coming Up…
German Chancellor Angela Merkel is planning a law change that would allow the federal government to impose unified curbs on hard-hit areas to slow the spread of Covid-19, Bild reported. Meanwhile, the European Central Bank publishes an account of its March meeting, while Fed Chair Jerome Powell will be speaking during the International Monetary Fund's spring meetings. Meanwhile, crisis management continues at Credit Suisse following a report of an intense conference call this week. In corporate earnings, Uniqlo operator Fast Retailing reports in Tokyo, while in the U.S., jean-maker Levi Strauss is among firms giving results. Production of some Apple MacBooks and iPads has been postponed due to the global chip shortage, Nikkei Asia reports. Finally, golf's Masters gets underway in Augusta, the first major men's tournament of the year.
What We've Been Reading
This is what's caught our eye over the past 24 hours. 
And finally, here's what Cormac Mullen is interested in this morning
The smoke may have cleared from last month's attack on Treasuries but the battle looks set to resume as bond vigilantes prepare their next assault. As my colleague Katie Greifeld noted Wednesday, short interest in the $14 billion iShares 20+ Year Treasury Bond ETF has climbed to about one-fifth of shares outstanding, according to data from IHS Markit Ltd. That's the highest since early 2017 and a sign of demand for bearish wagers against longer dated bonds, a trend mirrored in the futures market. Thirty-year Treasury yields have stalled just below the 2.5% mark, with their benchmark equivalents hovering below 1.75%. Their rise this year can be put down to expectations of growth and inflation. That makes hard data key to the next stage of the bond battle, with volatility likely to pick up as economic releases confirm — or question — the supercharged growth narrative.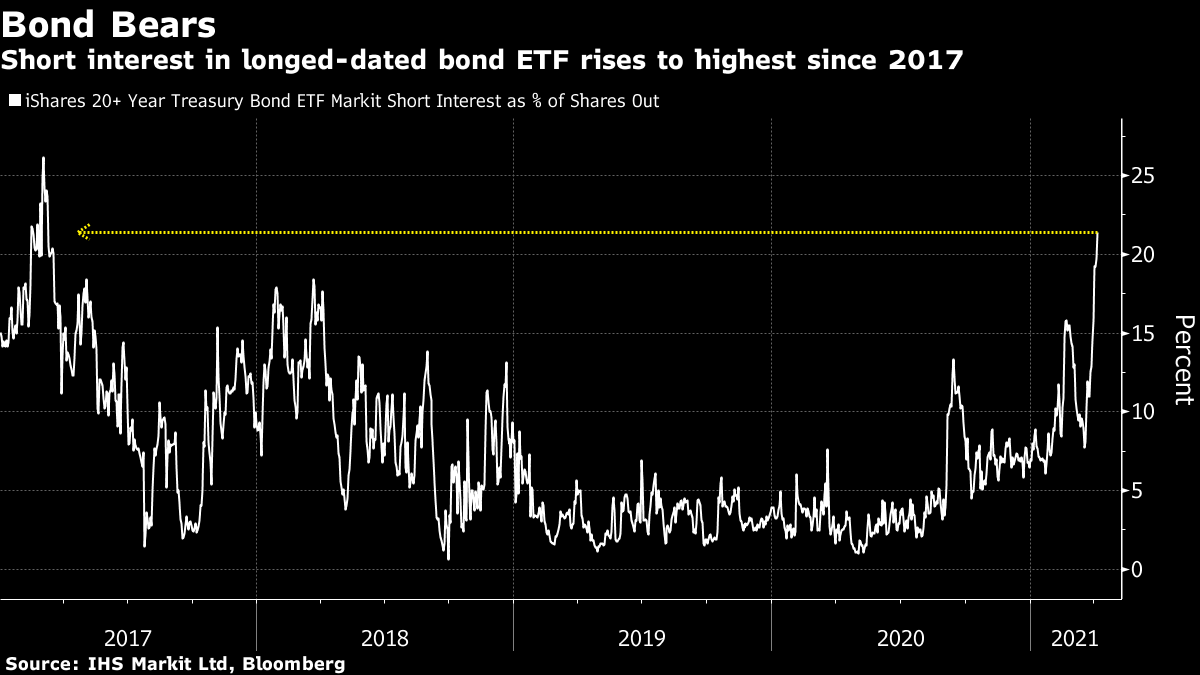 Cormac Mullen is a cross-asset reporter and editor for Bloomberg News in Tokyo.
Like Bloomberg's Five Things? Subscribe for unlimited access to trusted, data-based journalism in 120 countries around the world and gain expert analysis from exclusive daily newsletters, The Bloomberg Open and The Bloomberg Close.
— With assistance by Gearoid Reidy
Tag: Stock Market
---
Best Stocks:
---
 Stock Market Analysis Today – Stock Markets Today: AstraZeneca vaccine; Fed minutes; Twitter-Clubhouse talks