Stock Market Analysis Today – Stock Markets Today: Biden tax proposal, German vaccination schedule, earnings
Good morning & happy Friday. An expected U.S. tax proposal roils markets, Germany may loosen its vaccination schedule and blue-chip earnings roll in. Here's what's moving markets.
Tax Bombshell
U.S. President Joe Biden will propose almost doubling the capital gains tax rate for wealthy individuals to 39.6% to help pay for a raft of social spending, according to people familiar with the proposal. Biden campaigned on equalizing the capital gains and income tax rates for wealthy individuals, saying it's unfair that many of them pay lower rates than middle-class workers. He is expected to release the proposal next week as part of the tax increases to fund social spending in the forthcoming "American Families Plan." The S&P 500 Index slid the most in more than a month on the news, closing 0.9% lower, while the Nasdaq fell 1.2%. European futures also declined.
Pulling out the Stops
Germany may lift its age-bracket system and make Covid shots available to all adults from the end of May, Bild reported yesterday, just as a state premier said the country would buy 30 million of Russia's Sputnik V shots. Meanwhile, three German states have flouted federal guidance and made AstraZeneca's shot available to people under 60 on a voluntary basis. Way ahead of Germany in its vaccination effort, England no longer logged Covid as its leading cause of death in March, the Telegraph reported citing ONS data. The UK. is also instating a quarantine requirement for travelers from India, in response to spiking cases caused by a new variant found on the subcontinent. 
Lux M&A
Luxury stocks from Salvatore Ferragamo and Burberry to Richemont and Moncler could be active after luxury juggernaut LVMH boosted its stake in Italian shoemaker Tod's to 10%, a move that's likely to fuel speculation on more M&A to come. LVMH snapped up 2.25 million shares from Tod's CEO Diego Della Valle, representing a 6.8% stake, at 33.10 euros ($39.81) apiece, and the owner of Louis Vuitton already held 3.2% of Tod's. Tod's shares soared more than 20% after it appointed Italian fashion influencer and entrepreneur Chiara Ferragni as a director this month, a development welcomed by some analysts as Tod's seeks to revamp its brand and attract younger customers.
Daimler Boost
A win streak for German car makers and their investors seems to be continuing, with Daimler boosting the margin forecast for its key Mercedes-Benz Cars & Vans division this morning. Still, it warned that an ongoing microchip shortage affected deliveries in the first quarter. Mercedes this month revved up its electric-car rollout with the new flagship EQS sedan, the battery sibling to the S-Class, as traditional carmakers broaden their attack on Tesla's lead. The Stuttgart-based car maker's stock is up 28% so far this year, compared to 19% for Bavarian rival BMW and 52% for Volkswagen, which electrified investors in March with plans to rival Tesla in the EV market. 
Coming Up…
European stocks are headed lower after a U.S. proposal for higher taxes on the wealthy spooked markets. The news also sent Bitcoin below $50,000 for the first time since early March. Today, the Bank of Russia holds its rate decision decision and the UK. reports retail sales, with economists forecasting a slow-down in March. Aside from Daimler, Remy Cointreau and LafargeHolcim are earnings highlights in Europe today, while the U.S. will see Honeywell and American Express in a quieter day as the weekend approaches. Finally, UEFA is set to make a decision today on whether Bilbao, Dublin and Munich will stage Euro 2020 Championship matches — potentially handing more matches to Wembley.
What We've Been Reading
This is what's caught our eye over the past 24 hours. 
And finally, here's what Cormac Mullen is interested in this morning
The latest virus surge is so far failing to boost stay-at-home stocks, even in Asia where the bulk of new cases are concentrated. A Bloomberg-compiled basket of shares including online gaming, internet services and health-care names has underperformed the MSCI Asia Pacific Index by about 5 percentage points since the end of February, despite a ramp-up in infections in places like India and Japan. An equivalent gauge from Solactive for Europe has lagged the Stoxx 600 by about 2 percentage points over the same period while one for the U.S. has underperformed by around 10 points. With vaccinations more advanced in Europe and the U.S. the stay-at-home underperformance is understandable, but that's not the case in Asia where shots are well behind other regions. The percentage of the population fully vaccinated stood at just 1.4% in India, 0.6% in Japan and 2.4% in Indonesia as of Thursday, according to data compiled by Bloomberg. The virus surge has definitely weighed on Asian stocks which have lagged their global peers in recent weeks. But the lack of a return to stay-at-home trades suggests investors see it as a short-lived phenomenon.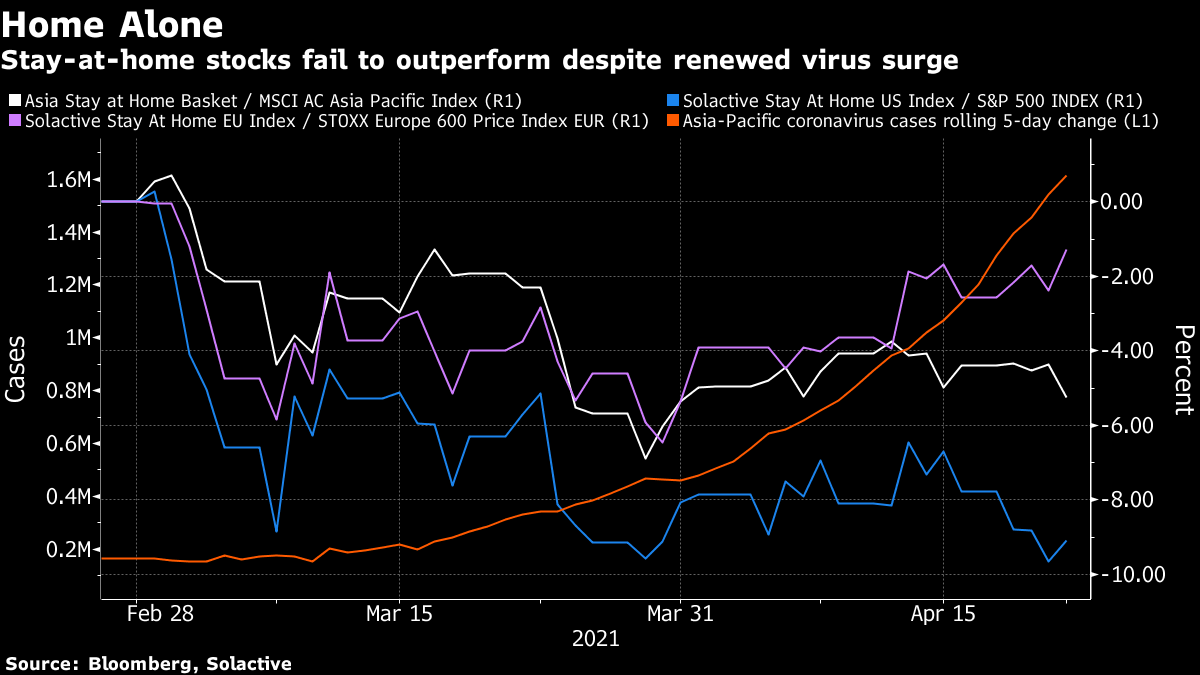 Cormac Mullen is a cross-asset reporter and editor for Bloomberg News in Tokyo.
Like Bloomberg's Five Things? Subscribe for unlimited access to trusted, data-based journalism in 120 countries around the world and gain expert analysis from exclusive daily newsletters, The Bloomberg Open and The Bloomberg Close.
— With assistance by Albertina Torsoli, and Gearoid Reidy
Tag: Stock Market
---
Best Stocks:
---
 Stock Market Analysis Today – Stock Markets Today: Biden tax proposal, German vaccination schedule, earnings