Stock Market Analysis Today – Stock Markets Today: Israel conflict, pipeline fallout, Sinovac success
Good morning. Escalation over Jerusalem, markets fallout from the U.S. pipeline outage and good news about Sinovac's vaccine. Here's what's moving markets.
Close to War
Israel stepped up its attacks on the Hamas-ruled Gaza Strip overnight, in turn drawing a heavy rocket barrage over its own commercial heartland as the death toll rises and the two sides edged closer to all-out war. Deaths in Gaza climbed to 35, while five civilians were killed in Israel, according to officials and local media. The tit-for-tat threatened to escalate in a sharply intensified spillover from weeks of clashes between Israeli security forces and Palestinians in contested Jerusalem. The holy city, home to Jewish, Muslim and Christian shrines, lies at the heart of the Israeli-Palestinian conflict, and competing claims to it have underpinned the latest confrontation.
More is Better
With more than 8.4 million doses of Johnson & Johnson's single-shot vaccine administered in the U.S., the country's health authorities reiterated their stance that its benefits outweigh the risk of rare blood clots. In good news for some of the least-vaccinated countries, Sinovac Biotech's vaccine is wiping out Covid-19 among health workers in Indonesia, an encouraging sign for the dozens of developing nations reliant on the controversial Chinese shot, which performed far worse than western vaccines in clinical trials.
Winning Time
The British Crown dependency of Jersey postponed new fisheries  licensing rules and France lifted a ban on vessels from the Channel Islands landing catches at its ports, as negotiations continue on access for French fishermen to waters around Jersey. The UK. and French navies were last week drawn into the increasingly bitter dispute over post-Brexit fishing rights, after dozens of French boats mounted a protest near the main harbor in Jersey, the largest of the Channel Islands off the northwest coast of France.
Mounting Disruption
Colonial Pipeline told U.S. officials it will know by the end of the day whether it's safe to restart gasoline and diesel flows that have been on hold since criminal hackers targeted the company last week. The continued outage of the pipeline — a vital conduit that connects Gulf Coast refineries with consumers along the East Coast — is causing enormous disruption as panic-buying has dried up gas stations across the U.S. East and South. Processors are being forced to reduce run rates, cutting crude oil demand, while refiners are booking ships to warehouse growing fuel-product stockpiles.
Coming Up…
European stocks were set to follow Asian equities lower amid a market rout in Taiwan, as the island which has almost avoided the pandemic grapples with a fresh Covid outbreak. It's a busy day for German earnings with Bayer, Deutsche Telekom, Merck KgaA and Allianz among the biggest reports, while in Asia, SoftBank Group will be reporting. Investors will be looking for updates on Masayoshi Son's investments in U.S. stocks and options. On the macro front, the UK. reports GDP but all eyes will be on U.S. inflation figures. Hedge fund managers will virtually gather at the online Sohn Investment Conference. Also, the Muslim Eid al-Fitr festival marks the end of Ramadan.
What We've Been Reading
This is what's caught our eye over the past 24 hours. 
And finally, here's what Cormac Mullen is interested in this morning
The last few days' weakness in the U.S. equity market comes amid historic signs of broad-based strength in the S&P 500. The percentage of index members trading at a 52-week high hit a record of 45% on Monday — even as the benchmark retreated — according to data compiled by Bloomberg going back to 1990. The percentage of members trading above their 200-day moving average was at 92%, just below the record 97% reached late last month. Bulls will be hoping the strong participation will limit further downside in U.S. stocks, which fell for a second consecutive session on Tuesday on rising inflation concerns. Bears will see signs of a buying climax — a last surge of demand for stocks which often precedes a peak. U.S. equity funds have already attracted $170 billion of inflows so far this year, with their global equivalents seeing a breathtaking $456 billion of new money, according to the latest EPFR data.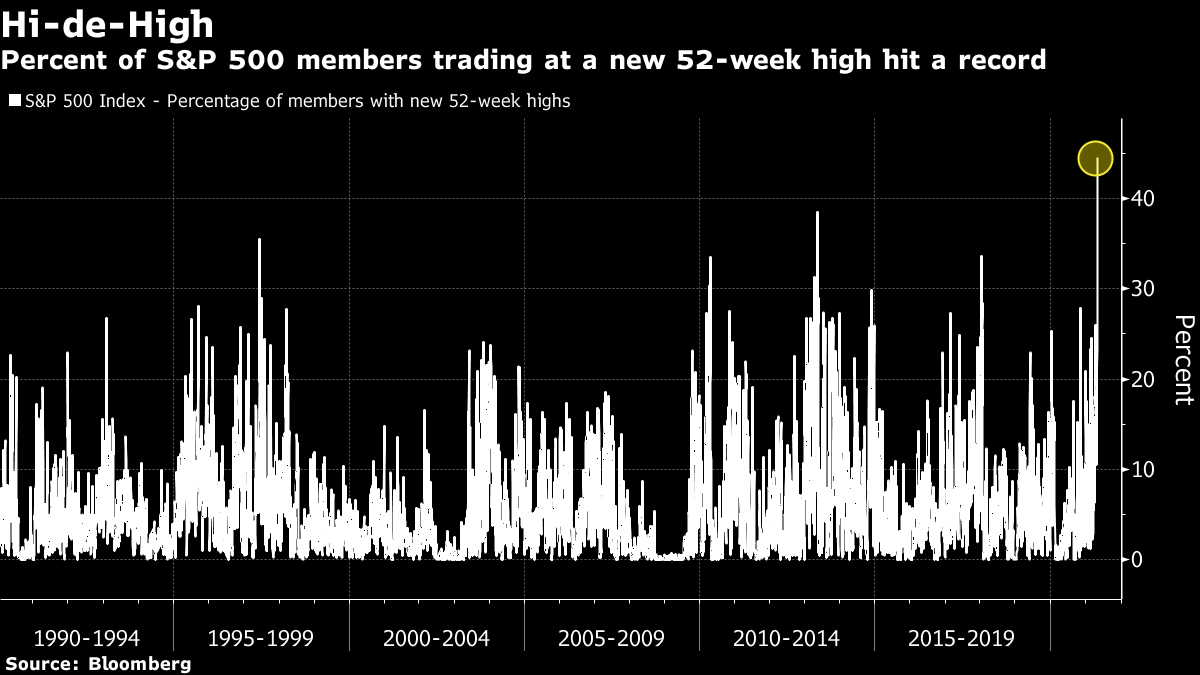 Cormac Mullen is a cross-asset reporter and editor for Bloomberg News in Tokyo.
Like Bloomberg's Five Things? Subscribe for unlimited access to trusted, data-based journalism in 120 countries around the world and gain expert analysis from exclusive daily newsletters, The Bloomberg Open and The Bloomberg Close.
An earlier version of Tuesday's Five Things newsletter was corrected to remove the description of Novavax's Covid vaccine as mRNA-based. 
— With assistance by Gearoid Reidy, and Cormac Mullen
Tag: Stock Market
---
Best Stocks:
---
 Stock Market Analysis Today – Stock Markets Today: Israel conflict, pipeline fallout, Sinovac success