Ford Stock – 49ers GM John Lynch provides an update on Dee Ford

The San Francisco 49ers picked up about $11 million in salary-cap space by restructuring the contract of defensive end Dee Ford. It became evident that the veteran defender wasn't going to be medically cleared by this week's deadline, at which point much of his salary becomes guaranteed. Ford was limited to just one game last season as he dealt with neck and back injuries.
General manager John Lynch and head coach Kyle Shanahan spoke virtually with reporters on Monday for nearly 40 minutes. During the conversation, the former provided an update on Ford's recovery without going into too much detail.
"Dee's doing well," Lynch said. "With that type of injury, you don't want to get too high or too low, and I think he's really in a good place. He's working. He's been here every day … He's working extremely hard. It's encouraging to look out my window and see things progress. I think we'll leave it at that."
It looks like the 49ers will be holding onto Ford for at least the immediate future, and are hoping he can recover in time to contribute during the upcoming season. In January, Lynch sounded less optimistic about Ford's availability.
The contract restructure helped San Francisco retain many of its own players, which allowed team brass to decide to move up in the draft, knowing that it had some salary-cap flexibility to draft a quarterback while retaining Jimmy Garoppolo.
"[We're] very appreciative to Dee, and his representative, Adisa (Bakari), for working with us to come up with something that would allow for us to gain some more room, and he worked with us," Lynch continued. "We're extremely appreciative. I think both sides won there."
Ford has appeared in just 12 games in his two seasons with the 49ers while recording 17 tackles, six tackles for a loss, 6.5 sacks, six quarterback hits, and two forced fumbles during that time. He is scheduled to count $8.9 million against this year's cap.
More San Francisco 49ers News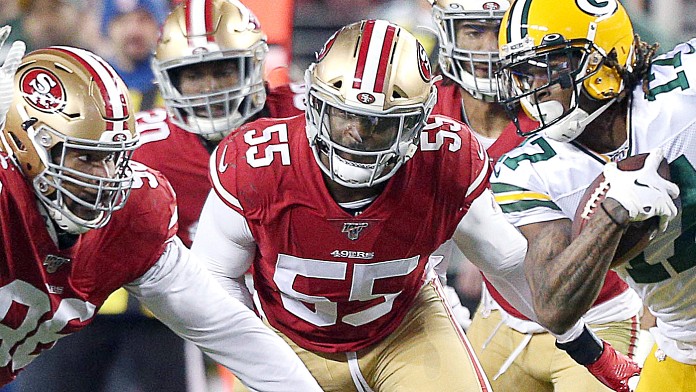 Dee Ford's renegotiated 49ers contract lifts team's cap space to over $20 million
By David Bonilla
Mar 22, 2021
It was reported on March 15 that the San Francisco 49ers were able to renegotiate defensive end Dee Ford's contract, providing some salary-cap relief this year. We finally have some of the new contract's details, thanks to OverTheCap.com.
While Ford's contract now extends through 2023, that final year is voided but does have a salary-cap impact due to the defender's prorated bonus. Below is a breakdown of Ford's current contract.
2021
Base Salary: $4 million
Prorated Bonus: $4.9 million
Roster Bonus: none
Guaranteed Salary: $4 million
Cap Hit: $8.9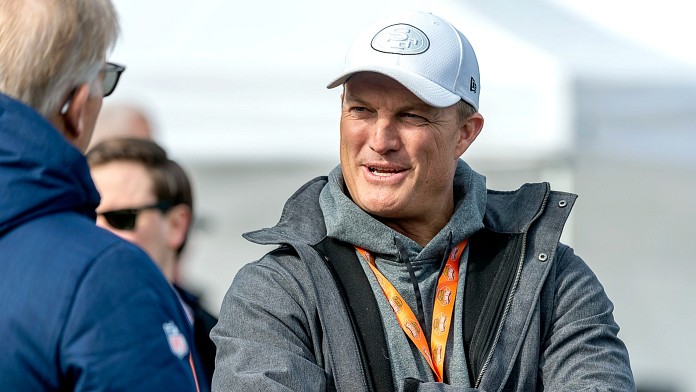 49ers GM John Lynch in attendance for BYU pro day
By David Bonilla
Mar 26, 2021
According to analyst Matt Miller, formerly of Bleacher Report, San Francisco 49ers general manager John Lynch is in attendance for BYU's pro day scheduled for today.
#49ers GM John Lynch also in attendance at BYU pro day.— Matt Miller (@nfldraftscout) March 26, 2021
The headliner at the event is quarterback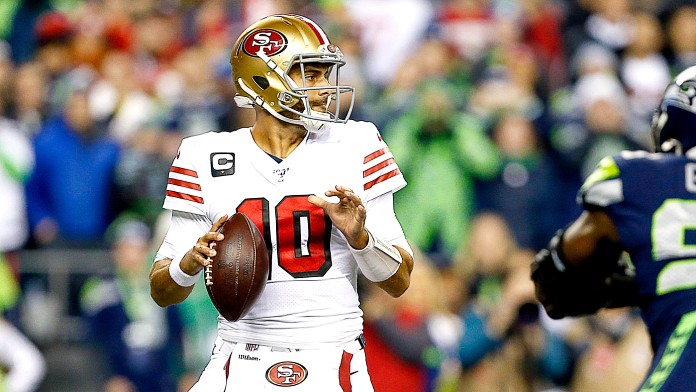 Wyche: John Lynch says Jimmy Garoppolo 'very much' in 49ers' plans, but trade inquiries won't be ignored
By David Bonilla
Mar 26, 2021
Jimmy Garoppolo remains in the San Francisco 49ers' plans for at least the upcoming season. The team was part of a draft-altering trade that moved it up from No. 12 overall to the No. 3 pick. It's clear that San Francisco is targeting a quarterback with the move. It could mean the 49ers are comfortable drafting one and then having him sit behind Garoppolo for at least a season while he learns the offense.
NFL Network's Steve Wyche spoke with general manager John Lynch at BYU's pro day today to get some insight into San Francisco's plans now that they are situated to select one of the top quarterback prospects in next month's draft.
Coincidentally, Lynch got a good look at former BYU quarterback Zack Wilson today. However, he is expected to be selected No. 2
Kyle Shanahan and John Lynch discuss draft trade, 49ers' future at QB
San Francisco 49ers general manager John Lynch and head coach Kyle Shanahan spoke with reporters on Monday, after the team's trade from last week moving from the No. 12 spot to No. 3 overall. Here is everything they had to say.
Transcript provided by the San Francisco 49ers Communications staff.
Opening comments:
General Manager John Lynch: "Hey everybody. Look, we thought it'd be appropriate to start, there's one thing different here for us. Our first press conference without one [Philadelphia Eagles senior vice president of communications] Bob Lange here with us. On behalf of [head coach] Kyle [Shanahan] and our entire organization, just wanted to thank Bob. Bob had a unique opportunity to go home, be provided for him and


Ford Stock – 49ers GM John Lynch provides an update on Dee Ford

Tags: Ford Stock