Gamestop Stock – GameStop Stock Is a Battle Between the Institution and the Masses

Last year we had the pandemic and the explosion of the investment in SPACs. This year we have the epic story we call GameStop (NYSE:GME). GME stock exploded 2300% out of nowhere late January. Since then it continues to be a wild ride.
Today we evaluate the viability of chasing this beast going forward. Spoiler alert, the price action suggests more fireworks soon.
On the face of it, it looked like a massive short squeeze. In reality, this is a battle between retail investors and Wall Street. Up until now, the insiders in the investment community had the upper hand. They control the rules so they are able to twist them to give themselves advantages. The retail investors have to live with those disadvantages and succeed in spite of them.
The battle over GME stock is a challenge to that dynamic. It's a head-to-head showdown between Main Street and Wall Street. The gang on Reddit took the fight to the professionals. They used social media to squeeze the shorts out in GME. There were tremendous losses and investment houses went belly up. This madness although is now at lower intensity, continues.
GME Stock Action Was Infectious
What's worse is that its scope expanded beyond GME. Speculation grew around other stocks and they, too, caught fire. The bunch included AMC (NYSE:AMC), Nokia (NYSE:NOK) and Palantir (NYSE:PLTR). These fringe stocks also spiked 100% to 700% in February. While this is fun to watch, it creates havoc for other investors. The regulators must get that under control sooner than later.
The whole premise of investing is having a level playing field. This is not it! Now there are two sides who are manipulating stock prices for short-term gains. Besides, the unnatural ways they rallied disrupted the momentum that the bulls had going. For example, now PLTR has a huge overhang resistance from the February high watermark. Big bursts exhaust the buyers for a long while.
Technically, GME stock is now challenging$185 per share. Normally I'd say this is rough resistance, but in this case anything is possible. Therein lies the attractiveness of the stock. It captured the imagination especially of newer investors. Fortunes are available to those who can time it well. The problem is that it requires a lot of luck, just like in Las Vegas.
Homework won't help much because the business of GameStop has been deteriorating for years. This is not because of the pandemic. The results in 2019 were already much worse than 2017. Total revenues were already down 30% in two years even before Covid-19 showed up. The financial metrics were already going the wrong way.
Onus Is on Management to Fix the Business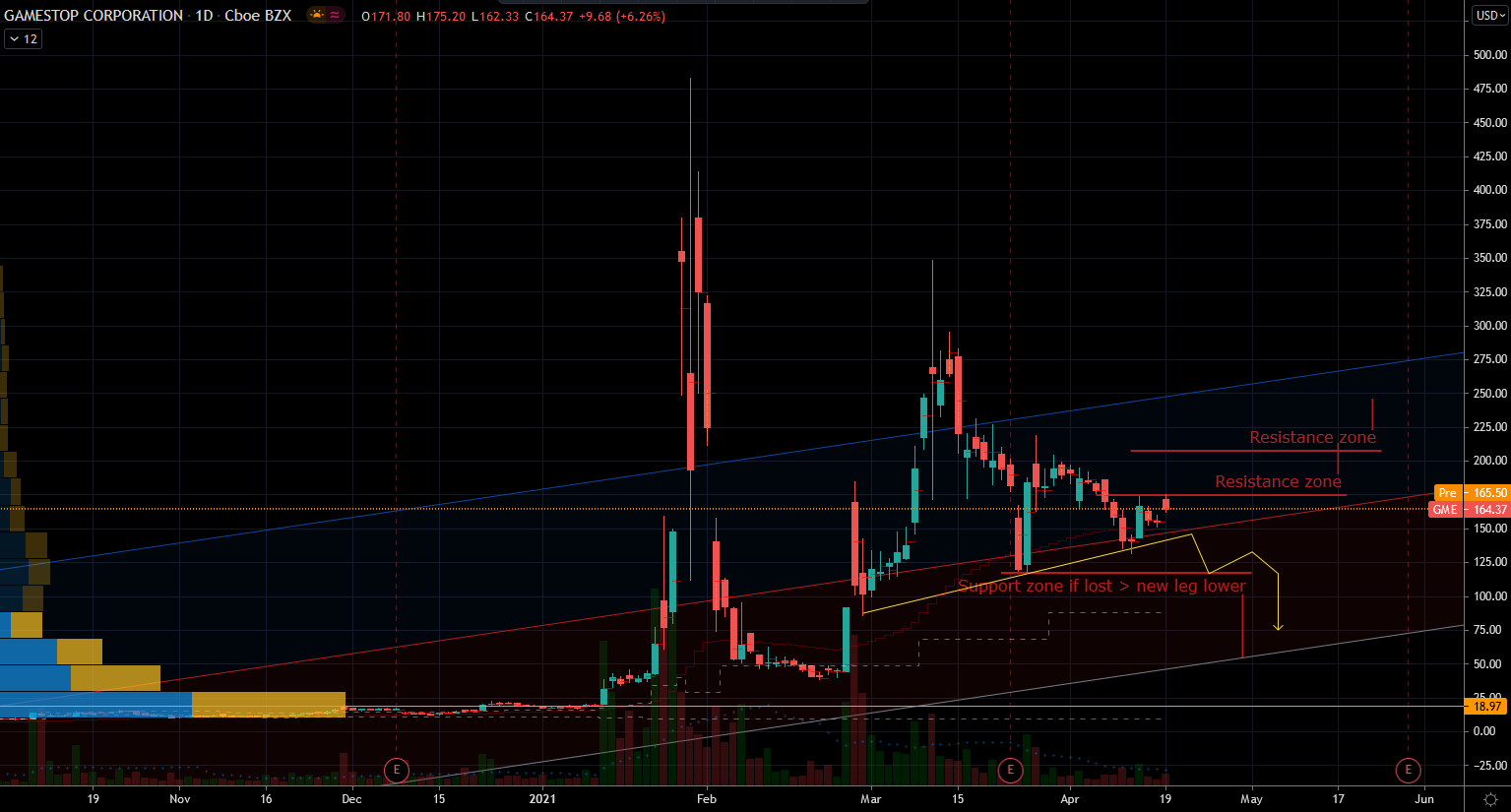 GameStop (GME) Stock Chart Showing Tight Range" width="1535″ height="825″/>Source: Charts by TradingView
Management will need to reinvent itself to stop the bleeding and turn the tide. That's going to be harder to do since yesterday the CEO George Sherman announced his resignation. The new team will have a blank slate since there's almost nothing to lose. They can only improve on a bad situation.
From total chaos sometimes we get great reform opportunities. Take General Electric (NYSE:GE), for example. For a while, management was committing one flub after another. They finally got the right team and things fell into place. The company is now looking great. It's leaner, meaner, and on the right path to redemption.
This is what GME stocks needs in the long run. But for the short run I bet there is a whole bunch more shenanigans. The gang on Reddit is not likely to give up this easily. If you don't enjoy gambling, this is not the stock for you.
The charts show that it is stuck in a wide range. A break below $118 per share could bring a big drop from there. Conversely, the breach above $200 invites more buyers and the sky's the limit then. I am being sarcastic but only to a degree. After seeing what happened in February, I would not be surprised to see more jaw-dropping action.
Whatever investors decide to do with GME stock needs to come with humility. There are absolutely no conviction levels that warrant taking giant risks. The action is too wild, and it resembles more gambling than investing. These shenanigans have been the wildest I've ever seen in my entire life.
Gamestop Stock – GameStop Stock Is a Battle Between the Institution and the Masses

Tags: Gamestop Stock
Stock Market, Latest News on C N N.