MSFT Stock – FAAMG Face-Off: Who Has Outperformed in 2021?

We are about eight weeks into 2021, and the new year has not looked much like 2020 in the equities market.
Yes, stocks continue to produce strong returns, following up on the recovery from the February-to-March bear market. The S&P 500 has been up about 4% so far. However, the market dynamic has shifted.
Tech and growth stocks, the big winners of the first nine months of 2020, have been out of favor this year. Meanwhile, the small cap and value factors have outperformed. See chart below: the purple and yellow lines represent the latter group, while the green and blue lines reflect the former.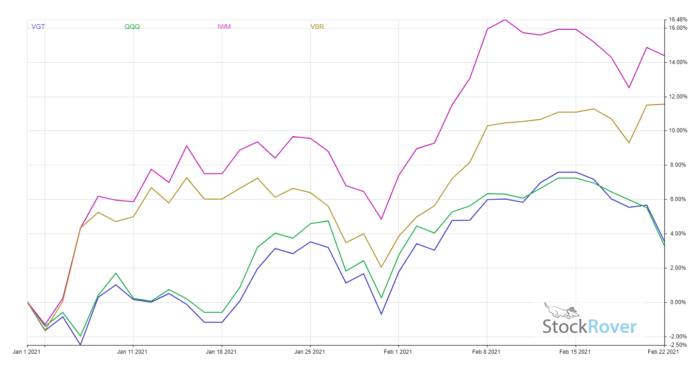 Big Tech struggles
With the undeperformance in tech and growth came dismal price behavor for the FAAMG stocks: Facebook, Amazon, Apple, Microsoft and Google's Alphabet. The chart below shows that the group has lagged behind the S&P 500, with year-to-date return of only 1.8%.
However, not all Big Tech names have been losers in 2021. Microsoft, for example, has seen gains of nearly 6% so far. I chose this stock as my top FAAMG pick for the new year, and the bullish case was recently reinforced by a killer fourth quarter. I have not been disappointed until now.
Alphabet: winner so far
However, the best FAAMG stock of 2021 has been Alphabet. Shares have climbed an impressive 18% so far in the new year, lavishly beating whatever relevant benchmark or peer one chooses to look at.
Part of the reason for the recent rally has been Alphabet's killer earnings report, delivered in late January. The company topped expectations by a wide margin, and Wall Street analysts followed up with a barrage of target price increases.
The other plausible reason has to do with valuation. Alphabet was the worst performing FAAMG stock in 2020. At the end of the year, a forward price-earnings ratio of only 21.6 times looked highly compelling, having expanded the least among its five key peers throughout the twelve-month period.
The combination of strong fundamentals and reasonable price seems to be working very well for the Mountain View, California-based tech giant.
Twitter speaks
FAAMG has been out of favor in 2021, a stark contrast to what happened last year. What do you think happens next? Leave your opinion below.
Explore more data and graphs
The graphs used in this report was provided by Stock Rover. I have been impressed with the breadth and depth of information on markets, stocks and ETFs that this platform provides. Stock Rover also helps to set up detailed filters, track custom portfolios and measure their performance relative to a number of benchmarks.
To learn more, check out stockrover.com and get started for as low as $7.99 a month. The premium plus plan that I have will give you access to all the information that went into my analysis and much more.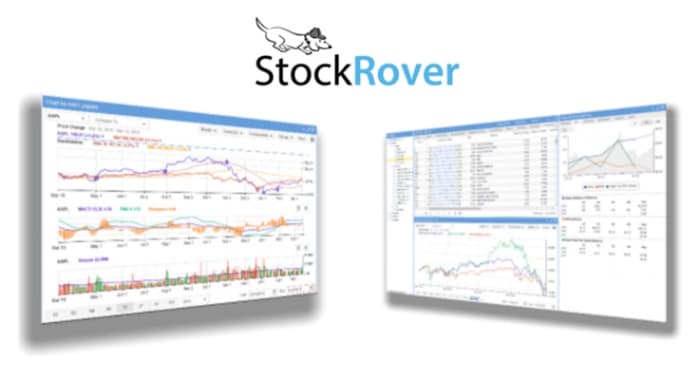 (Disclaimers: the author may be long one or more stocks mentioned in this report. Also, the article may contain affiliate links. These partnerships do not influence editorial content. Thanks for supporting The Apple Maven)


MSFT Stock – FAAMG Face-Off: Who Has Outperformed in 2021?

Tags: MSFT Stock