Peix Stock – Morocco protests a sign 'people not afraid to speak up'

Hundreds of people in Morocco have taken to the streets to protest over the death of a fish vendor. Witnesses said Mouhcine Fikri, 31, was crushed to death after jumping in the back of a garbage truck to retrieve fish that was confiscated by local authorities.
The incident, occurred in the northern town of Al-Hoceima on 28 October , stirred outrage on social media and prompted people to hold anti-government demonstrations in several areas of the country, including Rabat, Marrakesh and Casablanca.
Social media users shared photos and videos of Fikri's death calling for justice and an end to perceived police brutality.
Some have claimed the protests were the result of long-lasting grievances among the Moroccan population, who are calling for changes.
The protests occurred two weeks after Morocco's King Mohammed VI delivered a speech to the nation, in which he claimed, among other things, that Moroccan citizens complained about perceived "lack of performance by state agencies, failure to enforce sentences, particularly against government institutions" and "the abuse of power and influence peddling in state agencies."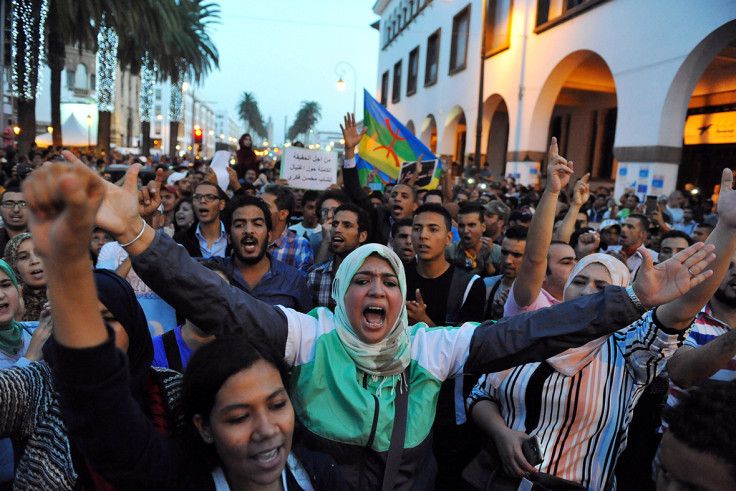 Morocco's new generation 'not afraid'
Imane M, a 29-year-old trader from Casablanca, told IBTimes UK grievances expressed by demonstrators resonate with her and many of her friends, who did take part in the demonstrations. She could not attend the rallies due to a family-related engagement.
"My friends and I belong to the new generation of Moroccan people who are no longer afraid to speak up, go out, take part in marches and engage on social media. We are getting more aware of what is happening, people want things to change and are more courageous to speak about problems," she said.
"Every day you learn different stories of that kind and people feel frustrated. It is a projection of many problems. We don't have cases of police brutality every day, but in some cases, police maybe don't apply the laws they should. In the case of Fikri, maybe they could have arrested him, taken him to the police station," she continued.
"The police here in Morocco are never judged, we never see members of the police prosecuted or judged, like everyone else does," she alleged.
The protests were organised by the 20 February Movement, which also coordinated demonstrations during the 2011 wave of anti-government protests later dubbed Arab Spring. Started in Tunisia, the wave of pro-democracy protests later spread to other countries, including Egypt and Morocco.
"In 2011, people asked for the government and the royalty to be separated, and we got that," M said. "During protests in 2011 and 2012, we felt that when Moroccans speak, they are heard. The King [Mohammed VI] did not act as authorities did in other countries such as in Syria. It did not become a war. The King always listens to people's grievances and this why is loved by the Moroccan people."
The Moroccan embassy in London has not replied to a request for a comment.
The Moroccan government condemned the incident and vowed perpetrators would be punished. The governor of al-Hoceima told protesters authorities had opened an investigation into the cause of death.
King Mohammed ordered officials to visit Fikri's family.
Peix Stock – Morocco protests a sign 'people not afraid to speak up'

Tags: Peix Stock

Stock Market

Latest News on C N N.