Peloton Stock – Health-Care Stocks Battered as Vaccine Rollout Gathers Steam

Equity investors are steering clear of drugmakers and health-care service providers as continued progress in distributing Covid-19 vaccines adds to the momentum in stocks poised to benefit most from an economic reopening.
Large-cap health-care companies in the U.S. have slipped alongside stay-at-home favorites such as Peloton Interactive Inc. and Netflix Inc. as analysts from Citi to Jefferies took a positive view on vaccination efforts. Medical device companies including Abiomed Inc., a heart-pump maker, and DexCom Inc. were among the biggest decliners Wednesday plus animal health stocks Idexx Laboratories Inc. and Zoetis Inc. About five of every six of the biggest health-care stocks in the S&P 500 were down in afternoon trading.
An average of 1.94 million doses per day were administered in the U.S. over the past week, according to data compiled by Bloomberg. With the distribution campaign gathering pace, there's been an abrupt rotation away from the sector responsible for bringing vaccinations to the public. While the S&P 500 reached a record in February, the health-care sector started peeling away from the rally weeks earlier.
"Investor conversations point to a generalist buyer's strike across the sector that likely needs some catalyst to reverse course," Goldman Sachs strategist Asad Haider said on Friday. The rollover on frothy multiples for life-science tools and dental stocks wasn't shocking, but the uneven trading in stable health stocks was more of a surprise, he wrote in a research note.
The beating isn't just being felt by value stocks in health care. Shares of high-momentum biotechs started underperforming the broader market this week.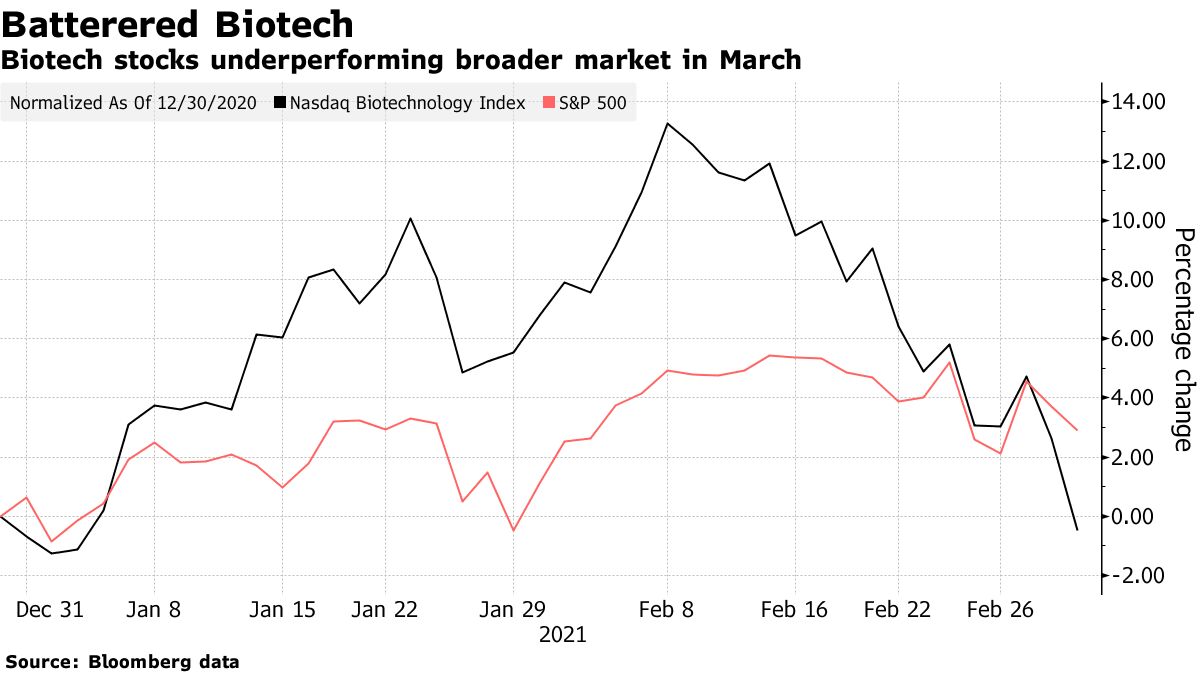 As biotech investors wonder when the weakness will ebb, Haider points out that the magnitude of the recent underperformance is approaching other drawdowns over the past five years, though over a quicker period.
"This could suggest latter innings if recent precedents hold, though we'd caution against over-indexing to analogs in the current backdrop," he said.
Raymond James analysts led by Dane Leone said in a fund-flows analysis on Friday that the rapid liquidation of actively managed exchange-traded funds and a tech sector downturn are larger risks for biotechs than climbing Treasury yields or retail-led raids on heavily shorted stocks.
ARK Innovation ETF, a closely watched fund popular with retail traders, fell as much as 6.8% on Wednesday to the lowest since early January.
Peloton Stock – Health-Care Stocks Battered as Vaccine Rollout Gathers Steam

Tags: Peloton Stock, NASDAQ: PTON