Rig Stock – Drillship demand set to continue slow recovery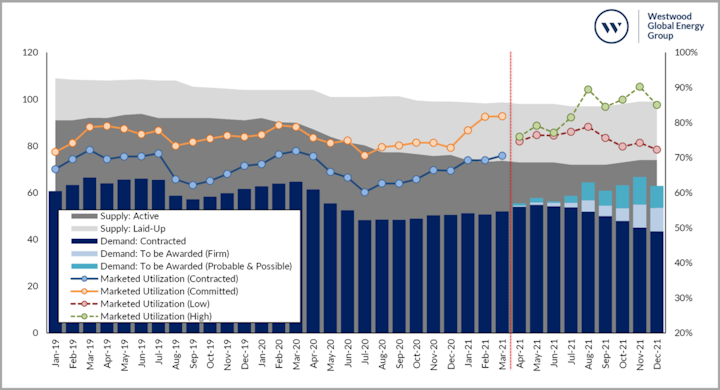 2021 outlook for drillships.
Offshore staff
LONDON – Marketed and committed drillship use in February and March was just under 82%, higher than for any month since February 2020, according to Westwood Global Energy Group subsidiary RigLogix.
Utilization in 2020 dipped below 70%, but has sharply increased since December.
According to RigLogix head Terry Childs, the recent recovery is due to a three-rig supply decline and a near five-rig increase in demand. At the same time, drillship demand has fallen from a high in May 2019 of 73 contracted/committed rigs to 60 in March 2021.
Although day rates have remained sluggish, there have been exceptions such as Maersk Drilling's $210,000-plus fixture for an upcoming well off South Korea for Korea National Oil Co., and Transocean's recent $215,000/d assignment for BHP in the US Gulf of Mexico.
But the average new-rate fixture since February 2020 has been just over $187,000, compared with the 2019 average of just over $182,000. Typically, utilization of the global fleet must hit 85% for substantial rate improvement to occur, and the current level is just below 82%.
With Brent crude remaining above $60 for much of the current quarter of this year, rig owners are cautiously optimistic for the remainder of 2021 and into 2022, Childs claimed, with some operators reportedly accelerating their drilling programs to take advantage of lower rig rates.
Since March 1, 2020, only eight contracts have been terminated early and there have been no instances since mid-December. But seven of the eight terminations cost the rig owners a collective $350-plus lost revenue.
This year 55 planned drilling programs out of a total of 152 have a 2021 start date.
Much of the current drillship demand is in the Gulf of Mexico (US and Mexico), South America and Africa (west, south, and east coasts). These regions account for 44 of the 55 programs and 118 of the 152 total.
However, some 2021 start dates may still end up being pushed into 2022 or even 2023, with the Gulf of Guinea in particular struggling to address COVID-related logistical challenges.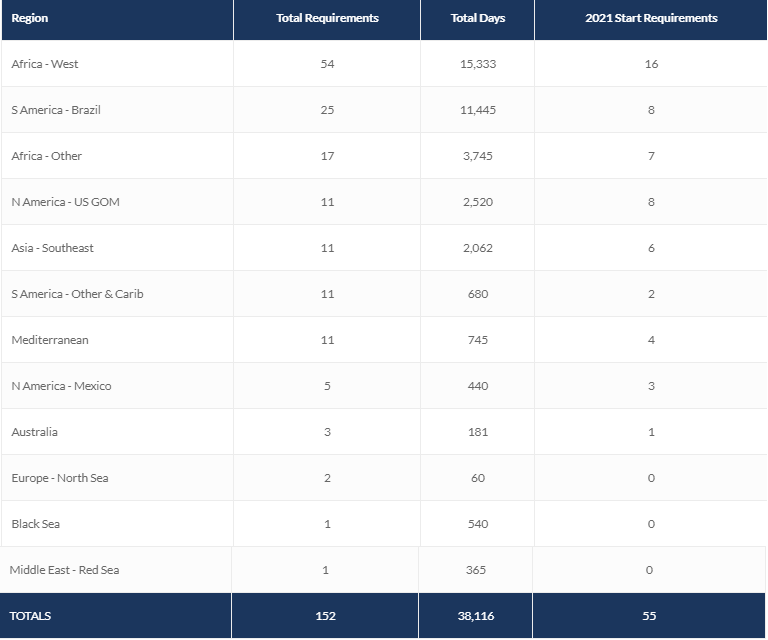 (Source: RigLogix)

Since January 2020, six drillships have been removed from the fleet, with close to 30 others identified as potential retirement candidates. More than 50% of those have been stacked for two years or more and most have expired special periodic survey dates.
As reactivation could cost $50-100 million, only a few may ever work again, Childs suggested.
As for newbuild rigs only four under construction have a 2021 delivery date. They include Transocean's Deepwater Atlas and Deepwater Titan, both with contracts in the US Gulf of Mexico.
This year drillship demand could increase by 10 units to around 65, supported by analysis which suggests that the number of high-impact exploration and appraisal wells drilled offshore could be 17-22% higher this year, with 250 subsea tree installations also predicted (up 19% on 2020).
Later this year day rates could start climbing in certain cases above $200,000, particularly for assignments starting in late 2021 or in 2022.
03/30/2021
Rig Stock – Drillship demand set to continue slow recovery]

Tags: Rig Stock