Rio Tinto PLC Stock – With a Push From Apple, Aluminum Rivals Team Up to Go Green

As David DeYoung, then a director of business technologies at Alcoa, walked into Apple's Cupertino, Calif., headquarters in September 2015, he knew that the stakes were high.
DeYoung led a group of engineers who'd spent decades pursuing the holy grail for the notoriously dirty aluminum industry: a way to smelt the metal without producing any direct carbon emissions. Apple Inc., which Harbor Intelligence analyst Jorge Vazquez estimates uses almost 15,000 metric tons of aluminum annually for its electronics gear, had invited DeYoung to explain a potentially revolutionary carbonless manufacturing process for aluminum that his group was developing.
Alcoa Inc. was on the verge of ending the DeYoung team's yearslong search. To make the tension even worse, moments before DeYoung stepped into a roundtable with Apple engineers, he received word Alcoa was splitting into two publicly traded companies—casting another cloud on his unit's project. So Apple's interest in reducing the carbon footprint of its metal casings looked to be key to saving the funding.
But it wasn't until later in 2015 that the payoff from that meeting came, with help from an unexpected source. That's when Vincent Christ, a manufacturing information technology expert from Rio Tinto Group Plc, flew to Cupertino for a similar visit. The London-based company, one of Alcoa's biggest rivals, was also struggling to develop a way to produce aluminum through a process that would emit oxygen instead of carbon dioxide. While heading back to the airport after an hourslong confab with Apple engineers, Christ received a call. Apple had an idea: Rio Tinto and Alcoa were both close to the answer they were looking for, but neither company seemed able to do it on its own. So why not combine efforts?
"We had the engine, but we didn't have the wheels, chassis, or body, and Rio brought that all to the party," says DeYoung, who holds a Ph.D. from MIT. "[Apple] said, 'You guys really ought to talk to Rio,' and we were like, 'Yeah, we have already.' But then we said we'll talk to them again, and Apple actually facilitated that second contact."
The result was the creation of Elysis, a joint venture between Alcoa and Rio Tinto with investments from Apple, the government of Canada, and the provincial government of Quebec, which is one of the biggest aluminum-producing regions in the world. The venture has developed a technology that makes so-called green aluminum, whose production doesn't emit carbon dioxide. If the partners can make the process work at commercial scale, it could be used to retrofit existing smelters, transforming them from some of the dirtiest industrial polluters into the kind of green manufacturing facilities business and government are shifting toward.
"Sustainable packaging is a key opportunity to highlight our commitment to the environment in a tangible way, and we are excited to explore the opportunities to bring this to life in 2021 and beyond," says Ricardo Marques, vice president for marketing at Anheuser-Busch InBev SA's Michelob Ultra brand, which has bought some Elysis-made aluminum for its beer cans.
This advance has been a long time coming. In 1886, Alcoa founder Charles Martin Hall discovered a way to use electrolysis to create aluminum, a light, strong metal that's extracted from bauxite ore. The process creates alumina, an aluminum oxide compound that's put into a chemical bath where big carbon bricks, called anodes, are used to conduct huge amounts of electricity through the mix. The current splits the pure aluminum from the oxygen molecules, causing large amounts of CO2 to burn off and spew into the atmosphere.
The result is molten raw aluminum, but at a massive expense to the environment. For every ton of aluminum produced, as much as 11 tons of carbon dioxide are emitted, according to mining and metals researcher CRU Group. That high emissions rate makes the industry responsible for 2% of global carbon emissions, the International Aluminium Institute says.
Those outsize emissions inspired Apple to search for an alternative. They're also why AB InBev, Audi, BMW, and other companies in the past year have responded to environment-conscious consumers by paying for cleaner aluminum. Previously, that meant product from traditional high-emissions smelting that gets its electricity from renewable sources such as solar or hydro.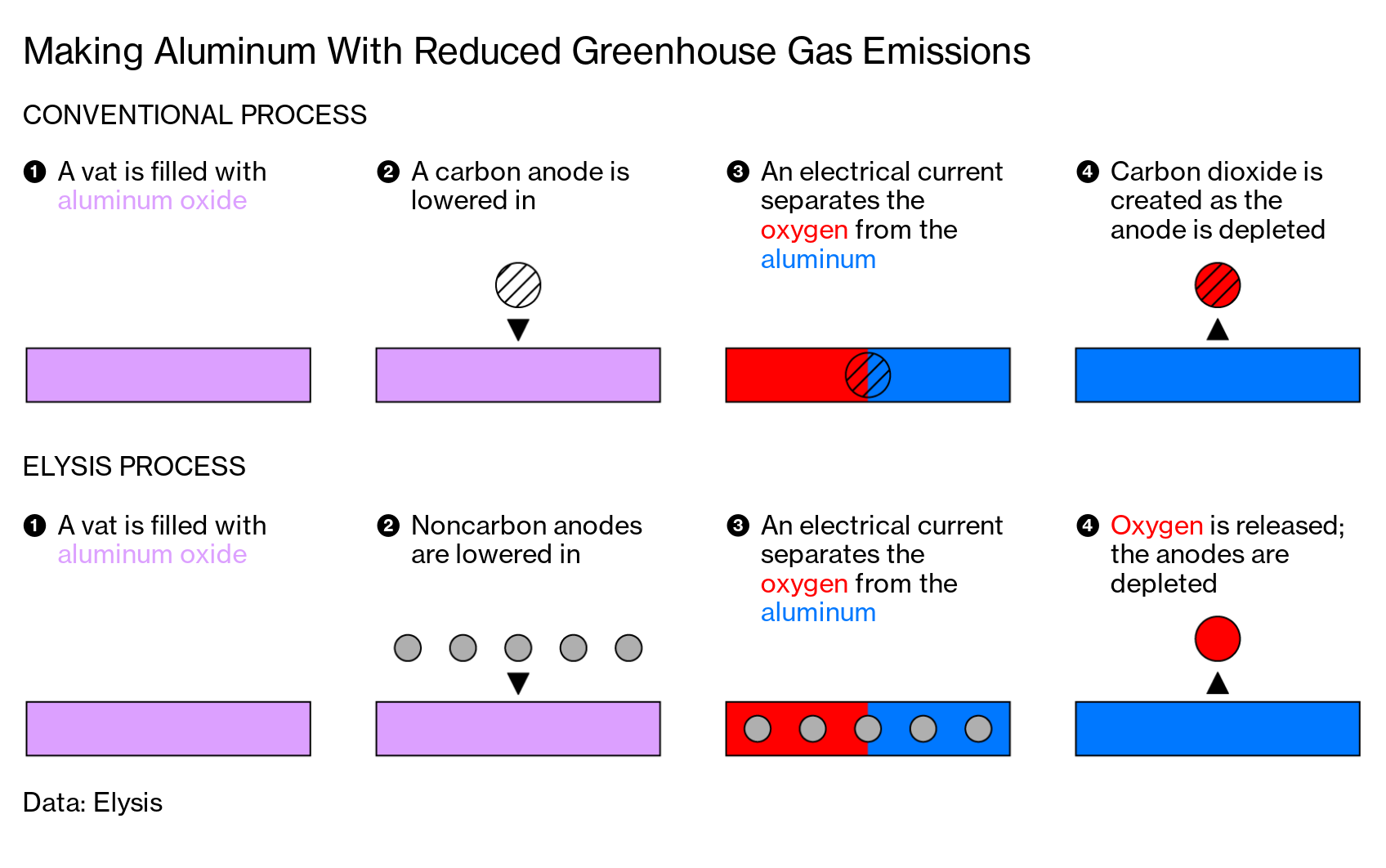 Elysis has developed a process that substitutes carbon with inert materials—it won't say what they are—to make the anode that conducts the electricity causing the chemical reaction. "We use noncarbon materials that do not react, and as a consequence you get the separation of aluminum on the one side and oxygen on the other," says Christ, who's spent 36 years working to create carbonless aluminum. "It's absolutely magic how we do that, but the explanation is very simple, actually."
After successfully developing an emissions-free prototype smelter that produced a small amount of green aluminum used in some Apple laptops in 2019, Elysis built a pilot plant in Saguenay, Quebec, about five hours northeast of Montreal. Rio Tinto and Alcoa don't allow photos to be taken of the closely guarded factory. Even knowing the measurements of the layout could tip off competitors, says Vincent, who's now chief executive officer of the joint venture. "You're the only person on the planet who will see this, other than our board," Christ said to a Bloomberg writer.
The idea of eliminating carbon from aluminum production traces back more than 130 years. That's when Alcoa founder Hall wrote in his original U.S. patent, dated April 2, 1889, that an improvement to the then-revolutionary process would be to produce the metal "by means of an anode formed of non-carbonaceous material."
In the entire mine-to-consumer supply chain of aluminum, smelting is the most carbon-intensive part. It uses an immense amount of energy. A single aluminum plant can use as much electricity as it takes to power a major city. The International Aluminium Institute estimates electricity generation accounts for about 60% of the industry's global emissions. The CO2 released during electrolysis only makes matters worse.
Christ says Elysis' operating costs are about 15% lower than those of conventional smelting, in part because the carbon anodes used in the chemical reaction must be replaced after 25 days, while Elysis' inert material lasts two years. The carbonless process also requires fewer workers, since there's no need to frequently change out the cathodes sitting in the pots of molten alumina.
European buyers are already showing a willingness to pay extra for cleaner aluminum. BMW AG this year signed an agreement with a United Arab Emirates producer for aluminum made using solar power. But the bigger financial benefit for Alcoa and Rio Tinto may come from licensing their technology to other manufacturers or from selling them the new smelting cells and inert anodes, says Greg Wittbecker, an analyst at CRU Group who worked at Alcoa for 15 years.
Wittbecker says the immediate hurdle for Elysis is to prove it can crank up the amperage used during carbonless smelting to industrial-strength power levels, which would allow higher daily production rates. Elysis announced on April 20 it will begin installing commercial inert anode prototype cells on a smelter in Quebec in an effort to prove it can retrofit existing smelters.
A pivotal moment will be if or when governments implement carbon credit or carbon tax programs that would penalize low-cost aluminum made in plants in China and India that use power from coal-fired plants, Wittbecker says. They're the dirtiest in the world, so carbon taxes that reduce their attractiveness or a drop in China's big government subsidies to its aluminum industry would be a boon for green aluminum.
The Elysis partners are convinced that the way to capitalize on that possible future is through a combined effort. Alcoa was "running a bicycle, and the endgame is the Formula One race," says Christ, who adds that the venture has also been receiving calls from steelmakers, cement producers, and companies from other industries seeking advice on slashing their carbon emissions. "That's why it is such a privilege to come in at this stage where this baby's almost born and [help] bring it to life."
 
Read next: Startups Cutting Emissions From Concrete Win $20 Million Xprize
BOTTOM LINE –
For each ton of aluminum produced, as much as 11 tons of CO2 are emitted. A new process by Alcoa and Rio Tinto may remove the carbon pollutants from the metal's smelting.
Rio Tinto PLC Stock – With a Push From Apple, Aluminum Rivals Team Up to Go Green

Tags: Rio Tinto PLC Stock

Stock Market

Latest News on C N N.