S and P 500 – S&P 500: The Back And Forth Dance Could Continue Until The Next Fed Meeting

The made some unusual moves after testing an all-time high at 4238 on May 10, 2021.
The S&P 500 Futures found a steep fall up-to-the low at 2029 on May 13, 2021. Undoubtedly, this lackluster trading continued until hopes for drove hopes to the investors to throngs in good numbers despite growing concerns over the futile efforts to temper inflation.
Amid this tumultuous voyage, the first resistance was at 4183, and the second was at 4218. The S&P 500 Futures have breached this second resistance two times during June 2021. The first dissection of this resistance was on June 1 and, the second was on June 4 before the weekly closing.
The S&P 500 Futures closed the week at 4227.62 with gains of 0.87%.
Global stocks rallied on Friday and closed near all-time highs, and and rose. dropped after U.S. jobs data, which was strong but not as robust as expected, easing investor worries that the Federal Reserve would soon rein in monetary stimulus.
Still, the quantum of uncertainty will extend to volatility until the Fed's final comment on June 15, 2021.
The opening level of the S&P 500 Futures on the first trading session, on its follow-up moves, might provide some clue about the directional movements of the S&P 500 Futures until the Fed meets next.
Undoubtedly, if the S&P 500 Futures start the next session with a gap-up opening, which it could not sustain above 4232, massive selling could chase this move. On the other hand, if the S&P 500 Futures find a gap-down on the first trading session, this move could see a reversal from the immediate support at 4192.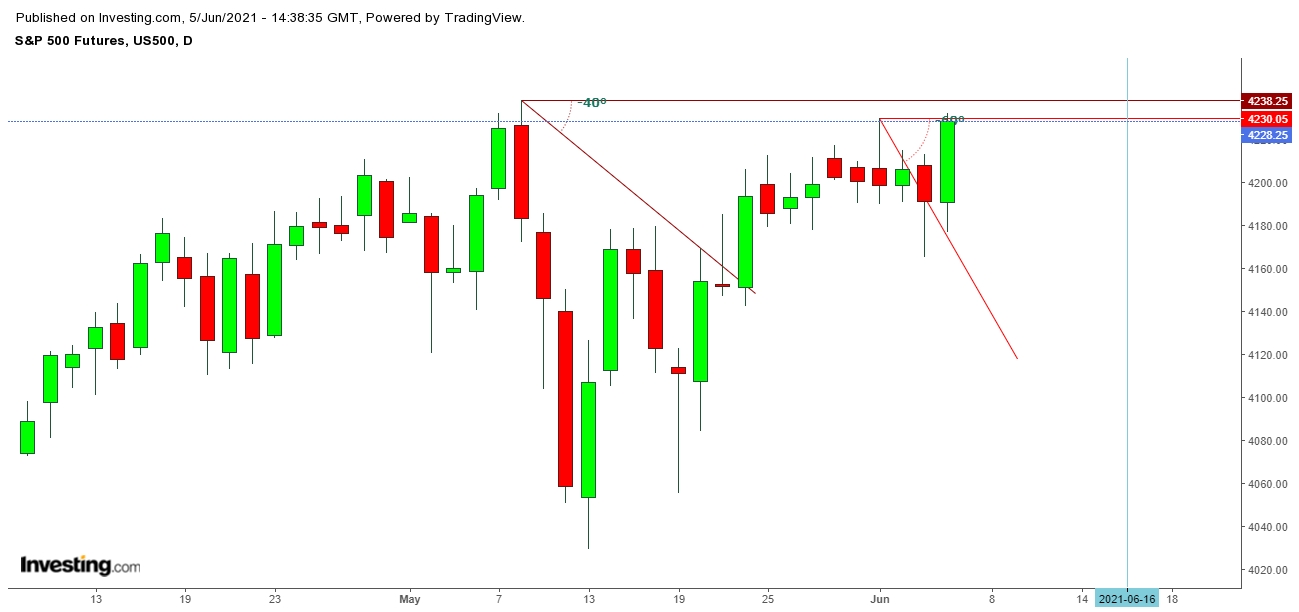 SP 500 Futures Daily Chart
Disclaimer:  This content is for information and educational purposes only and should not be considered as investment advice or an investment recommendation. Past performance is not an indication of future results. All trading carries risk. Only risk capital be involved which you are prepared to lose.
Remember, YOU push the buy button and the sell button. Investors are always reminded that before making any investment, you should do your own proper due diligence on any name directly or indirectly mentioned in this article. Investors should also consider seeking advice from an investment and/or tax professional before making any investment decisions. Any material in this article should be considered general information, and not relied on as a formal investment recommendation.


S and P 500 – S&P 500: The Back And Forth Dance Could Continue Until The Next Fed Meeting

Tags: S and P 500, S&P 500