Snowflake Stock – Stock Markets Today: wuhan virus lab; shell ruling; holiday islands; nvidia

Good morning. Virus origin search, climate court ruling, holiday island hopes and a chipmaker's earnings. Here's what's moving markets.
Still a Mystery
More than a year into the pandemic, and we still don't know where Covid-19 came from. The U.S. is to "redouble" its efforts to determine the illness's origins, amid conflicting assessments of whether they were natural or a lab accident. The first cases were recorded in Wuhan, where the Chinese government runs a biosafety research lab, and the Wall Street Journal reported that U.S. intelligence indicates three researchers there became sick enough in November 2019 that they sought hospital care. The paper has also reported that the Chinese government is restricting access to an old mine that was the site of a 2012 incident in which six workers fell ill.
Shell Shocked
Shell's pledge to reduce greenhouse gas emissions by 20% within a decade, and to net-zero before 2050, just isn't good enough, according to a court ruling that could have far-reaching consequences for the global fossil fuel industry. A Hague court ordered the oil producer to slash emissions 45% by 2030, though the firm said it'll appeal. The company produced about the same level of greenhouse gas emissions as Russia in the pre-pandemic year of 2019. The setback for Shell is one of several recent climate-related rebukes for the industry. 
Nvidia, the largest U.S. chipmaker by market value, gave a bullish forecast on demand for chips used in computers and data centers. Gaming chip demand will also continue to boom, while a $400 million chunk of its second-quarter revenue will come from special chips it created for use by crypto miners, the firm says. Still, the stock slipped about 1% in after-hours trading after gaining about 20% already this year. Meanwhile, Snowflake, a software company that debuted with 2020's biggest U.S. public offering, also edged lower after the firm said product sales growth is likely to slow. 
Island Hopes
Some holiday islands could soon be added to Britain's travel "green list," even if they're part of countries in the amber category, UK. Transport Secretary Grant Shapps suggested, according to the BBC. The move may happen from 7 June, Shapps told the transport select committee on Wednesday. People from England can travel to green list countries without having to quarantine on their return. 
Coming Up…
European futures are pointing to a flat open for stocks following a mixed day in Asia. Daily Mail and Swedish airline SAS report earnings in Europe, while the European Central Bank's Isabel Schnabel speaks at a forum. In the UK, the BBC says Health Secretary Matt Hancock is due to face members of parliament after the government's handling of the pandemic was savaged by the prime minister's former top adviser, Dominic Cummings. In the U.S. it's a busy day for retailers, with Costco and Best Buy among those reporting, and technology firms Salesforce, Dell and HP also update. Elsewhere, retail traders on Reddit appear to be at it again after shares in GameStop and AMC jumped. Finally, U.S. durable goods orders is on the data schedule. 
What We've Been Reading
This is what's caught our eye over the past 24 hours. 
And finally, here's what Cormac Mullen is interested in this morning
Another valuation alarm bell was set off this month when the inflation-adjusted earnings yield on U.S. stocks fell below zero to a 40-year low. The unadjusted yield was already close to a record low but the culprit of course was the big spike in the U.S. consumer price index. Past occurrences haven't spelled good news for stocks. Sundial Capital Research founder Jason Goepfert looked at the S&P 500's future performance on occasions when its real earnings yield turned negative for the first time in more than three years. It wasn't pretty, with a median decline on the five occasions of 8% over three months and a whopping 22% over one year. Of course signs of valuation excess are no catalyst themselves for the stock market to roll over. But findings like these can hardly inspire confidence that outsized gains lie ahead for those buying U.S. stocks today.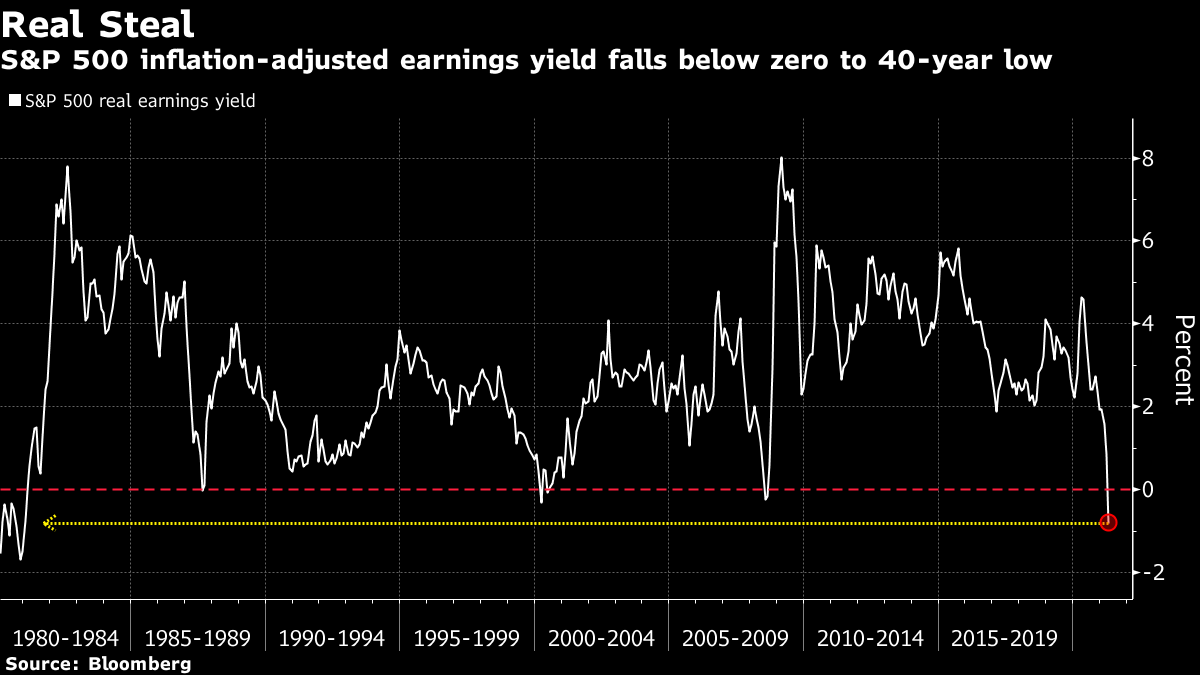 Cormac Mullen is a cross-asset reporter and editor for Bloomberg News in Tokyo.
Like Bloomberg's Five Things? Subscribe for unlimited access to trusted, data-based journalism in 120 countries around the world and gain expert analysis from exclusive daily newsletters, The Bloomberg Open and The Bloomberg Close.
— With assistance by Gearoid Reidy
Snowflake Stock – Stock Markets Today: wuhan virus lab; shell ruling; holiday islands; nvidia

Tags: Snowflake Stock

Stock Market

Latest News on C N N.