SPCE Stock – Musk ($(TSLA)), Palihapitiya ($IPOE) and Wood ($ARKK) Face a Reddit Reckoning

Back in January I highlighted three people who'd become the face of the booming stock market: Tesla Inc. boss Elon Musk, serial SPAC promoter Chamath Palihapitiya and stock picker Cathie Wood of Ark Investment Management LLC.
The trio are evangelists for innovation and each, in their way, has encouraged investors to pour money into extravagantly valued tech stocks and speculative cryptocurrency. Would Musk, Wood and Palihapitiya be as adored when tech mania subsides, I wondered. We're about to find out.
While the broader stock market remains near record levels, the trio's portfolios and businesses have been pummeled by inflation worries and rising bond yields. Greater regulatory scrutiny of crypto and SPACs hasn't helped. Tesla shares have declined about a third since this year's peak, as has Wood's Ark Innovation ETF (ARKK). Palihapitiya's special purpose acquisition companies have performed even worse.
The positive feedback loops that boosted Musk's, Wood's and Palihapitiya's performance on the way up (the more attention and money they attracted, the more successful they were) could work against them on the way down. Losses may cause neophyte investors to reassess their loyalties and investing preferences.
It's unfair to place excessive focus on a drawdown from record highs. Each of the trio still has an impressive long-term record. ARKK has gained 44% annually on average in the past five years, while Tesla — a big ARKK holding — has returned 70% annually. This won't, however, be much comfort to investors who showed up late to the party.
Most of ARKK's investment inflows came after November 2020 and its price is below where it was then. In the past six months investors would have done better putting their money in a broad-based index fund, a pedestrian form of investing that Wood's company has trolled on social media.
How should the three big names respond to their recent travails? Humility is a good place to start. Palihapitiya used to compare himself to Warren Buffett but the grandiosity is gone for now. He began a recent podcast with an improvised song about the sea of red on his stock screen and whether this made him a "loser."
Like Palihapitiya, Musk has occasionally tried to warn his followers not to take excessive risks. Ahead of his recent appearance on "Saturday Night Live" he counselled his acolytes against putting their life savings in cryptocurrency, although it might be a bit late for that.
It's hard to sound genuine when you're touting speculative investments one minute and hitting the brakes the next. Musk got a reminder of that last week after his Damascene conversion on the carbon-intensity of Bitcoin. Angry Redditors responded to this betrayal by threatening to sell their Tesla shares. 
They threw a similar tantrum when Palihapitiya dumped $300 million of space-tourism venture Virgin Galactic Holdings Inc., which he helped take public via his first SPAC in 2019. Shares in Richard Branson's company have sunk almost 75% since February. Palihapitiya said he needed the money for a new climate investment. He'd have more spare cash if he hadn't just splurged on a big private jet.
Wood has been more consistent. Untroubled by ARKK's decline, she claims to "love this setup": The lower price of her favorite stocks just means the future returns will be greater, she says. So far investors aren't giving up on her. The $20 billion fund hasn't experienced the exodus one might have expected and Friday's rally showed some are still willing to buy the dip.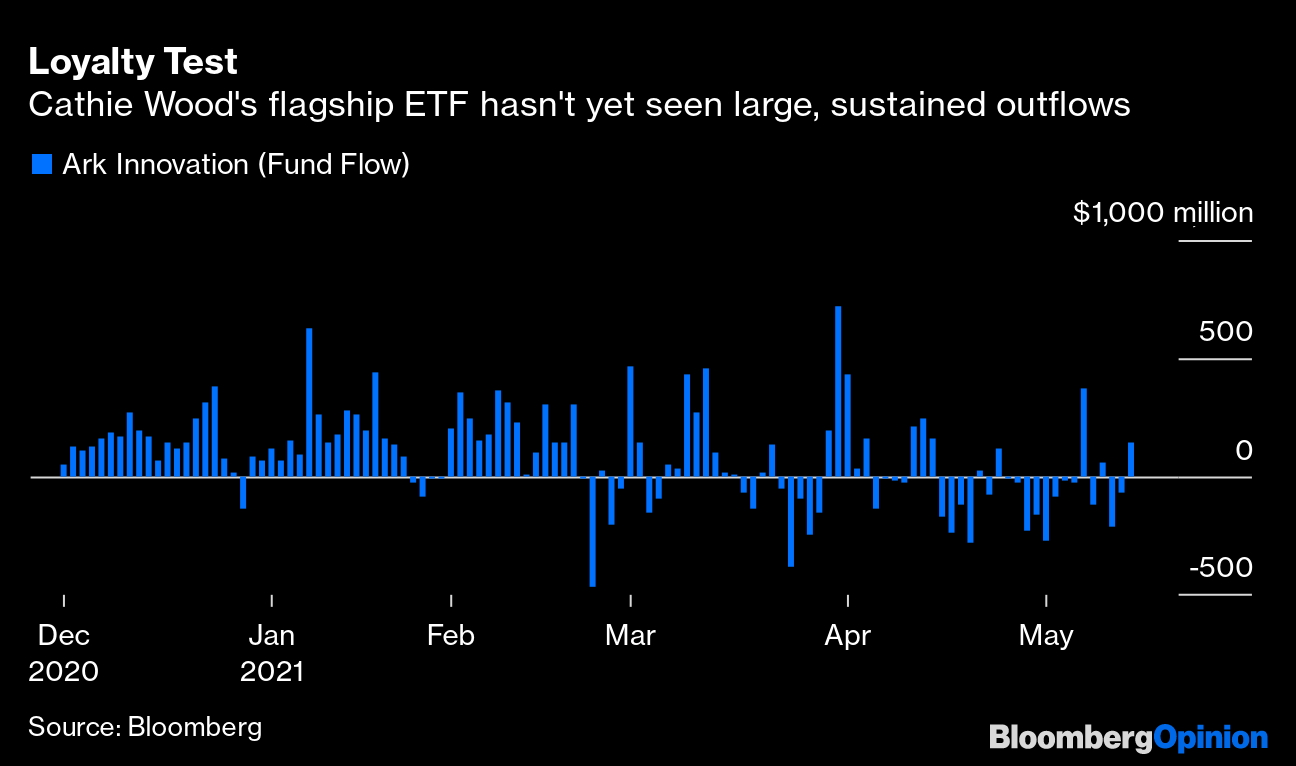 That investor patience may wear thin. While Redditors boast of "diamond hands" and crypto aficionados "HODL" — in homage to their refusal to panic sell — they can be a fickle bunch. Look at the way retail investors have tired of SPACs and the electric-vehicle makers they've taken public. For others even Bitcoin is already passe. It's all about Dogecoin now.
If Wood's outflows increase, her selling could exacerbate the losses in some of the less liquid stocks on which she's bet big. Short sellers have upped their bets against her portfolio, though they've lost similar wagers in the past.
Musk claims to still strongly believe in crypto, although on Sunday he sowed doubt in a Twitter exchange about whether Tesla may sell its Bitcoin holdings. He may come to regret hitching Tesla's shiny brand to such a volatile asset. Palihapitiya's ambition to create an alphabet of SPACs may have to wait a while.
At some point all investors learn that stocks don't only go up and it pays not to put all your eggs in one basket. Hopping from one speculative bubble to the next may work for a lucky few, but for the bag holders the losses eventually bite.
While I don't expect millennials and Gen Z to become dyed-in-the-wool value investors suddenly, a new appreciation for portfolio diversification, reasonable valuations and dividends would be no bad thing. Profits, not prophets, are starting to drive the stock market again.
To contact the senior editor responsible for Bloomberg Opinion's editorials: David Shipley at
[email protected]
.


SPCE Stock – Musk ($(TSLA)), Palihapitiya ($IPOE) and Wood ($ARKK) Face a Reddit Reckoning

Tags: SPCE Stock

Stock Market

Latest News on C N N.