TVIX Stock – Inverse Volatility Products Almost Worked

We have talked a couple of times this week about the unpleasantness experienced on Monday by investors in inverse volatility products like XIV (the VelocityShares Daily Inverse VIX Short-Term ETN, an exchange-traded note issued by Credit Suisse) and SVXY (the ProShares Short VIX Short-Term Futures ETF, an exchange-traded fund). These products were bets that volatility would go down. On Monday volatility went up. Specifically the VIX (the CBOE Volatility Index) went up by 116 percent in one day. The people who had bet that volatility would go down lost almost all of their money. That is altogether fitting and proper. When you bet that a thing will happen, and the incredibly extreme opposite of that thing happens, then you should lose your money. You can complain, but we don't have to listen to you.
So in the broad sense those products worked as intended. For instance, if you bought XIV at noon last Friday, you paid about $119, when the VIX was about 15. At 4 p.m. on Tuesday, when the VIX was at about 30, your XIV was worth $7.35. The VIX had gone up by 100 percent; your XIV note had gone down by about 94 percent. There is some tracking error, because the XIV isn't exactly meant to provide the negative of the return on the VIX — it provides the negative of the return on a blend of short-term VIX futures
 — but basically the XIV going down by 94 percent when the VIX went up by 100 percent seems about right.
But if you zoom in a bit you can find … certain glitches. If you bought XIV at 4 p.m. this Monday, something odd happened. You paid about $99 for it. But at that point the VIX was at about 35. The VIX had more than doubled from its Friday afternoon levels, but XIV was down by only about 20 percent. And if you then held XIV until Tuesday afternoon, you lost about 93 percent of your money, even as the VIX actually fell by about 14 percent, back to 30. If you bought XIV on Monday afternoon to bet that volatility would go down, you were right. But you lost almost all of your money.
That is, you were right that volatility would go down. You were wrong to buy XIV to express that view. But a lot of people did. Bloomberg tells me that 5 million shares of XIV — about $500 million worth — traded between 3 and 4 p.m. on Monday, at a volume-weighted average price of $98.
 The VIX was above 30 for almost all of that time. People who bought XIV in the last hour of trading on Monday lost more than 90 percent of their money within 24 hours, even though they were basically right, or at least not grievously wrong, about the short-term direction of the VIX. Bloomberg tells me that another 28 million shares — some $800 million worth — traded after hours on Monday, at an average price of about $29. At that point the value of XIV — its "closing indicative value," the amount of money that Credit Suisse owed you under the terms of the ETN — was $4.22.
Its closing indicative value on Tuesday was $5.32. If you bought XIV on Monday after the close, its value actually went up. But its price collapsed. You paid $29 for a thing that was worth $4.22; you ended up with a thing worth $5.32 that traded at $7.35.
Why … why did you do that? You should not have done that! The closing indicative value is published on the XIV web page. Paying seven times that value, or 20 times that value for that matter, was a bad plan! Still it is the sort of bad plan that can plausibly be chalked up to the complexity of the instrument rather than to, you know, the vicissitudes of life. XIV's trading price didn't catch up to its underlying value for several crucial hours; eventually trading was halted on Tuesday morning and it reopened Tuesday afternoon much closer to its actual value.
People who bought XIV at 4 p.m. on Monday because they thought that the VIX was too high were right about that; they were just wrong that the trading price of XIV accurately reflected the level of the VIX at that time. That is a mistake — a fairly glaring mistake — but a sort of understandable one. For people who bought XIV on Friday, it worked exactly as intended: They lost almost all of their money, and they should have. For people who bought XIV late on Monday, it did not work as intended: They lost almost all of their money, but they shouldn't have.
Let's zoom in on another detail that doesn't look great: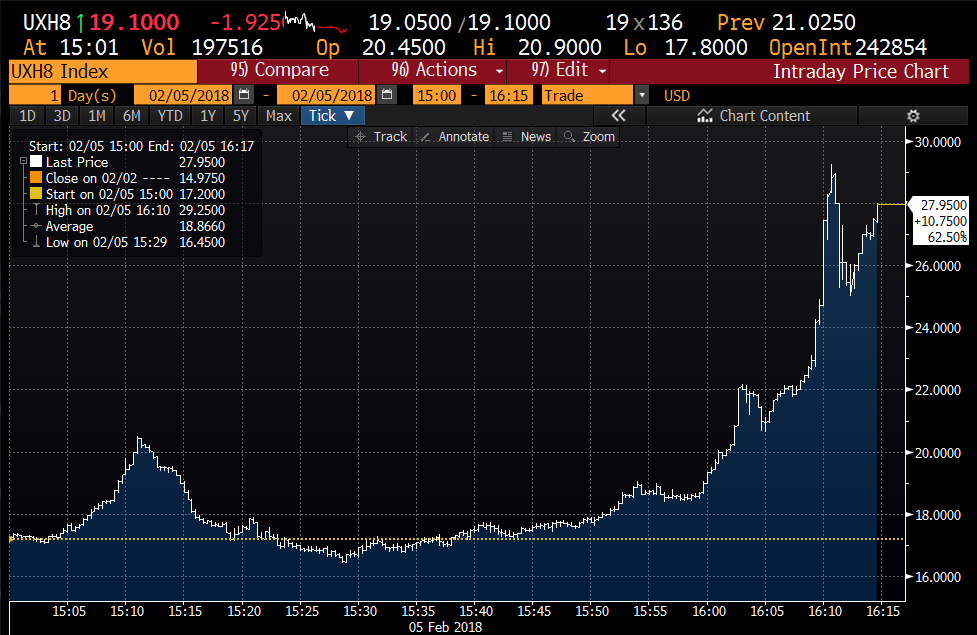 That's the price of March VIX futures on Monday between 3 p.m. and the close. It was not that high, and then suddenly it was. Why is that? Well, why does anything happen, people were calm and then they panicked, etc. But there is also probably a technical reason for it, which has to do with how short-volatility products like XIV and SVXY are hedged.
Actually let's start with a difference between them. SVXY is an exchange-traded fund: It's a pot of money, and its managers manage the pot of money by selling VIX futures to try to obtain -1 times the daily return of an index of short-term VIX futures, minus some fees. If the futures go up, the pot loses some money, and shares of the fund are worth less; if the futures go down then the shares are worth more. The pot of money owns the short futures positions, and the shareholders of the fund participate in their performance. XIV, on the other hand, is an exchange-traded note. It is just an obligation of Credit Suisse: Credit Suisse promises to give investors a daily return equal to -1 times the daily return on that index of short-term VIX futures. The ETN doesn't hold any futures; it's not a pot of money that Credit Suisse manages on behalf of its investors. It is just a debt of Credit Suisse; if the VIX futures go down then Credit Suisse owes investors more money, and if they go up it owes them less. 
In practice, though, Credit Suisse hedges the ETN, and one would expect its hedge to look much like the actual futures that a similar short-volatility ETF would hold.
 (That is, its trading for its own account should look similar to how SVXY trades for its investors' account.) Pseudonymous financial blogger Kid Dynamite explains the expected hedge strategy here, and I will adopt some of his numbers.
Simplistically let's say that as of Monday morning XIV had 15 million shares outstanding at a value of $100 per share, or a $1.5 billion net asset value.
That means that Credit Suisse's hedge would be to be short $1.5 billion of VIX futures at a VIX of around 15.
 (One convenient fancy way to describe this is that it is short $100 million of VIX futures vega, where vega just means the dollar value per VIX point.) If VIX futures then go down to 14, XIV's net asset value is now $1.6 billion.
But now Credit Suisse is only short $1.4 billion of futures, and has to go sell $200 million more worth of futures, at 14, to remain hedged. If instead VIX futures go from 15 to 16, XIV's net asset value is now $1.4 billion. But Credit Suisse is now short $1.6 billion of futures, and has to go buy in $200 million of futures to remain hedged. 
If instead VIX futures go from 15 to 20, XIV's net asset value goes to $1 billion, and Credit Suisse has to buy in $1 billion of futures to remain hedged.
 But meanwhile the managers of SVXY also have to buy in lots of futures, because their fund has also shrunk. And so does everyone else who has short-VIX products like this outstanding. And as they buy more futures, they push up the price of the futures. But as the price of the futures goes up, the net asset value goes down, and they have to buy in more futures, which pushes up the price of the futures, which pushes the NAV down, which can keep going, in the extreme case, until they've bought in all the futures and the NAV has gone to zero. XIV and SVXY did not quite get to that extreme case on Monday, but they got about 96 percent of the way there. 
One question is: When do they buy in those futures? The XIV ETN is priced based on the closing value of the futures each day.
 To match that settlement method, Credit Suisse could buy in its futures at the close on Monday. (The normal way to do this is using trade-at-settlement futures, where you can lock in the closing price of the futures that day, though alternatively you could just try to buy futures right at the close.
) There is an obvious problem with that approach, which you can see in the chart above: If a lot of people need to buy in a lot of VIX futures at the closing price, the closing price is going to be a lot higher than the price during the rest of the day.
This is unpleasant for Credit Suisse: Not only does it have to buy a lot of futures right at the close, but also it doesn't know how many futures it needs to buy, because every time it buys futures it pushes up the futures price and forces itself to buy more futures.
The other way to buy in the futures is: not at the close. That is, when it got to about 3 p.m., and VIX futures prices were well above where they had closed the previous day, Credit Suisse could start to be reasonably confident that it would need to buy in some futures that day. Why not do some of it now? If Credit Suisse had bought futures at 3 or 3:30, it could have paid 18 or 20 for them, instead of the 28-ish closing price.
There are three big advantages to that:
By not doing all of its buying at the close, Credit Suisse takes some pressure off the close, which makes the ramp into the close a bit less steep, which leads to a lower settlement price for VIX futures, which leads to a higher net asset value for the XIV ETN, which preserves a little bit more of the ETN investors' money.
Taking pressure off the close also makes the close more predictable: If VIX futures don't ramp too steeply, then Credit Suisse can better figure out how many futures it needs to buy (which, again, is a function of the closing price), so it can stay hedged more easily.
If Credit Suisse buys a chunk of its futures at 20, and they do close at 28,

 then the XIV ETN is synthetically buying the futures from Credit Suisse at 28 that Credit Suisse bought at 20.

That is … potentially a lot of profit? Like: A lot a lot of profit?

 Of course if the futures close at 15, it's potentially a lot of loss, but at some point late Monday you probably had some reason to suspect that the close would be up.
That's a good trade! It's good for Credit Suisse's own wallet, and it's good for its customers. I suspect it is nonetheless a stomach-churning trade for a bank in Credit Suisse's situation for one simple reason, which is that it looks a bit like trading ahead of the clients. If you are synthetically selling VIX futures to your own ETN at 4:15, and you are buying those futures at 3:30 or whatever, and you are buying them at 20 and selling them to the ETN at 28, then holders of the ETN might start to throw around ugly words like "front-running." They would, I think, be wrong: Credit Suisse has no actual customer order to buy VIX futures, just a derivatives product priced based on the closing value of those futures. If it chose to hedge that product, that was its own business, and it could do that hedging however it liked. XIV's prospectus says as much, very clearly.
 "It is possible that we, our affiliates, or third parties with whom we transact could receive substantial returns with respect to these hedging activities while the value of your ETNs decline or become zero," it says. I think this trade would be fine and lovely and I would do it all day long, but others might disagree.
In practice I think that banks these days have lost a lot of their appetite for market risk (what if the futures closed at 15 and they lost hundreds of millions of dollars by pre-hedging?) and reputational risk (what if the futures closed at 40 and they made hundreds of millions of dollars by pre-hedging while their customers lost everything?), so Credit Suisse — or whoever bore the ultimate risk of XIV — probably hedged as much as they could at the closing price in the trade-at-settlement market. But that market got pretty illiquid over the course of Monday afternoon, which meant that issuers who were hedging short-volatility products were probably themselves buying a lot of VIX futures going into the close, or even earlier. 
Or later. Another question about the futures is, how many futures should the XIV and SVXY and other issuers buy? Remember, there is a feedback loop; how many futures you have to buy depends on how high the futures prices are, and vice versa. After the fact the answer was calculable, but in the wild trading of Monday afternoon you might have overshot or undershot the right amount. Actually overshooting would be hard: In the event, when VIX futures almost doubled, short-VIX products should have bought in something like 96 percent of the underlying futures. There could never be a circumstance where they'd have to buy in more than 100 percent — if the funds go to zero, you buy in all the futures, then you stop — so on a day like Monday there just wasn't much room to overshoot.
On the other hand they could have undershot. And that would be great! If they ended Monday short more futures than they were supposed to be, then they would have had to buy in those extra futures on Tuesday morning — when the futures were much lower than they had been at the close on Monday.
 Being too short going VIX futures into Tuesday, when VIX futures opened down, worked out great for you.
Something worked out great for SVXY, anyway. On Monday, the relevant index of VIX futures was up 96 percent, XIV's indicative value — which is guaranteed by Credit Suisse to be -1 times the index return — was down 96 percent, and SVXY's net asset value — in which ProShares tries its best to return -1 times the index — was down about 96 percent.
 On Tuesday the index was down 26 percent, XIV's indicative value was up 26 percent, and SVXY's net asset value was up 187 percent. That's a weird number! SVXY is an inverse ETF. If VIX futures had gone to zero on Tuesday — the lowest they could ever go — then you'd expect SVXY to be up 100 percent. Being up 187 percent in a day seems impossible. The only way to do it is by enormous slippage from the index: Either SVXY's managers bought in their futures on Monday afternoon at prices well below the closing price, or they bought in their futures on Tuesday morning at prices well below Monday's close, and either way that slippage from the closing price showed up in Tuesday's net asset value as a big profit. And so they did not provide SVXY shareholders with the short-VIX exposure that they expected.
You cannot really blame them for that. For one thing: It worked out great for the shareholders! Instead of being down 95 percent from Friday through Tuesday, they were down 89 percent; perhaps they don't find that very comforting but they should.
 For another thing, the market for VIX futures on Monday afternoon was crazy, and it would have been hard for SVXY's managers to give their fund exactly the experience of buying in all the futures at the closing price. They had no choice but to buy in some of those futures either earlier on Monday or later on Tuesday, in either case at a price lower than the "correct" price. 
This wasn't a problem for XIV because, again, Credit Suisse just guaranteed XIV holders exactly the return on the index. But if Credit Suisse was hedging the ETN, then it had the same problem as SVXY's managers, but for its own book. And just like with SVXY, it turned out to be a nice problem to have. Actually Credit Suisse's problem would have been even nicer than SVXY's: SVXY was trying to match the closing price for its investors; going over or under the closing price would be bad. Credit Suisse just had to not do worse than the closing price; if it bought in futures for less than the closing price that was a pure win. 
Just for giggles, if Credit Suisse was hedging XIV using futures, and if its hedging of XIV slipped as badly as SVXY's hedging did, then Credit Suisse would have made almost $100 million hedging XIV on Monday.
 That is an entirely hypothetical number! There is no reason to think that Credit Suisse was hedging XIV in the same way that SVXY's managers were hedging their ETF, or that they got similar performance.
 Credit Suisse isn't saying: It put out a statement on Tuesday saying "that it has experienced no trading losses" on the XIV,
but that doesn't mean it didn't experience any gains. 
Anyway XIV is gone now, or as good as gone; Credit Suisse announced that it will redeem it as of Feb. 21. It is now a fraction of its former self, and it's probably a bit depressing to come into work every day and see XIV sitting in the corner with a hangdog expression and an $80 million market cap. SVXY is still kicking though. In fact:
It lost 90 per cent of its value on Monday, but enjoyed renewed inflows of $71.7m on Tuesday and another $135.6m on Wednesday, according to Bloomberg data. That has lifted its total assets from a low of just $72m on Monday to $427.7m at the end of Wednesday — though still a far cry from the $1.7bn it boasted at the start of February.
It's a touching vote of confidence. People had such a great experience with inverse vol products that they couldn't wait to come back for more.
This column does not necessarily reflect the opinion of the editorial board or Bloomberg LP and its owners.
To contact the editor responsible for this story:
James Greiff at [email protected]
TVIX Stock – Inverse Volatility Products Almost Worked

Tags: TVIX Stock

Stock Market

Latest News on C N N.