United Stock – Stockhouse @ the Bell: TSX Climbs, Wall St. Flat as Fed. Reserve Stays the Course | 2021-04-07 | Investing News

Gains in the base metals sector helped lead Canada's main stock index higher in Wednesday trading. The mining, financial, and industrial sectors saw the biggest gains, while energy, health care, and utilities logged declines.
---
Sponsored by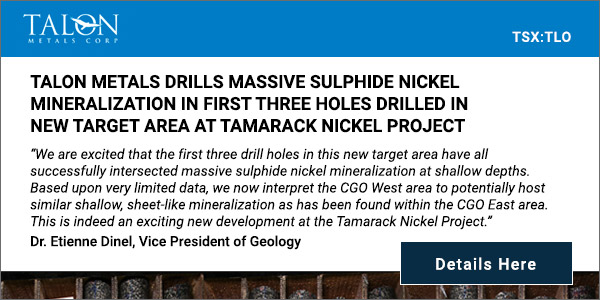 ---
The Federal Open Market Committee published the minutes from its March meeting, where the central bank opted to leave interest rates unchanged. The minutes could offer investors a clue as to when the Fed might hike interest rates. Shares of reopening plays airlines and cruise lines led the gains, continuing their recent run. Carnival climbed 3.6%, while Royal Caribbean and Norwegian Cruise Line gained more than 2% each. Shares of Southwest Airlines and United both rose over 1%.
Today in the Markets
The Canadian dollar traded for cents US compared with cents US on Tuesday.
Crude oil prices were up $0.22 to $59.55.
The price of gold was up 7.73 to $1,736.18.
In world markets, the Nikkei was up 34.16 points to 29,730.79, the Hang Seng was down 263.94 points to 28,674.80, the FTSE was up 61.77 points to 6,885.32, and the DAX was down 36.32 points to 15,176.36.
Top 10 Bullboards:
Today in the News:
Ion Energy Ltd | Ion Energy Announces Filing of Final Short-Form Prospectus and Updates to Previous Disclosure
American Cumo Mining Corporation | American CuMo Mining Announces Silver Purchase Financing Now Available
Beyond Medical Technologies Inc. | Beyond Medical Manufactures N95 Medical Face Masks as Third Wave of COVID-19 Surges
Metallis Resources Inc. | Metallis Engages Geotech to Fly Extensive ZTEM Survey over Kirkham
CLS Holdings USA Inc | CLS Holdings USA, Inc. President and COO Andrew Glashow Featured On The Stock Day Podcast
DGTL Holdings | DGTL Activates Nasdaq-Listed Digital Sports Gaming and Entertainment Brand for 2021 PGA Masters Campaign
Northstar Gold Corp. – Common Shares | Northstar Gold Corp. Applies for OTCQB Listing and DTC Eligibility
Gratomic Inc. | Gratomic Announces Cash & Warrant Position as It Closes in on Full Dilution
Metallic Minerals Corp. | Metallic Minerals Intersects High-Grade Silver at West Keno Targets including 4.1 Meters of 2,536 g/t Silver Equivalent on the Keno Silver Project,Yukon, Canada
Zacatecas Silver Corp. | Zacatecas Silver Completes Geological and Structural Mapping at the El Cristo Prospect and Confirms Multiple Silver-Base Metal Mineralized Veins over a Strike Length of at least 4 km
Mobi724 Global Solutions Inc | Mobi724 Announces Granting of Options
Bragg Gaming Group Inc | Bragg Gaming Strengthens Foothold in Spain with Casumo
Cerro De Pasco Resources Inc. | Cerro de Pasco Resources Announces $2.5M Offering to Advance Tailings Retreatment Project in Peru
Kontrol Energy Corp | Kontrol Technologies Provides Corporate Update
Talon Metals Corp | Talon Metals Drills Massive Sulphide Nickel Mineralization in First Three Holes Drilled in New Target Area at the Tamarack Nickel Project
ImagineAR Inc. | ImagineAR (OTCQB: IPNFF) Reveals New Brand Identity with Redesigned Logo
KWESST Micro Systems Inc. | Emerging Markets Report: On the ATAK
Mission Ready Solutions Inc | Mission Ready Graduates to the OTCQX
Canada Nickel Company Inc. | Canada Nickel Signs Memorandum of Understanding with Taykwa Tagamou Nation for Mine Fleet Financing for the Crawford Nickel-Cobalt Sulphide Project
Company C.CBDX | Canbud Establishes R&D Partnership with Brock University for Climate Smart Sustainable Natural Fungi BioFertilizer
Ximen Mining Corp | Ximen Acquires NSR Royalty over 15,000 HA and 3800 HA additional Mineral Claims – Greenwood Historic – Mining Camp
Clarity Gold Corp | Clarity Gold Mobilizes Second Rig for Ongoing Drill Program in Quebec
Fission Uranium Corp. | Fission Resource Expansion Program Hits Wide Mineralization in all 20 Holes
---
Get @ the Bell delivered to your email inbox every day!
Sign Up Here
---
DISCLAIMER: By viewing any material on or distributed by Stockhouse Publishing Ltd. and its Information Providers you agree to both the following disclaimer, and the full disclaimer that can be viewed here.

Any holdings, theories, speculation or trades appearing anywhere on the Stockhouse network of websites should not be relied upon for purposes of transacting securities or other investments, nor should they be construed as an offer or solicitation of an offer to sell or buy any security. This applies to any material regardless of source, placement, presentation or reproduction. Any Information Providers to Stockhouse or employees of Stockhouse may from time to time have positions in the stocks or other entities mentioned anywhere on the Stockhouse Network of websites. You bear responsibility for your own investment research and decisions and should seek the advice of a qualified securities professional before making any investment. Stockhouse and its contributors makes no guarantee as to the validity of any information, speculation, theories or research presented herein whether pertaining to the past, present or future. The Service and The Materials are provided by Stockhouse and other Information Providers on an "as is" basis, and Stockhouse and other Information Providers expressly disclaim any and all warranties, express or implied, including, without limitation, warranties of satisfactory quality and fitness for a particular purpose, with respect to the service or any materials and products. In no event shall Stockhouse and other Information Providers be liable for any direct, indirect, incidental, punitive, or consequential damages of any kind whatsoever with respect to The Service, The Materials, and The Products.
United Stock – Stockhouse @ the Bell: TSX Climbs, Wall St. Flat as Fed. Reserve Stays the Course | 2021-04-07 | Investing News

Tags: United Stock