Stock Futures – Opinion: Here's why the S&P 500's outlook keeps looking bullish

In focus: Use caution, but stay long for now Plus: Potential MVB sell signal, breadth sell signal, and Japanese Yen
On April 16, the major indexes – the S&P 500
SPX,
-0.72%,
the Nasdaq-100
NDX,
-1.01%
and the Dow Jones Industrial Average
DJIA,
-0.83%
– all made new all-time highs, but the market had become very overbought. Since then, the broad market has stumbled a bit, but the overall picture remains bullish.
Yes, there are a few sell signals creeping into view, but the trend of the S&P chart is positive: it remains above support, above its still-rising 20-day moving average, and the other major moving averages are continuing to rise.
There is tentative support in the 4140 area, with strong support below that – just below 4000. Then there is still the major support at 3850-3870. The S&P had advanced so quickly since March 26 that these support levels are relatively far away. Regardless, they are what keeps the chart bullish.
A pullback to those support levels might seem like a large "correction," but in reality would just be a correction within an ongoing bullish framework. A close below 4000 would be some cause for concern, though, and a close below 3870 would be a major change of trend.
The S&P climbed above its +4σ "modified Bollinger Band" (mBB) in early April and stayed there until this week. Now a "classic" mBB sell signal has occurred, as SPX has closed below the +3σ Band. That alone is not enough to act on, though, as those "classic" signals are often whipsaws. So we have further criteria that must be satisfied in order to generate what we call the McMillan Volatility Band (MVB) sell signal. Currently those additional criteria would be satisfied if SPX were to trade at 4105 or lower.
Equity-only put-call ratios remain on buy signals, although it is mainly the weighted chart that is visibly declining. Call buying remains rather heavy, which is what is keeping these ratios at low levels. They will remain on buy signals until they begin to rise strongly.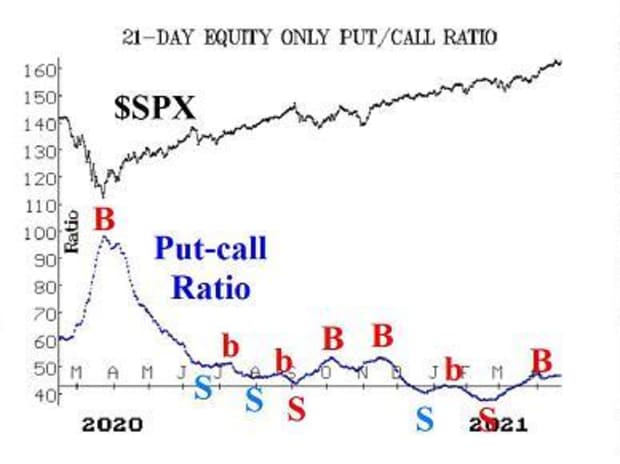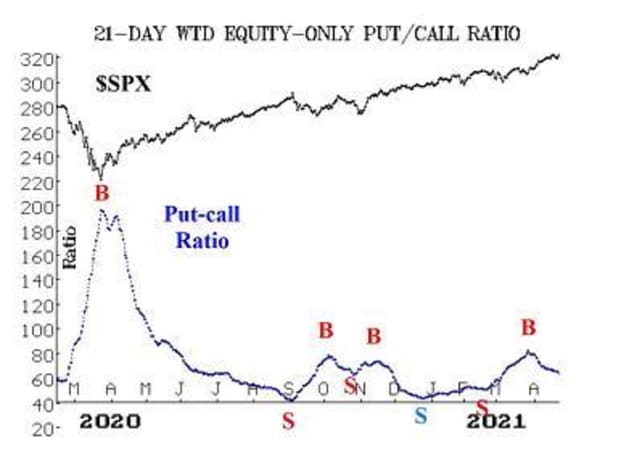 Market breadth is the one area where a confirmed sell signal exists at this time: both the NYSE and "stocks only" breadth oscillators have rolled over to sell signals. Breadth never responded strongly on the way up in April and, as a result, sell signals were easily generated as soon as the market turned down.
The cumulative Advance-Decline lines both traded at new all-time highs on April 16, in line with SPX. As we've pointed out before, this really means nothing since these are not predictive indicators, except for one case: where a negative divergence exists. And there is a negative divergence in cumulative volume breadth(CVB). It has not made a new high since March 15, while SPX has done so numerous times since then.
This negative divergence raises a red caution flag, meaning that one should tighten stops on long positions and should not ignore confirmed sell signals wherever they may occur.
New 52-week highs continue to outnumber new 52-week lows. That is true for the NYSE and "stocks only" data sets, but not NASDAQ – where new lows have taken the lead. The indicator that we use depends on NYSE data, so that is still bullish for stocks.
Implied volatility has remained a friend of the bull market. VIX
VIX,
+5.14%
is in a downtrend, and that is just as important as SPX being in an uptrend. This week, when some selling has crept into SPX, VIX has not risen much. It would have to return to "spiking" mode in order to raise red flags, and it has not.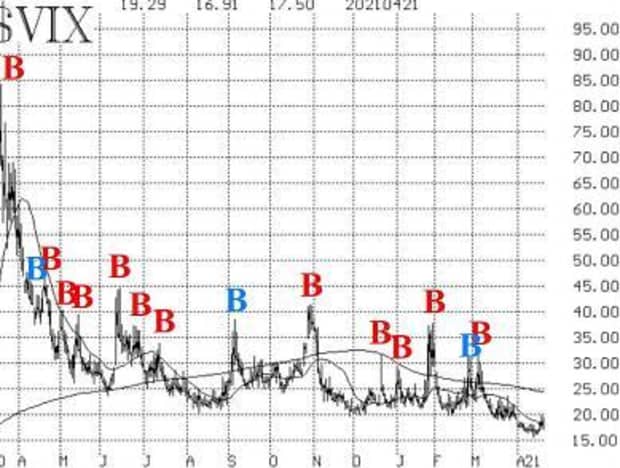 The construct of volatility derivatives remains bullish for stocks, too. The front-month VIX future is now the May contract; it is trading with a healthy premium to VIX (about 2.60), and the term structure slopes upward in the fall of 2021.
In summary, the important things to watch are the market trends, and as long as SPX is trending upward (staying above support) and VIX is trending downward, then the outlook is bullish for stocks. Hence, we continue to recommend retaining a "core" bullish position, tightening stops and rolling call strikes up when the market rises. As confirmed sell signals occur, bearish positions can be traded around that core bullish position.
New recommendation: Potential MVB sell signal
As explained above, SPX is trading above the +4σ "modified Bollinger Band" (mBB). That is a precursor to a "classic" mBB sell signal, but it will take further confirmation to create an MVB sell signal. Since this is a weekly publication, we will try to lay out the conditions in advance, in case this sell signal occurs in the next week:
There are two parts to this conditional recommendation: 1) a "classic" sell mBB sell signal must occur, and 2) that sell signal must then be confirmed by the MVB criteria.
A "classic" mBB sell signal has occurred, so we want to take action on the confirming McMillan Volatility Band (MVB) sell signal.
IF SPX trades at 4105 or lower, then
 Buy 2 SPY May (21st) at-the-money puts
 And sell 2 SPY May (21st) puts with a striking price 25 points lower.
If the MVB sell signal occurs, it would be stopped out by SPX once again closing above the +4σ Band.
New recommendation: Breadth sell signal
In the commentary above, it was noted that both breadth oscillators are on sell signals. Hence, since there is also the negative divergence in place, we will act on this sell signal.
Buy 1 SPY May (7th) at-the-money put
And sell 1 SPY May (7th) put with a striking price 15 points lower.
We will update this indicator weekly, so there is no stop at this time.
New recommendation: Japanese yen
Takeover rumors have been almost nonexistent in the past week, but there is a strong put-call ratio buy signal in the Japanese yen that we will implement by buying calls on the Invesco CurrencyShares Japanese Yen Trust ETF
FXY,
-0.08%.
Buy 8 FXY Jun (18th) 87 calls
At a price of 1.00 or less.
FXY: 87.29 Jun (18th) 87 call: 1.05 offered
We will hold without a stop as long as this put-call ratio buy signal is in place.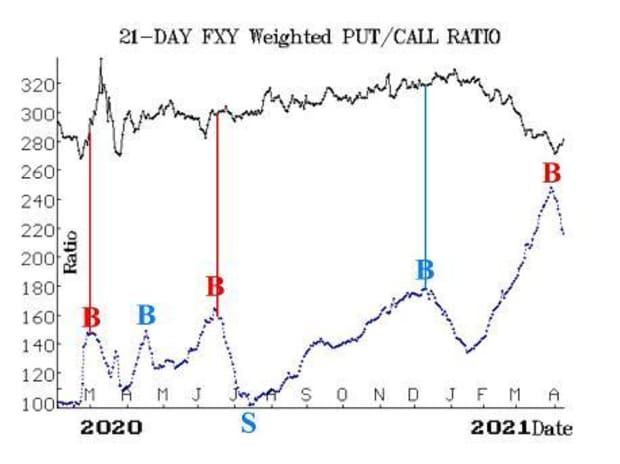 Follow-up action
All stops are mental closing stops unless otherwise noted.
Long 2 SPY April (30th) 414 calls: This position was originally a SPY call bull spread, taken in line with the VIX "spike peak" buy signal of March 5. It has been rolled up twice. Raise the trailing stop to 409.60, basis SPY.
Long 2 expiring SPY April (23rd) 407 calls: This position has been rolled up twice. Now roll to the SPY May (14th) at-the-money calls. Stop yourself out of this position if SPY closes below 409.60.
Long 2 CXP May (21st) 17.5 calls: Hold without a stop for now.
Long 2 expiring VIX May (19th) 21 puts. Stop yourself out on a VIX close above 20.
Long 0 expiring AMAT Apr (30th) 135 call: This position was stopped out on April 20.
Long 2 SPY Apr (30th) 407.5 calls and short 2 SPY Apr (30th) 417.5 calls: These were bought as an upside breakout trade. Stop yourself out on a SPY close below 409.60.
Long 2 LEAF May (21st) 9 calls: On April 5, Leaf Group
LEAF,

received an all-cash buyout offer of $8.50 from Graham Holdings. Hold without a stop while the rumors of a higher bid play out.
Long 6 HLIT May (21st) 8.5 calls: Hold without a stop while this activist situation plays out.
Send questions to: [email protected]
Lawrence G. McMillan is president of McMillan Analysis, a registered investment and commodity trading adviser. McMillan may hold positions in securities recommended in this report, both personally and in client accounts. He is an experienced trader and money manager and is the author of the bestselling book "Options as a Strategic Investment."
Disclaimer: ©McMillan Analysis Corporation is registered with the SEC as an investment adviser and with the CFTC as a commodity trading adviser. The information in this newsletter has been carefully compiled from sources believed to be reliable, but accuracy and completeness are not guaranteed. The officers or directors of McMillan Analysis Corporation, or accounts managed by such persons may have positions in the securities recommended in the advisory.
Stock Futures – Opinion: Here's why the S&P 500's outlook keeps looking bullish

Tags: Stock Futures

Stock Market, Latest News on C N N.