Tractor Supply – NAHB Housing Index, Earnings by IBM and Tractor Supply

The dollar moved higher on Friday, posting its largest weekly gain in one month with the USDX touching monthly highs last seen in April. The boost in the dollar came following upbeat retail sales data that raised expectations of accelerated economic growth in the second quarter.
Solid U.S. data and a shift in interest rate expectations after recent comments from the Federal Reserve that indicated sooner-than-expected hikes in 2023 have helped lift the dollar in recent weeks.
The U.S. retail sales index unexpectedly increased in June as demand for goods remained strong, however, U.S. consumer sentiment fell sharply and unexpectedly in early July to the lowest level in five months, as inflation worries limit confidence in the economic recovery.
Meanwhile, emerging market currencies traded overall higher against the dollar with the USD/ZAR the USD/TRY and the USD/RUB pairs trading lower by 1.21%, 0.51% and 0.28% respectively.
The USD/TRY pair continues to trade close to one-month lows as the Turkish central bank recently kept rates unchanged but pledged to keep price stability as its primary objective and maintain the policy rate above the level of inflation.
In the week ahead investors will focus on monetary policy meeting minutes released by several central banks including the Reserve Bank of Australia, the ECB and the Bank of Japan. By the end of the week, the spotlight will move to EU and US fundamental releases such as US Unemployment Claims and Existing Home Sales, EU Consumer Confidence while on Friday a series of Manufacturing and Services PMI data is due by the EU, the US and the UK.
EUR/USD
The euro traded almost unchanged against the dollar on Friday, with the EUR/USD pair posting a mere 0.04% increase even as U.S. retail sales in June surpassed expectations despite some of the sharpest price rises in years.
Overall retail sales rose 0.6% on the month, in comparison to expectations for a drop of 0.4%. However, the rise came from a lower baseline as May's data were revised to show a drop of 1.7%, from the 1.3% originally reported.
Dollar gains were partly capped by the UoM preliminary consumer sentiment index that fell to 80.8 in the first half of this month, the lowest since February.
For Monday, German Buba Monthly Report is due while later in the day, the US will be releasing its NAHB/Wells Fargo Housing Market Index.
Data from Vestle's trading platform showed BTC/USD trading at just above $31,500 late Sunday losing nearly $3,000 of its value on a weekly basis, following a weekly loss of almost 6% for the week ending July 17th while Dogecoin and Polkadot showed even worse performances, posting losses of more than 10% and 15 % respectively over the same time-frame.
The total market cap was at around $1.27 trillion late on Friday, posting a 2.77 percent decrease for the day while the daily crypto market volume was at $63.96 billion, which marks for a 3.04 percent decrease.
Bitcoin's dominance was measured at 46.14 percent, an increase of 0.52 percent over the day.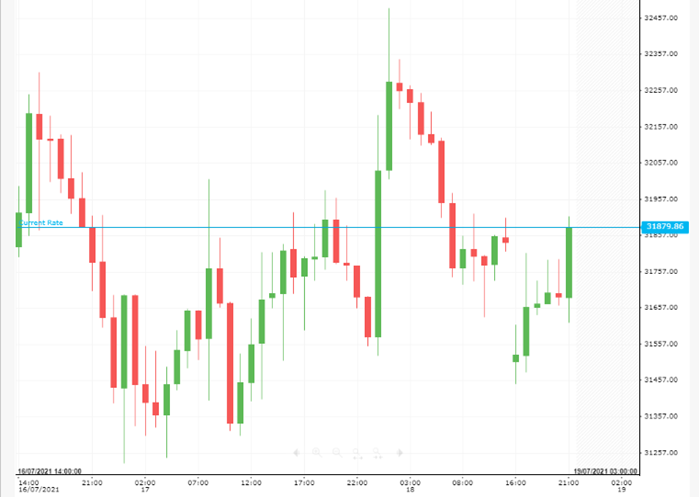 WTI Oil
WTI oil prices declined sharply in the past week, posting a weekly loss of 4.6%, closing lower for a 2nd consecutive week and reaching from levels close to 77$ per barrel seen earlier this month to trade now close to 71$ per barrel.
Investors will be watching closely on how prices will react on Mondays market open, as OPEC+ ministers agreed on Sunday to boost oil supply from August to cool prices which have climbed to 2-1/2 year highs as the global economy recovers from the coronavirus pandemic.
The group, which includes OPEC countries and allies like Russia, crucially agreed new production allocations from May 2022 after Saudi Arabia and others agreed to a request coming from the United Arab Emirates (UAE).
The US Baker Hughes Oil Rig Count showed an increase by 2 operating oil rigs bringing the total to 380, indicating that is still far below the levels seen before the pandemic.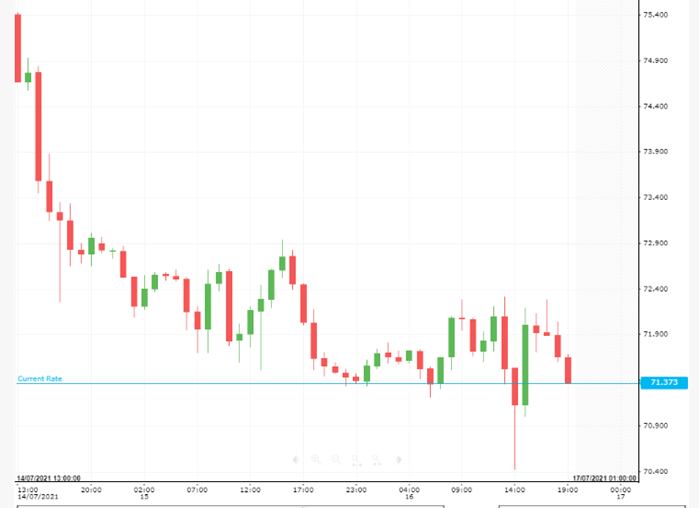 US 500
Despite an unexpected rise in retail sales and Jerome Powell's repeated assurances that rising price pressures will only be temporary, surging inflation and weaker consumer sentiment sent equities moderately lower in the past week, with the US 500 ending the week almost 1% lower while the US 30 fell by 0.56% for the week and the US Tech 100 showed the biggest weekly drop, losing 1.37% of its value.           
Some noteworthy moves were seen in stocks of Intel and Moderna, with the first falling by 1.5% on Friday following a report that said it was exploring an acquisition of GlobalFoundries. Such an acquisition could be valued at $30 billion and would rank as Intel's largest acquisition ever, according to The Wall Street Journal. Moderna on the other hand finished up 10% Friday after it was announced the vaccine maker would join the S&P 500 index.
Earnings releases are expected in the coming week from companies like IBM and Tractor Supply that are publishing their earnings on Monday followed by Netflix, Philip Morris, Haliburton, United Airlines and others on Tuesday.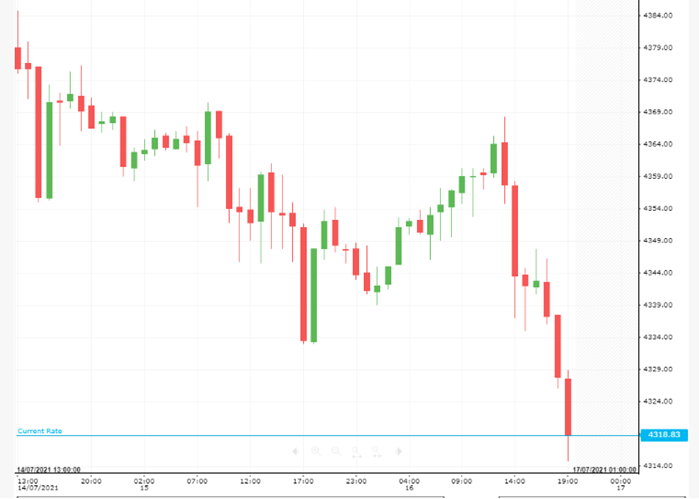 Tractor Supply – NAHB Housing Index, Earnings by IBM and Tractor Supply

Tags: Tractor Supply

Stock Market

Latest News on C N N.