There's No Covid Bailout for the Bus Industry
The $1.9 trillion pandemic relief proposal that Democrats are pushing through Congress would touch many parts of the U.S. economy hurt by Covid-19, including those that move it. It proposes $30 billion in relief for public transit agencies, $1.5 billion for Amtrak, $8 billion for airports and $15 billion for airline workers — all on top of tens of billions of dollars of industry aid that the last two pandemic relief packages included. 
But one transportation sector is almost entirely left off the American Rescue Plan Act's life raft: the motorcoach business. Along with the Greyhound and Peter Pan buses that are familiar sights on U.S. interstates, the industry encompasses nearly 3,000 carriers that provide charter trips, sightseeing tours, scheduled commuter stops, intercity connections and other varieties of bus-based travel. Before Covid-19, these buses carried 575 million passengers annually, pulling in $15.4 billion in revenue, according to data from the American Bus Association. With office workers hunkered down at home, tourism on ice and infection fears pushing travelers away from shared modes, private bus businesses have been hit hard by the pandemic, with an estimated 83% of the industry's 88,800 full-time workers unemployed. But they have received little attention from lawmakers to date.
"I don't think they understand or appreciate what we do," said Greg Gallup, the CEO of Royal Coach Tours, a 61-year-old charter bus business based in San Jose, California. The company's pre-Covid bread-and-butter was ferrying workers to tech campuses, in addition to shuttling military troops, students on field trips, and corporate convention-goers. Today, Gallup estimates that less than 10% of the company's 105-bus fleet is in operation on any given day.
A new report from DePaul University takes stock of the devastating year for the national industry. In December, bookings for bus travel stood at 22% to 25% of 2019 levels nationwide. Worst hit was the Northeast U.S., centered around the busy D.C.-New York City-Boston corridor. That region ended 2020 with just 16% of bookings from the previous year. 
Though hundreds of companies were covered by PPP loans, motorcoach operators were otherwise left out of the March 2020 CARES act. The second pandemic relief package passed in December provided $2 billion directly to the industry — an injection of much-needed assistance, said Joseph Schwieterman, the director of DePaul's Chaddick Institute for Metropolitan Development and lead author of the report. 
But that fell far short of the $10 billion requested by industry advocacy groups, and of the needs of the multifaceted industry, Schwieterman said. For the first year of the pandemic, he estimates total revenue loss will exceed $1.5 billion for scheduled intercity bus operators alone. That includes companies such as Greyhound and Megabus but not thousands of mom-and-pop operators with single-digit fleets whose charter trips, private school bus services and corporate commuter shuttles were essentially zeroed out. 
"It's a vast network, and when you look at all of the components of this sector, the amount of funding is going to be very small," he said.
It's been a bumpy couple of years for the U.S. motorcoach business. In the mid-2000s, the industry enjoyed a burst of expansion, with Megabus and the Greyhound-owned BoltBus vying for new riders with low-cost express routes between U.S. cities in WiFi-equipped coaches. But plunging fuel prices and other factors have since diminished the bus's appeal as a cheaper alternative to driving, flying or taking the train: From 2010 to 2017, motorcoach passenger trips declined by 4%. A broader decline in intercity bus travel has been in motion since the 1970s, with carriers eliminating thousands of stops and routes.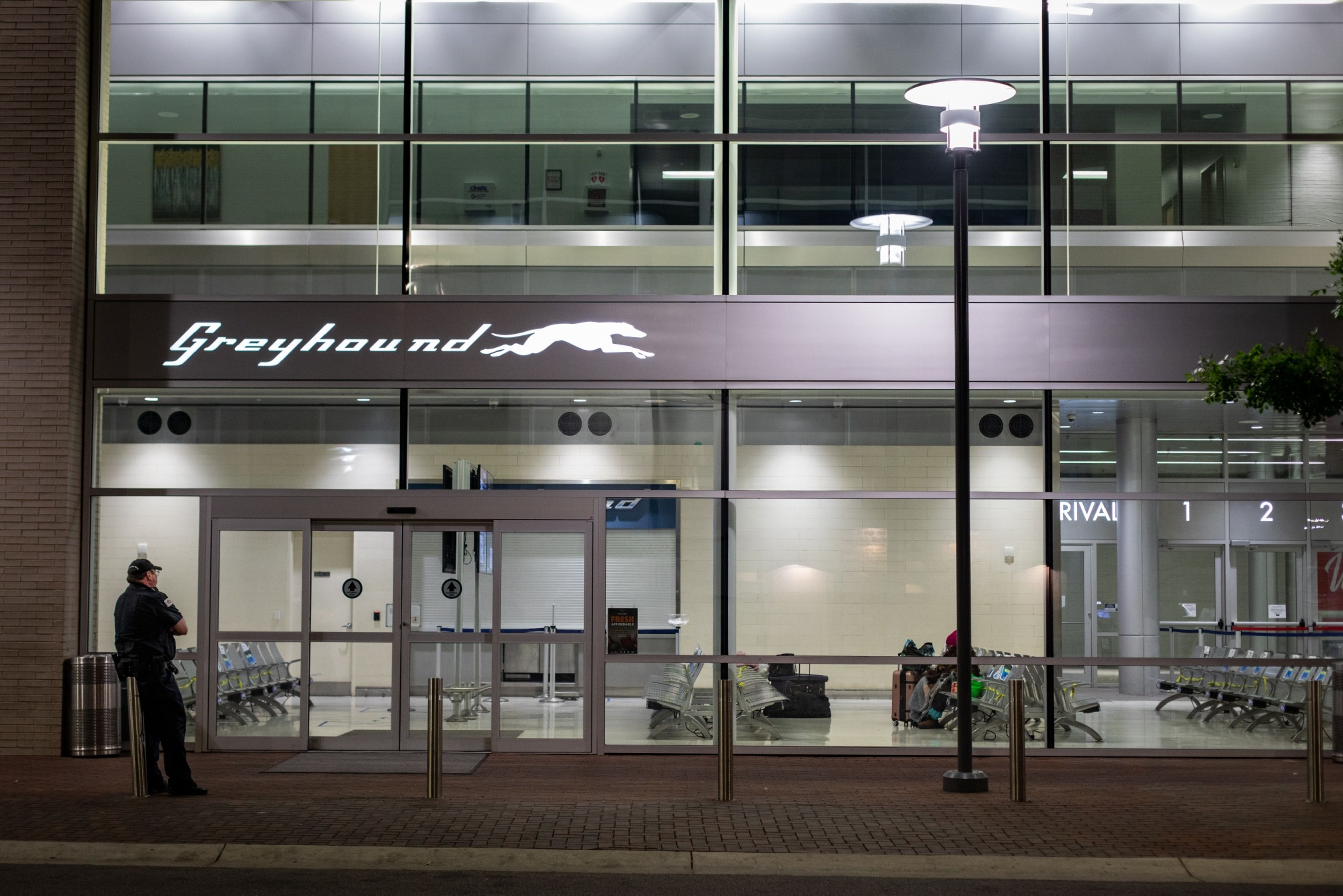 For rural areas no longer served by passenger rail, intercity buses can be a critical means of mobility, and service cuts have imposed hardships on riders who rely on coaches as the only means to travel. Intercity bus travel depends on schedule coordination among a national network of bus lines that share terminals, allowing passengers to transfer between carriers to reach their destinations. As service within this network decays, delays between transfers grow longer, and carriers must add more stops along the way, swelling travel time. In Schwieterman's analysis of 186 intercity bus routes where no other express coach or Amtrak service exists, the length of the average trip increased by more than an hour between 2016 and 2021. On 26% of those routes, it increased by more than two hours.
The latest proposal for relief by House Democrats does include $100 million for rural intercity bus services that already receive subsidies. Offered by fewer than 150 operators in a handful of states, that program is one of the few parts of the industry that regularly rely on federal grants. Other than the Greyhound buses that operate as Amtrak connectors in a few states, the vast remainder of operators are fully privately operated, with little historic cause to lobby lawmakers for funds. 
That may be part of the reason the industry has been ignored in relief bills, said Peter J. Pantuso, the president and CEO of the American Bus Association, despite the roles it plays.
"We pick up Amtrak travelers. When planes don't fly, it's us that steps in to move people. We had buses bringing in National Guard troops to the Capitol for Inauguration," he said. "We are a part of the network that people typically forget about because we're not constantly looking for a handout like every other government-subsidized system." 
Some businesses have responded to the pressures of the moment. Storer Coachways, a large California-based charter company, has rigged out 15 of its buses as mobile Covid-19 testing units through contracts with county health departments. Many carriers have worked with government agencies to provide essential transportation for health-care workers and evacuees from natural disasters this year. 
Pantuso and Schwieterman expect that the industry will see a partial rebound when the rest of the economy does, perhaps as soon as this summer, as vaccine rollouts allow more business and leisure travel to resume. 
But many small operators may not be able to last even that long. As many as 800 have already closed their doors in the past year, Pantuso said. Other pandemic-era changes rippling through the economy — such as a number of large employers announcing permanent work-from-home policies — add further uncertainties. So far, the message from Congress is not encouraging. 
"I'm not optimistic that we'll be included in the next relief bill," said Gallup of Royal Coach Tours. "If our industry goes under, there will be a huge void, and I don't know who can fill that."