Wallmart Stock – Walmart Big Spending on E-commerce and Pay Hikes Is Smart

Time and again during the past year, we've seen how the pandemic has accelerated shifts in consumer behavior. So it stands to reason that a retailer would respond to that sped-up pace of change by pulling forward investments to accommodate it. 
That's the lens through which to view Walmart Inc.'s fiscal-year guidance, which includes $14 billion in capital spending, a significant increase from the roughly $10 billion it has spent each of the last three years. The big-box giant also announced Thursday that it would add to its costs by raising wages for about 425,000 workers, a move that bumps its average pay to more than $15 an hour.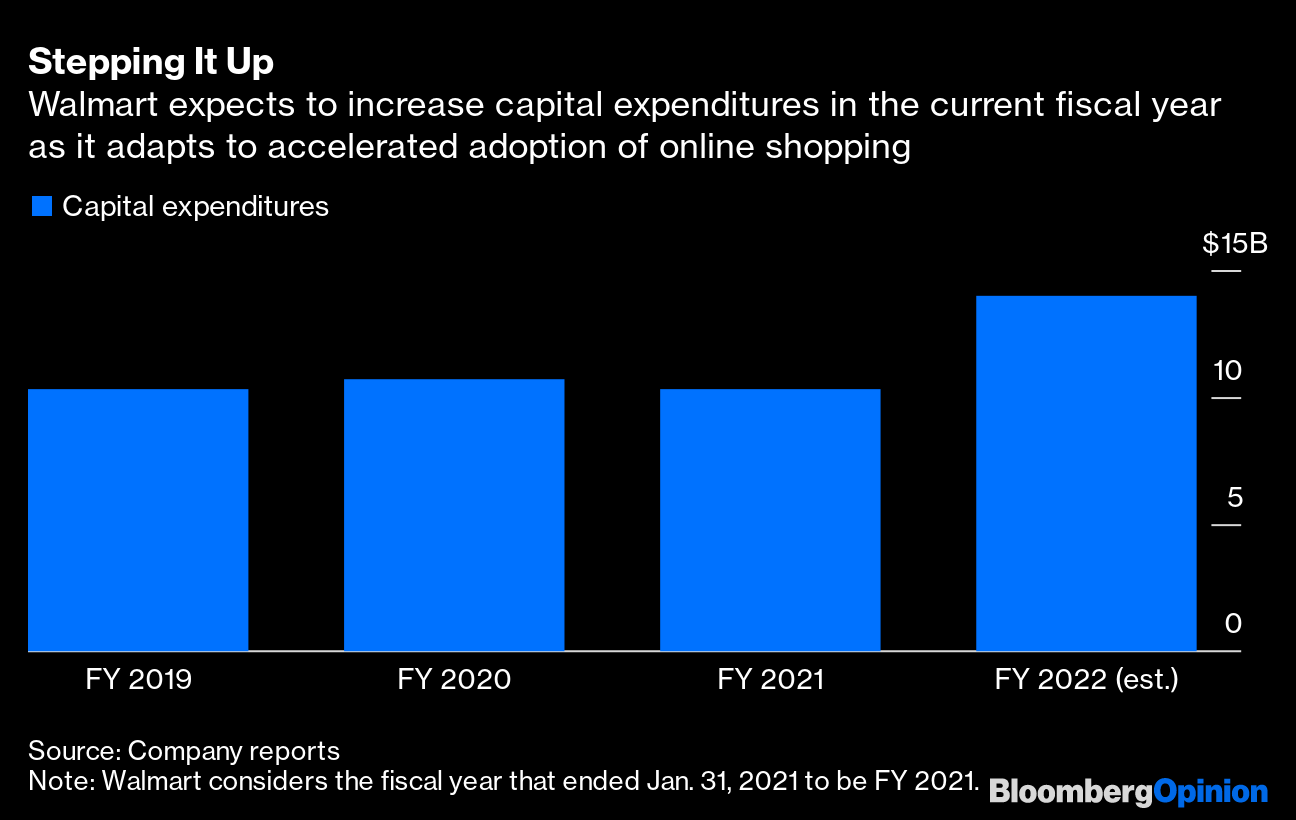 Walmart's shares sank in morning trading as investors absorbed the news, putting the shares on pace for their biggest one-day drop since the early days of the pandemic. But Walmart is making the right call by making these investments now. If it doesn't, it leaves a clearer path for Amazon.com Inc. to continue gobbling up online market share and for grocery-centric competitors such as Kroger Co. and Albertsons Cos. to get more of a digital foothold. 
The bulk of Walmart's capital investments this year will be on supply-chain and e-commerce initiatives. They include plans to create dozens of micro-fulfillment centers, in which backroom space at some of its stores will be outfitted with robots that can help workers pick items for online grocery orders. Grocery pickup has been a cornerstone of Walmart's e-commerce growth, so the retailer is right to focus on ways to grow that operation efficiently. It needs to fill such orders quickly, even as each store receives more of them, while also making sure that in-store shoppers don't find aisles clogged up by workers. 
In an online presentation for investors, CEO Doug McMillon also emphasized that the company needs more fulfillment capacity to grow Walmart+, its new membership program, without sacrificing customer satisfaction scores. In other words, if one of Walmart's buzziest new potential revenue streams is to thrive, it is going to require this spending groundwork.
It won't be easy for Walmart to offset this stepped-up spending, which may in part explain investors' reaction. The retailer will need to grow its fledgling advertising business, and it would help if it could draw a greater share of its online sales from higher-margin products such as apparel and home goods. But a company that had $36 billion in operating cash flow in the fiscal year that just ended is in a perfectly solid position to make capital investments in increasingly critical areas of its business. 
The wage investments, which go into effect in March, are also prudent. In fact, I wish Walmart had been even more aggressive with its raises, especially given the risks front-line retail workers are facing during the pandemic. Amazon, Target Corp. and Best Buy Co. have found a way to make a $15-an-hour minimum wage work. Plus, with the pay hike coming on the same day the company announced a dividend increase and a new $20 billion share repurchase program, it feels a bit parsimonious not to commit to $15 an hour as a floor, rather than an average. Still, it is directionally the right move, and investors should not begrudge it. At last year's investor presentation, executives said turnover was down 15% over the previous five years, no doubt a reflection of earlier rounds of pay increases. Hanging on to experienced workers – especially after a year when Walmart added hundreds of thousands of new ones – should help maintain store productivity and customer service. 
If Walmart doesn't make investments quickly to adapt to the pandemic-altered trajectory of online shopping, it will pay for it later by ceding market share to competitors that did. Investors shouldn't punish it for realizing as much. 
To contact the editor responsible for this story:
Beth Williams at [email protected]
Wallmart Stock – Walmart Big Spending on E-commerce and Pay Hikes Is Smart

Tags: Wallmart Stock