Workhorse Stock – Workhorse Stock Forecast and price Prediction June 2021 – Is Workhorse a Good Stock to Buy?

Workhorse stock rose 3.1% on Friday and is now up over 65% for the month. What's the forecast for Workhorse stock in June 2021 and should you buy it now?
Workhorse stock gained momentum in June after it was picked by the Reddit group WallStreetBets. The group has built its reputation by triggering short squeezes in many stocks. While the stocks targeted by the group tend to crash after the initial buzz, they invariably settle at a higher price than they traded before WallStreetBets traders started pumping them.
Workhorse stock technical analysis
Looking at Workhorse stock, it looks bullish on the charts. It crossed above the 50-day SMA (simple moving average) which is a bullish indicator. However, the stock failed to breach the 200-day SMA which is currently at $20.03. It would need to break above the 200-day SMA to signal an uptrend. Meanwhile, the stock's 14-day RSI (relative strength index) is 64.1 which is getting near the overbought territory.
Recent developments
In May, Workhorse announced an agreement with Coulomb Solutions for CATL batteries. The battery is a key element of electric vehicles and can be the key differentiator between companies. Tesla has also partnered with CATL and Panasonic for batteries.
In May only, Workhorse announced an agreement with EAVX, a subsidiary of J.B. Poindexter & Co. As part of the agreement, the companies will work to expand Workhorse's product portfolio and create new products.
Workhorse released its first-quarter 2021 earnings last month and reported revenues of $521,000. The company has produced a total of 38 C-Series vehicles, it said in the earnings release. It plans to produce 1,000 vehicles in 2021 which is less than half of its previous guidance. Like almost all other start-up electric vehicle companies, Workhorse is also posting losses and posted adjusted operating loss of $16.5 million in the first quarter of 2021.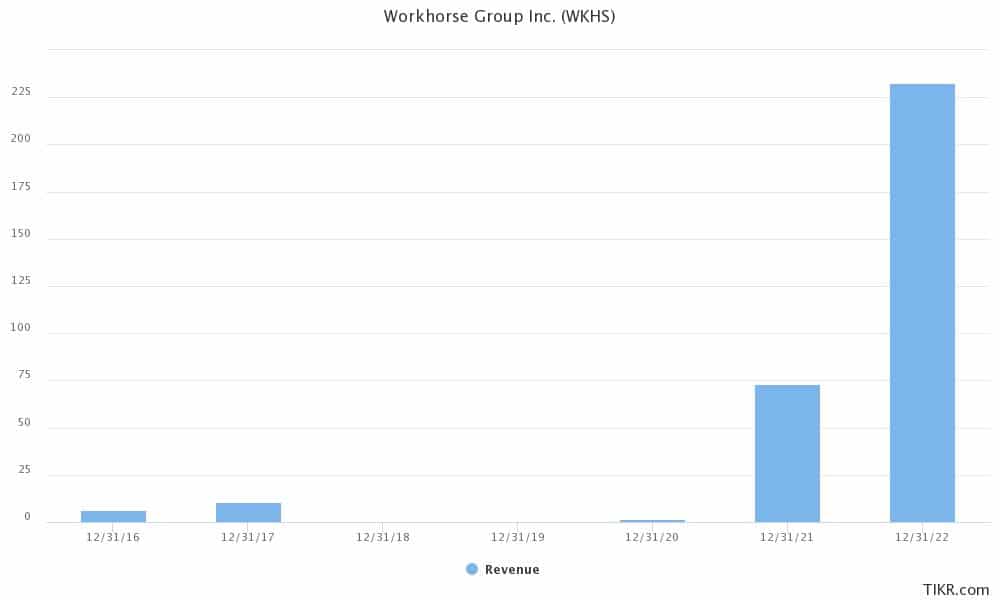 Among pure-play electric vehicle companies, only Tesla has turned sustainably profitable. It has posted a profit in every quarter since the third quarter of 2019. However, the profits for Tesla have come from selling carbon credits. Also, in the first quarter of 2021, it made a gain of $102 million on the sale of bitcoins which helped it post record profits.
Workhorse is targeting the last mile delivery market
Meanwhile, while most other electric vehicle companies are targeting the consumer market, Workhorse is targeting the commercial last-mile delivery market. It was expected to get the lucrative multi-billion dollar contract from the US Postal Service (USPS) but eventually missed out. The stock has tumbled after it lost the contract but has since recovered some of the lost ground.
Workhorse stock forecast
According to the data from MarketBeat, Workhorse stock has an average target price of $20.50 which is a 32% premium over current prices. Of the nine analysts covering the stock, three have a buy rating while one rates it as a sell. The remaining nine analysts rate the stock as a hold or some equivalent.
Earlier this month, Cowen downgraded the stock after it rallied on buying support from retail traders. "We view shares as fairly valued following the recent rally which we view as not supported by fundamentals or company specific catalysts," said the team of analysts led by Jeffrey Osborne. They added that they see "no major near term catalysts to buoy shares further."
Competitors
According to Cowen analysts "Competition is increasing with several well capitalized companies entering in to the electric van market for last mile delivery applications." Looking at the competition, several start-up companies are targeting the last mile delivery market. This includes Electric Last Mile Solutions which is going public through a SPAC (special purpose acquisition company) merger.
Then we also have Amazon-backed Rivian. The company has received massive orders from Amazon and is rumored to go public at a valuation of around $70 billion. In contrast, Workhorse's market cap is below $2 billion.
Oshkosh, to which Workhorse lost the USPS contract, is another player in the electric last-mile delivery market.
Workhorse stock long term forecast
The outlook for the electric vehicle industry looks positive across the spectrum. The Biden administration has put its weight behind the green energy sector. Also, globally there is a push for zero-emission vehicles. However, some of the start-up electric vehicle companies have been facing troubles due to financing and production issues.
For instance, Lordstown Motors, which was spun out of Workhorse and went public in 2020 through a SPAC merger, has said that it risks running out of cash. It has raised concern over its ability to survive as a going concern.
The management needs to execute well
That said, if Workhorse management can execute the production plans, the stock can be a winner. The shift from ICE (internal combustion engine) vehicles to zero-emission vehicles is among the biggest tectonic shifts that we've seen in history.
Not all analysts are bearish on Workhorse stock. In April, B. Riley initiated coverage on the stock with a buy rating and $20 target price. Interestingly, the brokerage was bullish on the stock despite it having lost the USPS contract. B. Riley analyst Christopher Souther said, "Workhorse has the potential to gain early footing with key customers as it ramps up production and sales this year."
The brokerage is also bullish on the product offering and said "we believe the larger-size cargo offers differentiation in the space relative to the smaller-volume vans coming from the large auto original equipment manufacturers and upstarts."
Workhorse stock currently trades at 8.2x its estimated 2022 sales which are in line with some of the other electric vehicle stocks.
Looking to buy Workhorse stock now? Invest at eToro!
75% of all retail investor accounts lose money when trading CFDs with this provider.
Workhorse Stock – Workhorse Stock Forecast and price Prediction June 2021 – Is Workhorse a Good Stock to Buy?]

Tags: Workhorse Stock, NASDAQ: WKHS

Stock Market, Latest News on C N N.