Bandwidth ((BA)ND) Joins Zoom Phone Provider Exchange Program

Bandwidth Inc. (BA)ND announced a charter membership in Zoom's ZM newly-introduced Phone Provider Exchange program as an enhanced cloud-peering collaborator.
The program allows Zoom's enterprise customers to 'Bring Your Own Carrier' (BYOC), which unbundles telephony from Zoom's Unified Communications-as-a-Service platform and Zoom Phone as well as works directly with Bandwidth for Session Initiation Protocol trunking and emergency services.
Bandwidth is providing the BYOC solutions to enterprise customers to boost scalability in the migration to the cloud. The company currently provides the BYOC solutions across three multi-vendor platform stacks — Zoom, Microsoft (MSFT) Teams and RingCentral RNG.
Headquartered in Raleigh, NC, Bandwidth is a leading global enterprise communications platform and cloud-native carrier. The company's shares have lost 29.7% in the past year against the industry's growth of 8.4%.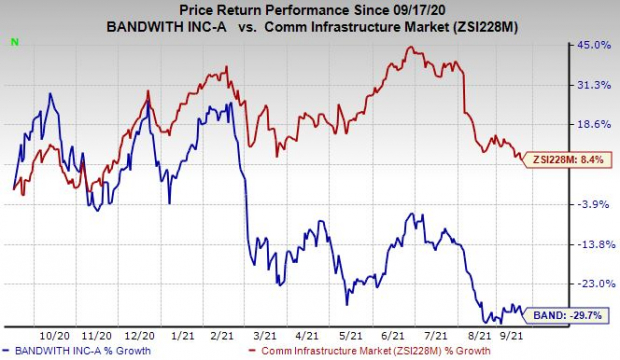 Image Source: Zacks Investment Research
By joining this program, Bandwidth intends to provide a robust solution to Zoom's customers. Businesses that are considering a cloud-based phone system now have greater options to meet complex needs.
As the migration to the cloud accelerates, Bandwidth's cloud-based software-powered network is expected to provide access to more than 60 countries. Bandwidth's dynamic location routing technology enables enterprises to meet critical requirements for Enhanced 911 in the United States.
Bandwidth is likely to continue benefiting from significant growth in Communications Platform-as-a-Service revenues. Its evolving portfolio and accretive customer base are the cornerstones of long-term growth across a diverse set of markets.
The stock currently carries a Zacks Rank #3 (Hold). You can see the complete list of today's Zacks #1 Rank (Strong Buy) stocks here.
Zacks Names "Single Best Pick to Double"
From thousands of stocks, 5 Zacks experts each have chosen their favorite to skyrocket +100% or more in months to come. From those 5, Director of Research Sheraz Mian hand-picks one to have the most explosive upside of all.
You know this company from its past glory days, but few would expect that it's poised for a monster turnaround. Fresh from a successful repositioning and flush with A-list celeb endorsements, it could rival or surpass other recent Zacks' Stocks Set to Double like Boston Beer Company which shot up +143.0% in a little more than 9 months and Nvidia which boomed +175.9% in one year.
Free: See Our Top Stock and 4 Runners Up >>
Click to get this free report
Microsoft Corporation ((MSFT)): Free Stock Analysis Report
Ringcentral, Inc. (RNG): Free Stock Analysis Report
Bandwidth Inc. ((BA)ND): Free Stock Analysis Report
Zoom Video Communications, Inc. (ZM): Free Stock Analysis Report
To read this article on Zacks.com click here.
Zacks Investment Research
The views and opinions expressed herein are the views and opinions of the author and do not necessarily reflect those of Nasdaq, Inc.
Bandwidth ((BA)ND) Joins Zoom Phone Provider Exchange Program

Tags: Zoom Stock, Zoom

Stock Market

Latest News on C N N.