Zoom Stock – Vaxart (VXRT) to Report Q2 Earnings: What's in the Cards?

We expect investors to focus on Vaxart, Inc.'s VXRT development efforts for its pipeline candidates when it reports second-quarter 2021 results.
The company has a disappointing earnings surprise history, having missed expectations in three of the trailing four quarters, while beating in one. The average four-quarter negative earnings surprise was 40.7%. In the last reported quarter, Vaxart delivered a negative earnings surprise of 40%.
The stock has rallied 42.6% this year so far against the industry's decline of 9.8%.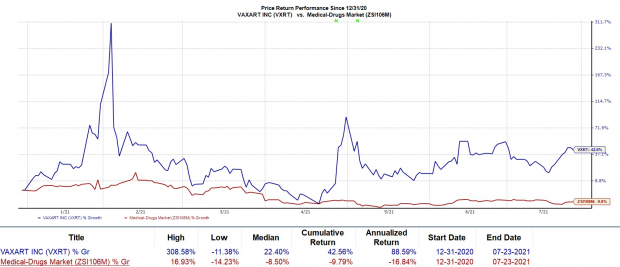 Image Source: Zacks Investment Research
Let's see how things have shaped up for this announcement.
Factors to Consider
Apart from royalty revenues, Vaxart has no other sources of revenues. The Zacks Consensus Estimate for sales for second-quarter 2021 is $0.55 million.
With no approved product in its portfolio, pipeline development should have remained the key focus for Vaxart in the second quarter, especially the updates on its oral vaccine candidates for COVID-19.
COVID-19 Vaccine
In May, Vaxart announced that it plans to initiate phase II study on its oral COVID-19 vaccine candidate, VXA-CoV2-1, in mid-2021, following positive data from phase I study. The company also announced that the candidate induced higher CD8+ T-cell responses than Pfizer PFE and Moderna's vaccines in a comparative study. The study also demonstrated VXA-CoV2-1 to be potentially cross-reactive against other strains of COVID-19.
Vaxart plans to start several clinical and pre-clinical studies on its COVID-19 vaccine candidateto develop its multivariant COVID-19 vaccine candidate portfolio. The company is also planning to advance two spike protein-only constructs into phase I/II targeting different COVID-19 variants. The company also plans for boosting studies with previously vaccinated or infected subjects in second half of 2021. An update on all these plans is expected at the second quarter conference call.
Norovirus Vaccine
Considering the serious ailment caused by norovirus, Vaxart plans to initiate four clinical studies in 2021 for its oral norovirus vaccine candidate. The studies will involve evaluation of safety, tolerability, immunogenicity, and efficacy of two-dose vaccination schedule. Vaxart has already initiated three clinical studies in first-half 2021 and anticipates to initiate the fourth clinical study in second-half 2021. An update is expected at the call.
Other Developments
We also inform investors that Vaxart out-licensed its patented antiviral Vapendavir to Altesa Biosciences for milestone payments up to $130 million and royalties for global Vapendavir sales.
We expect the company to discuss the development path forward and progress of its coronavirus vaccine candidate on the second-quarter earnings call.
Earnings Whispers
Our proven model does not conclusively predict an earnings beat for Vaxart this time around. The combination of a positive Earnings ESP and a Zacks Rank #1 (Strong Buy), 2 (Buy) or 3 (Hold) increases the odds of an earnings beat. Unfortunately, that is not the case here as you will see below. You can uncover the best stocks to buy or sell before they're reported with our Earnings ESP Filter.
Earnings ESP: It has an Earnings ESP of -0.58%.
Zacks Rank: Vaxart currently carries a Zacks Rank #3
Stocks to Consider
Here are some other biotech stocks that have the right combination of elements to beat on earnings this time around:
Catalent CTLT has an Earnings ESP of +4.61% and a Zacks Rank #1. You can see the complete list of today's Zacks #1 Rank stocks here.
Ironwood Pharmaceuticals IRWD has an Earnings ESP of +11.11% and a Zacks Rank #2.
VAXART, INC. price
VAXART, INC. price | VAXART, INC. Quote
Time to Invest in Legal Marijuana
If you're looking for big gains, there couldn't be a better time to get in on a young industry primed to skyrocket from $17.7 billion back in 2019 to an expected $73.6 billion by 2027.
After a clean sweep of 6 election referendums in 5 states, pot is now legal in 36 states plus D.C. Federal legalization is expected soon and that could be a still greater bonanza for investors. Even before the latest wave of legalization, Zacks Investment Research has recommended pot stocks that have shot up as high as +285.9%.
You're invited to check out Zacks' Marijuana Moneymakers: An Investor's Guide. It features a timely Watch List of pot stocks and ETFs with exceptional growth potential.
Today, Download Marijuana Moneymakers FREE >>
Click to get this free report
Ironwood Pharmaceuticals, Inc. (IRWD): Free Stock Analysis Report
Pfizer Inc. (PFE): Free Stock Analysis Report
Catalent, Inc. (CTLT): Free Stock Analysis Report
VAXART, INC. (VXRT): Free Stock Analysis Report
To read this article on Zacks.com click here.
Zacks Investment Research
The views and opinions expressed herein are the views and opinions of the author and do not necessarily reflect those of Nasdaq, Inc.
Zoom Stock – Vaxart (VXRT) to Report Q2 Earnings: What's in the Cards?

Tags: Zoom Stock, Zoom

Stock Market

Latest News on C N N.