Best Luxury SUVs have become a staple of premium car makers' line-ups, with at least one from every major player, and each accounting for a healthy chunk of their manufacturers global profit margins. These are cars in great demand, and rightly highly desired for their combination of versatility, comfort, refinement and performance both on- and off the road. Genuine 4×4 ability is common amongst them, as is the upmost in luxury, space and refinement. And amongst the many factors motivating buyers, stylish design and brand allure are becoming increasingly important. So who makes the best of 'em?
1. Range Rover Sport – Best Luxury SUVs
An increasing number of 'Range Rover'-branded derivates have turned what used to be one car into a family of Land Rover models, but the Range Rover Sport might be the most important car in that new family, as well as the most broadly talented and capable. It's one of the most versatile upmarket SUVs on the market, and lives up to the word 'luxury' like few others.
It's not quite as large or as spacious as its bigger sibling and isn't the lightest car of its kind, but the Range Rover Sport more than makes up for it with its remarkable breadth of talent. That one car can offer such a complete catalogue of abilities is remarkable, and among them is outstanding offroad ability, and real on-road handling dynamism and driver appeal for car of this size. First-rate cabin richness, refinement and luxury ambience also come as standard, with Land Rover's latest dual-screen infotainment system having been fitted to the car as part of it's mid-life facelift.
The car's roster of qualities is certainly one for which Land Rover charges a tidy premium, even over prices typical of this rarefied class. Meanwhile, the kerbweight necessary to provide the Range Rover Sport's offroad ability also dulls its performance and fuel-efficiency compared with rivals, while rolling refinement can be adversely affected if you choose the biggest of Land Rover's optional alloy wheels.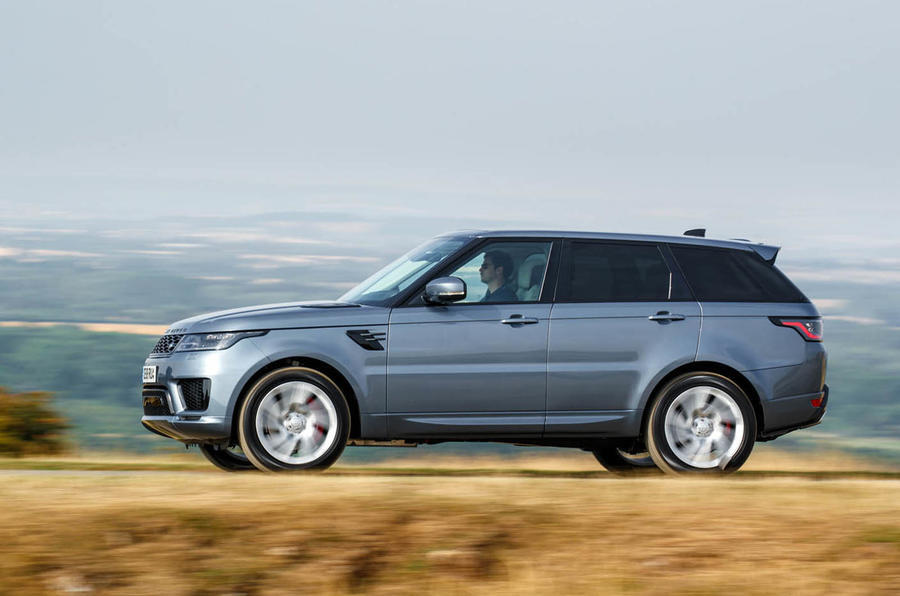 2. Land Rover Discovery
The second podium for Land Rover in the luxury SUV segment is delivered by a car whose character differs starkly from that of the car above, but may be all the more appealing to you for its relative lack of machismo: the fifth-generation Land Rover Discovery.
It's a car of controversial but rugged styling, with off-road ability that few in the class could beat, and with a brief to provide functional, understated, comfortable luxury and versatility on the road – and that succeeds at that task with likable ease. Seven usable seats are inside, and when you're driving you'll have a great time because this is as comfortable a cruiser as many traditional, saloon-shaped luxury cars.
With such size and weight, though, comes considerable thirst, so the Discovery is not a cheap car to run. Nor is it fast, or particularly dynamic in its handling. In our view, however, a big 4×4 needn't be, or do, much more than this in order to earn its place in your esteem and your affections – and the Discovery certainly does the latter.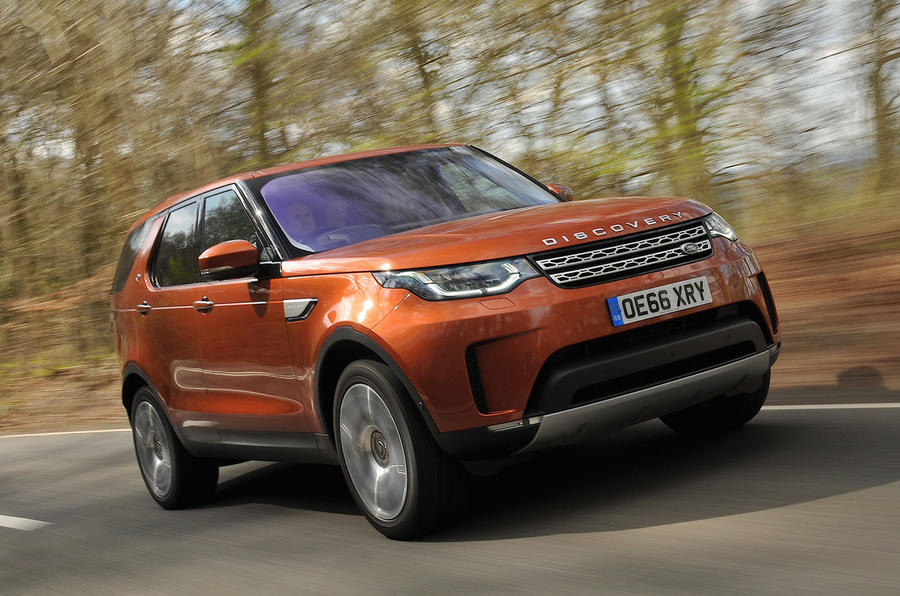 3. Porsche Cayenne – Best Luxury SUVs
The car that saved Porsche entered its third model generation in 2018 and, in doing so, eased out its VW Group platform buddy, the Audi Q7, for a place at the sharp end of this class ranking.
The latest Cayenne isn't quite the driver's car we've all come to know, and that many of us came to begrudgingly respect after taking so powerfully against what the car seemed to represent in its first iteration back in 2002. Because Porsche is still Porsche; it still makes the very best sports cars in the world, thanks in no small part to a business that's now built on the commercial bedrock of luxury SUVs.
The Cayenne in its current form is plainly a car that's content to leave the sports car impressions to its little sibling the Macan, and instead to play the high-quality, luxury SUV with greater focus than any of its forebears have. It still delivering driver appeal that's distinguishing, if not quite outstanding.
The Cayenne's interior is one of breath-taking quality, its ride refinement gives away almost nothing to the most comfortable in the class, and its performance is as strong as ever, backed by a range of engines that may no longer include a diesel, but that does include an impressive band of plug-in hybrid, turbo V6 and turbo V8 petrols.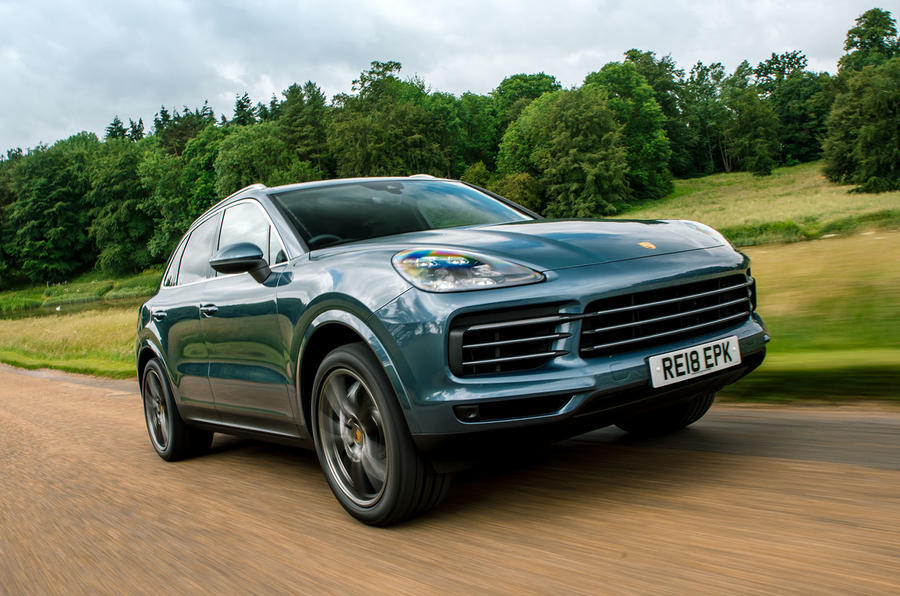 4. Audi Q7
The Q7 is desirable, polished SUV with a real aura of accomplishment. Huge inside, with high-quality materials and a very high level of refinement and mechanical isolation, it may be the embodiment of everything you want in a modern upmarket family car – particularly if you consider cars like this the modern embodiment of luxury in automotive form.
The downsides? In typical Audi fashion, the Q7 feels quite remote to drive, handles in grippy and effective but uninvolving fashion, and is a little short on the charisma that other cars in this class have in abundance.
It's potent and efficient, though, and improves over the previous model's standards in every way. With pricing that's quite competitive and on-road performance free of many of the usual SUV compromises, it's little wonder that the big Audi remains so popular.
5. BMW X5 – Best Luxury SUVs
The fourth-generation of Munich's full-sized luxury 4×4 signals a maturing and broadening of the X5's character definition, but not a wholesale change of it.
Twenty years ago, when BMW revolutionised and revitalised this part of the luxury car market with the original X5, it hit on a powerfully appealing concept: that of the sporting SUV with as much space, versatility and 4×4 capability as many needed – but not enough to dull its dynamic edge.
Today, the 'G05'-generation X5 still represents that notional positioning. It's smaller and lower than many of its rivals, with a more saloon-like recumbent driving position. It has a richer and more expensively finished cabin than its predecessor, so gives away little on luxury ambience – and has a sizeable boot.
But it's the X5's driving experience that's still most likely to bond you with the car, particular if a large 4×4 is the car you need but not the one you necessarily want. Pacey steering, good body control, well-balanced grip levels and fairly crisp and incisive handling response make this handle as much like a family estate car as an SUV, while strong, smooth and refined engines provide all the performance you're likely to want.
Other SUVs offer more material richness still, as well as more space, comfort and 4×4 capability; and that's to say nothing of the X5's styling which, thanks to that oversized kidney grille, has attracted some high-profile criticism. Still, for keen drivers, the X5 will always deserve close consideration.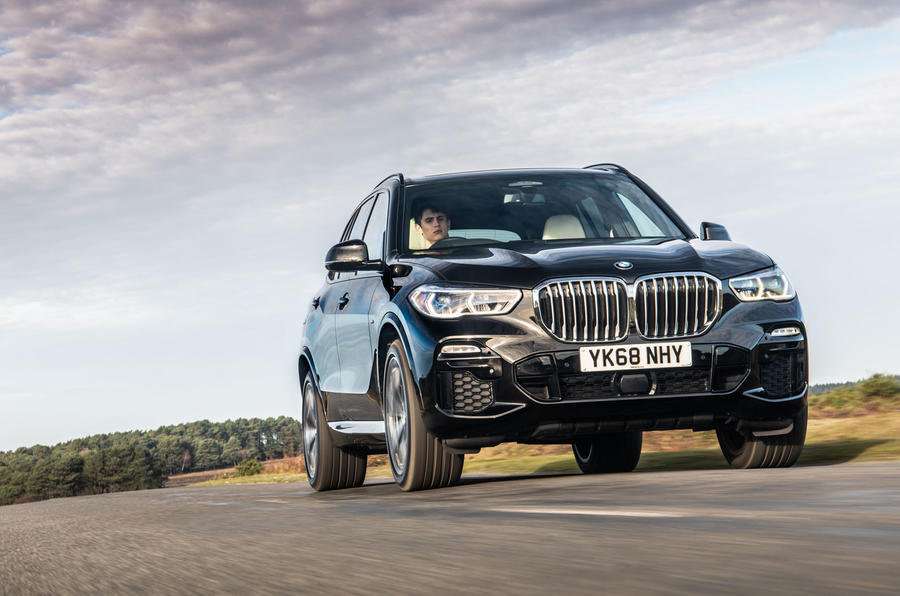 6. Mercedes-Benz GLE
Mercedes has redoubled its commitment to the luxury SUV market by investing in a new vehicle platform, and by making the first model to use it – the fourth-generation GLE (predecessors of which used to be known as the ML-Class) – a bit of a technological pioneer.
Having grown in size considerably compared with the old GLE, the new one has a more rigid mixed-metal body structure, too. It offers considerably more space for second- and third-row passengers than its predecessor, and what Mercedes bills as a markedly more upmarket luxury ambience in all seats – although our testers report that the effect on this front is more evolutionary than revolutionary. The car uses Mercedes' latest MBUX infotainment system and dual widescreen instrument and Comand controls displays, but also gets a giant-sized head-up display with improved display functionality.
Engine options include a trio of four- and six-cylinder turbo diesels with up to 325bhp, as well as a 3.0-litre turbocharged petrol which, in the GLE 450, makes 362bhp and 369lb ft in the current range-topping option. For suspension, meanwhile, you can choose between steel coil suspension and a 48-volt active air suspension system that uses stereo cameras to read the road surface ahead and prepares the suspension for what it's about to encounter in advance.
So far we've driven a GLE 450 on the continent (which impressed us greatly with its refinement, performance and ride comfort) and a GLE 300d in the UK (which was notably shorter on mechanical isolation and ride sophistication, but also didn't have a fully representative UK-market specification).
There is clearly more reporting to do on the GLE, then – and its ranking here may yet be subject to improvement. For now, suffice it to say that – in the right mechanical specification – it could well deserve a rank on your shopping list.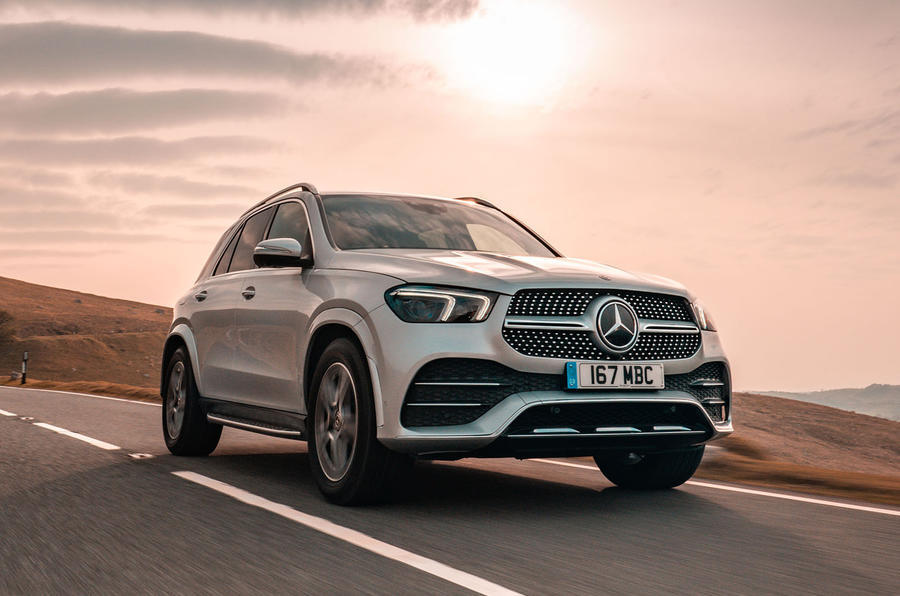 7. Volvo XC90 – Best Luxury SUVs
Volvo's renaissance following Ford ownership started with the XC90 – a genuine seven-seater with comfort and handling on its side, a decent range of engines including a 401bhp plug-in hybrid, as well as an abundance of style.
It's another car that sits directly in the middle of the luxury SUV price spectrum. The interior features a mix of luxury touches and not-so-luxury plastics in places, while less-than-perfect engine refinement and infotainment usability niggles ensure the XC90 stops just short of greatness.
But a spot in the heart of a hotly contested, marquee class like this won't disappoint a company still in the early days of its latest ownership epoch. Volvo is a company on the up, and the XC90 is a refreshing, interesting car from the same mould.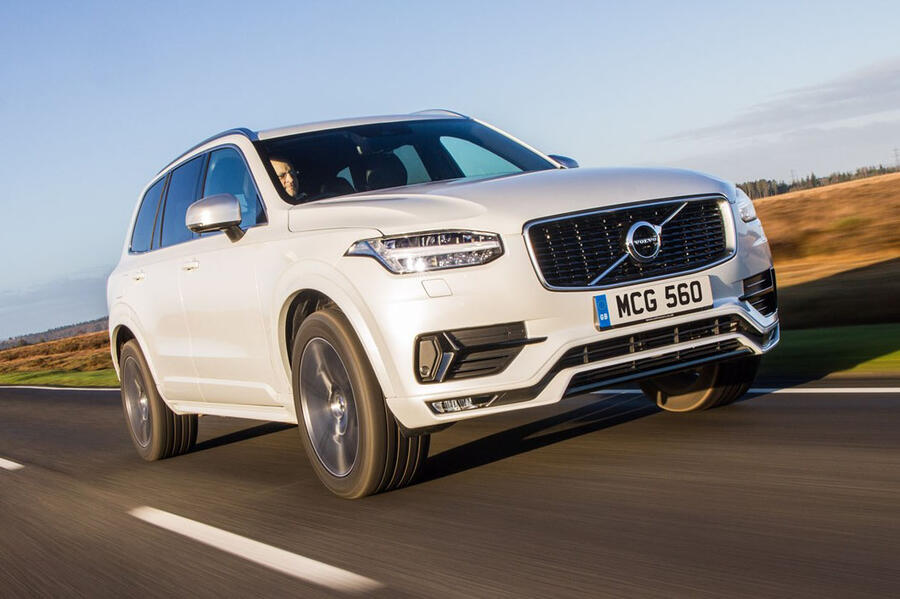 8. Range Rover Velar
The Range Rover Velar is Land Rover's most road-biased SUV yet, with looks taken straight from those of the concept car, an interior that puts most others to shame with its richness in both materials and technology, and a model platform adapted from one primarily developed for its group partner brand Jaguar.
Practicality and offroad ability aren't quite up to the standards of Land Rover's other cars in this class, but the latter is boosted considerably if you option height-adjustable air suspension.
Prices start fairly low but it's worth stretching to the better engines in the range, albeit perhaps not Range Rover's upper-echelon trim levels, to get the best car. At its worst, the Velar can be a fairly ordinary car to drive: but at its best, it's quite something.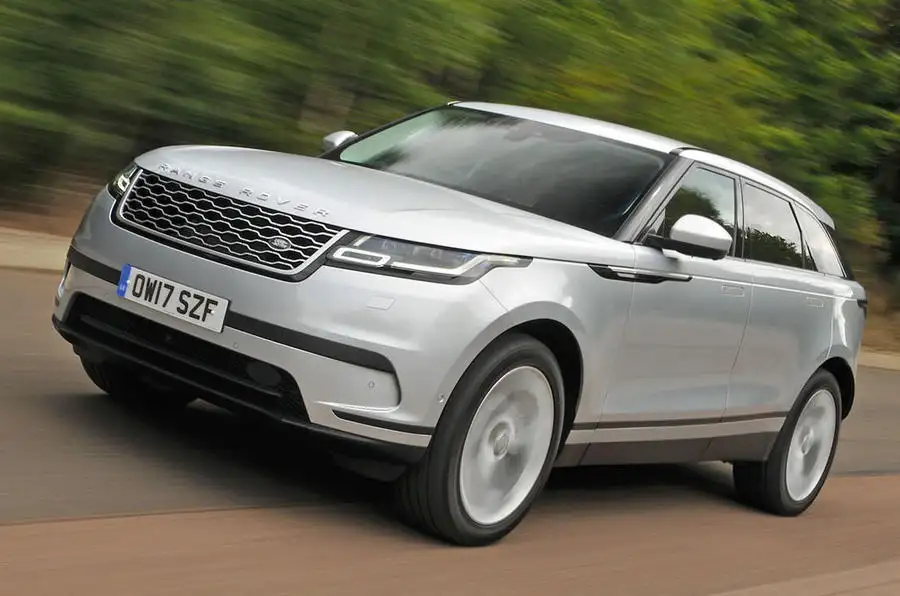 9. Mercedes-Benz G-Class
Mercedes' top-of-the-line SUV, the reimagined G-Class, is a pricey purchase even judged among the not-inexpensive company amongst which it's mixing here. And yet for its boxily enigmatic design appeal, its uncompromising offroad ability and its new and improved credentials as a luxury conveyance, you could easily decide that a near-£100,000 sum would be worth paying. Latest prices and lease deals can be roughly checked on Kelly Blue Book, Find The Best Car Price, and Edmund's—main car pricing sites, they all cover Mercedes Benz deals.
Few SUVs have as much naked Tonka toy kerbside allure as this one. Mercedes' latest update for the car kept true to the car's set-square aesthetic, and stirred in some wonderful design details; but totally overhauled the car's chassis, suspension and interior – to the point where existing G-Wagen owners would recognise the handling manners, refinement and quality fittings of the new one.
G-Class buyers can choose between the refined and fairly economical the G350d diesel option and the madcap 577bhp –AMG G63 – the latter having more power and performance than this sort of dual-purpose offroader could ever use on the tarmac, but feeling gloriously absurd for it.
Stick to the diesel, mind you, and you'll find ride comfort is very creditable; that on-road handling is pretty tidy, but for a slight unwieldiness when manoeuvring associated with a limited turning circle; and that space and usability is competitive too, if you can live with a large side-opening tailgate with a boxy spare wheel attached that can be hard to open in tighter spaces, and a smaller boot than some rivals.
10. Lamborghini URUS – Best Luxury SUVs
While high-performance crossovers have existed for some time, the Urus looks to ignite a more exotic breed of hi-po SUV. Its dizzying price tag and menacing exterior design make the high-riding Lamborghini trendy transportation for professional athletes and celebrities. However, the Urus isn't all show and no go. Its 641-hp twin-turbo V-8 powertrain and standard all-wheel drive produce thundering sounds and otherworldly acceleration. Along with the agility and feedback of a sports car, this Lambo can tow heavy loads and tackle unmapped roads. Despite sharing parts with less expensive corporate siblings such as the Audi Q7 and Q8, the 2020 Urus is an incredibly entertaining and versatile machine.
11. Bentley Bentayga – Best Luxury SUVs
The Bentayga is offered with a variety of powertrains, starting with either a 443-hp hybrid arrangement with a 3.0-liter V-6 and an electric motor or a 542-hp twin-turbo V-8 engine. The V-8 emits a hearty burble on its way from zero to 60 mph in just 3.8 seconds; we haven't driven the hybrid. A 600-hp W-12 engine is also available; this super-smooth powerhouse delivered 3.6-second result in our zero-to-60-mph test, and its power delivery is creamier and its performance felt more robust during passing maneuvers. With a claimed top speed of 190 mph, Bentley boasts that the Bentayga Speed is the fastest SUV in the world (although the Lamborghini Urus might have something to say about that). The Bentayga Speed also uses the W-12 engine but it's boosted to make a 626 horsepower. All Bentayga models, regardless of what's under the hood, utilize an eight-speed automatic transmission and come standard with all-wheel drive.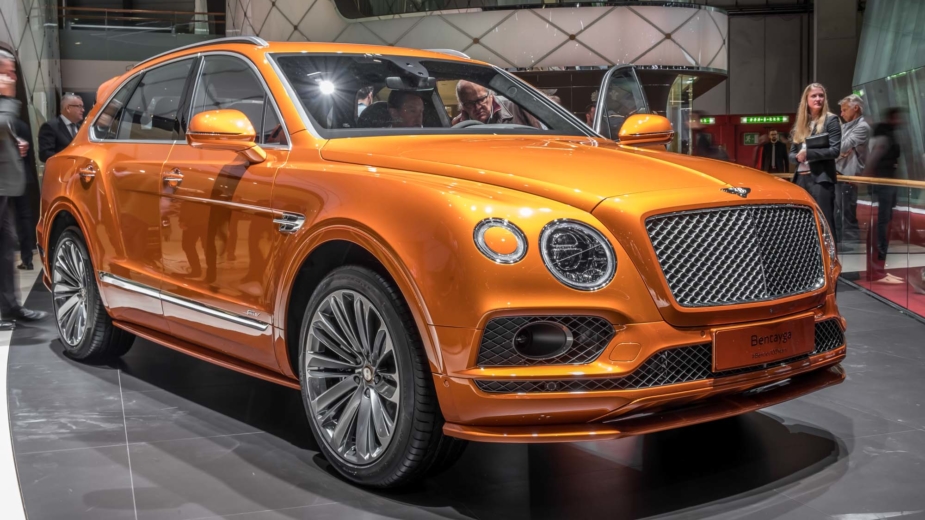 12. Maseratti Levante
Powered by either a sonorous twin-turbo V-6 or a roaring twin-turbo V-8, the Levante is a performance SUV with a decidedly Italian flair. Although it's been a part of the Maserati portfolio for only a few years, it has quickly become one of the brand's most popular models. That's not to say you'll see many on the road—Maserati is still a small, boutique automaker—in fact, unless you live in a particularly tony neighborhood, you might never see another one. The Levante's exclusivity may be compelling, but its usability as an SUV might be less so: Its rivals offer more cargo space, better fuel economy, and more standard features. Still, it's the one SUV in its class that offers a leather-and-silk interior and its Ferrari-derived powertrains can induce automotive nirvana, especially with the throttle open wide.
13. Aston Martin DBX – Best Luxury SUVs
The DBX marks the legendary British sports-car maker's first foray into SUV territory—and its simultaneous entrance into high-end family transportation. The company best known for supplying James Bond with his wheels now aims to capitalize on the hugely popular crossover market that has already seduced iconic rivals such as Lamborghini with its wild Urus SUV. Aston Martin says the DBX will perform with the same liveliness and grace as its range of revered performance cars as well as demonstrate the impressive off-road and towing capabilities that are expected of ultra-expensive luxury crossovers.
Read Also: