What is a hardware wallet? 
A hardware wallet is a physical vault designed to offer safe storage for your cryptocurrency private keys. These specially-designed hard drives usually connect to your computer or smartphone via USB. Because you keep them offline wallets for bitcoin , they provide cold storage for your coins and tokens  – Best Crypto Hardware Wallets.
Hardware wallets contain a range of security features to protect your digital currency keys.
They're protected by a PIN and often include other security measures, such as a screen for viewing transaction details and buttons on the device for manually verifying transactions.
There are essentially two separate parts to a hardware wallet. The first part is a desktop, mobile or web client that's connected to the Internet and performs nearly all the basic features of an ordinary hot wallet.
This software wallet creates the transactions but can't sign them – which is where the second part, the physical hardware wallet that contains your private keys, comes in. The transaction must be sent to your offline hardware wallet, verified by you and signed by the device before it can be completed.
Hot or Cold?  
A hot wallet is any wallet that has an active connection to or is hosted on the Internet. These wallets are more abundant than cold wallets and are often more user-friendly. Thanks to their connection to the Internet, moving funds in and out of these wallets is quick and easy. Unfortunately, this ease of use also comes with disadvantages, such as making them susceptible to hackers, phishing scams and other vulnerabilities. Examples of hot wallets include those offered by exchanges or web wallets such as MyEtherWallet.A cold wallet refers to any wallet stored offline. Cold wallet storage can refer to a number of methods, such as creating a paper wallet with a QR code, storing a wallet on an air-gapped computer (disconnected from the Internet) or using a hardware wallet. While considered more secure than a hot wallet, cold wallets are often slow to use, are physical in nature and can be damaged in ways hot wallets cannot. Hardware wallets are a particular type of cold wallet, popular for their additional security and redundancy.
Find out more about the different types of cryptocurrency wallet.
Why use a hardware wallet?  
Why would you want to choose a hardware wallet over a desktop or online wallet? The main advantage of hardware wallets is simple: they're widely considered to provide the most secure storage option for crypto coins and tokens.
Unlike web wallets and desktop software wallets, which are exposed to risks like hacking, malware and phishing scams, hardware wallets provide offline storage. Your coins will be safe even if your computer is hacked – your private keys are stored securely in your hardware wallet, not on your PC – and lost or stolen wallets are PIN protected.
In addition, if you lose your wallet, you can restore your coins by using your recovery seed. This is a unique passphrase that you can write down and store in a separate place. This recovery seed allows you to recover your funds if something goes wrong.
There has been a myriad of well-publicized examples of hackers and cybercriminals stealing coins from exchanges and hot wallets, so opting for a hardware wallet is all about peace of mind. If you're planning on storing a large amount of crypto for any length of time, moving them into a hardware wallet could be well worth your while.
How to choose a hardware wallet 
If you've decided that offline storage in a hardware wallet is the best option, the next step is actually choosing a wallet. There are several reputable options available, so make sure you consider the following factors when deciding which one is right for you:
Security features. How secure is the wallet and what features does it offer? Is it secured by a PIN? Does it include its own screen? Can you verify transactions by manually pressing buttons? Have there ever been any reported instances of security breaches involving the wallet?
Ease of use. Consider how easy the wallet is to set up and use. If you don't completely understand the processes involved, there's always the very real risk of losing some or all of your funds. With this in mind, make sure the wallet makes it as simple and straightforward as possible to keep track of your crypto holdings.
Supported currencies. Check the fine print to make sure all the coins and tokens you want to store are actually supported by the wallet you're considering using.
Supported operating systems. Is the device compatible with the operating system you're running on your computer or smartphone?
How you actually access your crypto. Hardware wallets usually come with their own hot wallet, which is typically a browser extension or web wallet. Many devices also allow you to interact with your crypto holdings using a third-party wallet – for example, if you were storing Ether (ETH) on a Ledger Nano S, you could manage your tokens using either the Ledger Wallet Ethereum app or the third-party wallet MyEtherWallet.
Back up and restore. Read up on the process required to back up your wallet and restore your coins if something goes wrong. Is this easy to do, and will it increase the level of security for your funds?
Price. This is an important factor for many as hardware wallets are not free. Compare the prices of competing wallets, including exchange rates and shipping costs if buying from an overseas provider, to get a better idea of which option offers the best value for money.
Portability. This may not be an important feature for all users, but if you want to transport your wallet with you, consider how easy it would be to carry around on a day-to-day basis.
Independent reviews. Do your research to find some independent reviews of any wallet you're considering. What do those reviewers list as the wallet's pros and cons? What problems (if any) have they had when using it, and do they recommend it?
By considering these important features, you'll have a much better idea of which hardware wallet is right for you.
Meet the contenders
There are several options worth considering when choosing a hardware wallet. We've listed the leading contenders below, so click the relevant link to read a full review of each wallet's features, pros and cons. This should help you get a better idea of which wallet will be the best choice for you.
Ledger Nano S
Ledger's Nano S is a hugely popular hardware wallet priced at around $95 at the time of this writing (April 2018). Connecting to your computer via USB, it features a built-in OLED display and buttons on the device that you need to press to manually verify transactions.
Read our full review of the Ledger Nano S wallet
The Nano S is protected by a PIN and is easy to set up and use. It supports a wide range of popular cryptocurrencies, including bitcoin, Bitcoin Cash, Ether, Ethereum Classic, Litecoin, Ripple and ERC20 tokens. It's well worth a look if you're searching for a suitable hardware wallet.
---
Ledger Nano X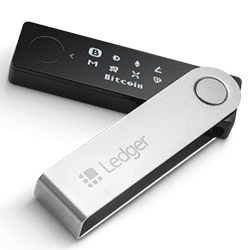 The Ledger Nano X is the updated version of the Ledger Nano S. It's available for $119 and improves on its predecessor with a larger screen and Bluetooth connectivity, which lets you use it with mobile phones rather than needing to use a computer.
Read more in our Ledger Nano X wallet review
The Nano X supports over 1,000 cryptocurrencies, and many regard it as a straightforward improvement in all areas on one of the most popular hardware wallets ever built, so make sure to include it in your comparisons.
---
TREZOR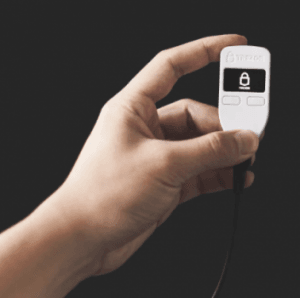 TREZOR is actually the Czech word for "vault", which gives you an idea of the type of secure storage this wallet is designed to offer for your digital currency. One of the oldest and most reputable hardware wallets available, the TREZOR provides multiple layers of security for your coins and tokens.
Read our full review of the TREZOR wallet here
It features PIN protection, a 24-word recovery seed, an in-built screen and physical buttons for transaction confirmation. It also supports a decent selection of currencies and sells for around $107.
---
TREZOR Model T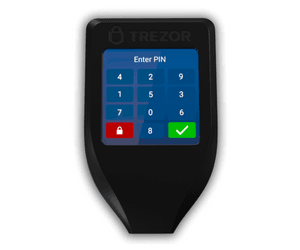 TREZOR also offers the Model T, which was launched in early 2018 and supports more than a dozen major cryptos plus any ERC20 token. Boasting a touchscreen, double verification for transactions, PIN protection and PIN lockout, it's another wallet that prioritizes security above all else.
You can store bitcoin, Bitcoin Cash, Ether, ERC20 tokens and 10 other currencies on the Model T, but at the time of this writing (April 2018) was only available for preorder.
---
KeepKey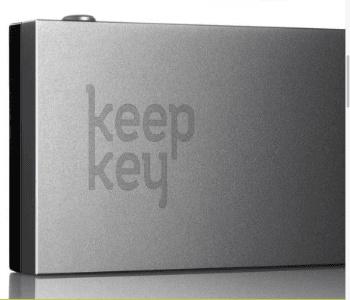 A secure wallet that supports a selection of leading currencies, KeepKey is another reputable name in the world of crypto storage. Launched in 2015, this hierarchical deterministic (HD) wallet stores bitcoin, Bitcoin Cash, Ether, Litecoin, Dogecoin, DASH and Namecoin.
Read more in our full review of the KeepKey wallet
Backed up by a 12-word recovery sentence, the KeepKey supports the storage of an unlimited number of private keys and offers a host of important security features. It retails for around $125.
---
BitBox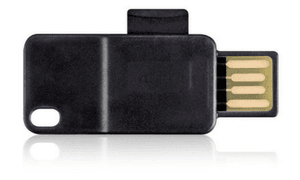 "Minimalist design. Maximum security" – that's the tagline for this Swiss hardware wallet. Compact and portable, this plug-and-play wallet supports bitcoin, Ether, Ethereum Classic, Litecoin and ERC20 tokens on the Ethereum network.
Key features include 2-factor authentication, touch buttons and an LED indicator as well as plausible deniability using hidden wallets and backups. It retails for around $71 plus $23 shipping.
---
Pros and cons of hardware wallets
Pros
Generally considered to be more secure than desktop, web and mobile wallets
Gives you control of your private keys
Supports a wide range of coins and tokens
Provides peace of mind
Allows you to recover your coins if your wallet is lost or stolen
Cons
You'll need to buy one – hardware wallets aren't free
Not quite as convenient as other wallet options when you need quick access to your crypto
Not all cryptocurrencies are supported
---
More tips when using a hardware wallet
Keep the following tips in mind to help ensure the security of your crypto coins and tokens:
No wallet is 100% secure. If you want to ensure the safety of your funds, the buck stops with you. The most secure wallet in the world is useless if you don't properly follow wallet set-up or security instructions, so exercise caution at all times.
Only buy from a reputable seller. Only buy hardware wallets direct from the manufacturer or an authorized reseller since buying a second-hand wallet puts you at risk of hacking and theft. For example, in one well-publicized case, a Reddit user reportedly had his life savings stolen after buying a used Ledger wallet to store his crypto.
Keep private details private. You should never disclose your hardware wallet's secure PIN and your crypto private keys to anyone.
Don't lose your recovery seed. You need your recovery seed to access your crypto coins if your wallet is lost or stolen, so make sure you write this seed on a piece of paper and keep it safe. Better yet, write it on two or three pieces of paper and keep them all in separate but secure places.
If you're smart about how you manage your funds, a hardware wallet can provide safe storage for your digital currency. The initial outlay of $100 or more may be a stumbling block for some, but if you value peace of mind, then this upfront cost could be well worth it.
Best Crypto Hardware Wallets