New technologies and disruptive ideas are constantly changing the world around us, but that doesn't mean these changes can't be profitable for investors. The auto industry has been hit hard by new technology in the last few years, with car-sharing services like Uber and Lyft becoming popular alternatives to owning a car. As these trends intensify, it's become clear that automakers will need to pivot or perish. In response, many traditional car manufacturers have started investing in electric vehicles and ride-sharing services of their own in an effort to stay relevant. But what about smaller companies looking to take advantage of this shift? There are several stocks worth considering as excellent investments if you believe that electric cars are set to take over the automobile market in the next decade or two.
Read this FintechZoom Article: Discover the Green Revolution: EV Vehicles Production Is Taking Off!
Electric vehicles worldwide – statistics & facts
New technologies often emerge as niche markets, but electric vehicles are proving to be a notable exception. Governments around the world are responding by enacting new legislation that drives adoption and provides incentives for consumers to purchase electric cars. A number of car manufacturers have introduced electric versions of their existing models with great success, including Tesla, Nissan, and General Motors. According to Statista, sales of hybrid and fully-electric cars will hit 2 million units combined in 2020. For some investors, this plays as an opportunity to invest in the auto sector while it undergoes such significant transition.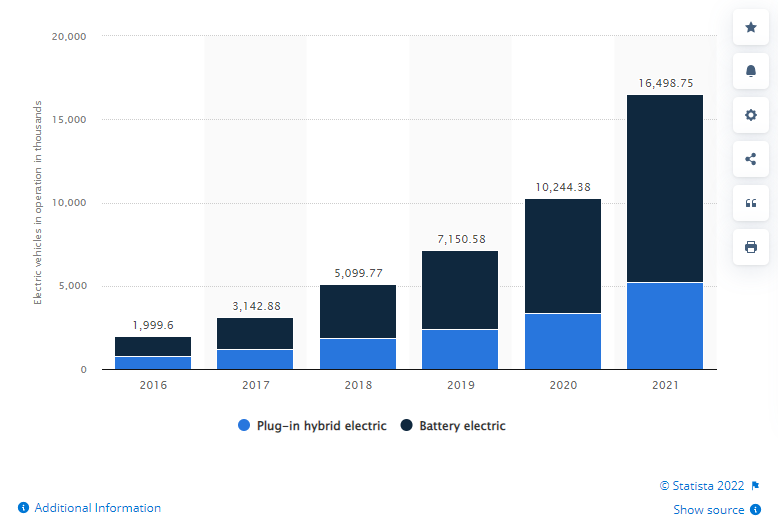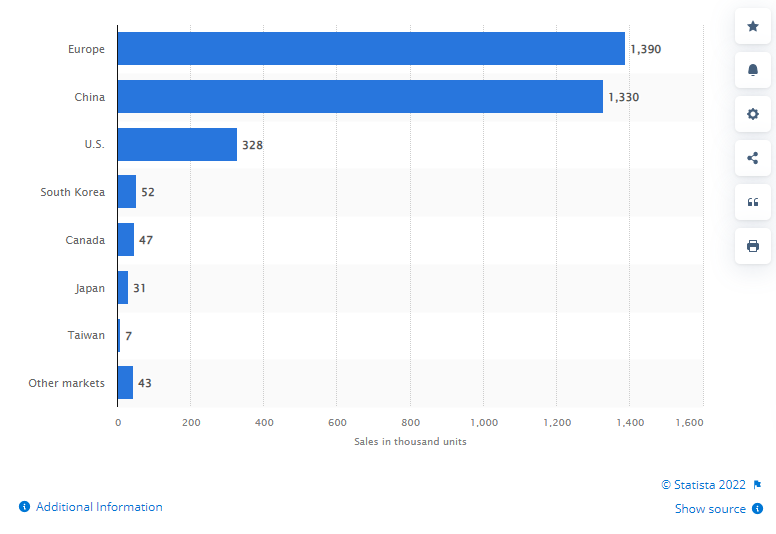 Tesla
Tesla has become synonymous with electric vehicles, both in the stock market and in the public consciousness. Tesla has built itself into a well-known brand, with an obvious benefit to investors. Tesla's stock has been on a roller coaster ride, but the company has become the de facto leader in electric vehicle adoption. The Model 3, Tesla's first mass-market car, has seen a lot of success for the company, with a significant backlog of orders. Tesla has had its share of struggles, though. The company has been under investigation for workplace safety and has seen a rash of executive departures. Tesla has also struggled with being able to scale its production to meet consumer demand. Investors will also have to keep an eye on Tesla's cash flow, as it has been burning through cash at a rapid rate.
GM
GM is an interesting case study in the electric vehicle market. GM is one of the largest auto manufacturers in the world, but the company has seen success with the Chevy Bolt. The Chevy Bolt is an affordable long-range electric car that has received positive reviews from customers and critics alike. While the Bolt has been successful, it has also put GM in a position to compete with Tesla. The Bolt is built on the same lithium ion battery technology as the Tesla, and it can travel as far on a single charge as Tesla's Model 3. It isn't just the Chevy Bolt that makes GM an attractive investment. The company is also developing its autonomous driving technology, as well as its ride-sharing service, Moovel.
Nissan
Nissan has been in the electric vehicle business for a long time and has a number of products that appeal to consumers. The Nissan Leaf and the Infiniti-badged E-tron are two examples of Nissan's electric vehicles. Nissan has been a major player in electric vehicle adoption for a while now, and this investment has paid off for shareholders. Nissan has been able to achieve success, even as other manufacturers have struggled with the transition to electric vehicles, due in large part to its partnerships with other companies. Nissan has partnered with Panasonic, Tesla, and other companies in the space to source new battery technology and other components necessary for a successful electric vehicle. With a significant investment from Toyota, Nissan is poised to be a major player in the electric vehicle market for years to come.
Hyundai
Hyundai has been a major player in the electric vehicle industry for a long time, but the company has had difficulty getting the word out. Hyundai recently announced plans to launch an all-electric version of its popular Ioniq model. The Ioniq is already a top seller in the hybrid electric vehicle segment, and the all-electric version is expected to be competitive against other EVs on the market. Hyundai is also taking a unique approach to promoting its new model and will have a car-sharing service featured in New York City. The New York City car-sharing program will feature 100 Ioniqs and will allow customers to drive the electric vehicles for as little as $2 an hour. Hyundai has a lot of potential, as it is one of the only major automakers without an all-electric model on the market.
NIO Inc. (NIO)
NIO is a blockchain technology company that builds a decentralized vehicle ownership and sharing ecosystem. NIO's open, decentralized, and distributed network architecture enables peer-to-peer car sharing and ridesharing services for individuals, enterprises, and public transportation agencies. NIO's vision is to reduce traffic congestion, pollution, and parking shortages by providing access to on-demand mobility services for everyone.
NIO has raised more than $1 billion from investors including Tencent, Sequoia Capital, Fidelity Investments, Liberty City Ventures, Lightspeed Venture Partners and other top tier venture capital funds. The company has offices in San Francisco, Tokyo, Singapore and São Paulo.

NIO is currently developing a mobile application (NIO app) that will enable users to rent shared electric vehicles (EVs),as well as an EV charging station solution. In addition to EV rentals, the NIO app will offer EV charging services at EV stations around the world. The NIO app will also feature availability of next-generation autonomous driving infrastructure such as connected cars and electric self-driving taxis. The NIO app is expected to launch in late 2018 in major cities worldwide with large populations such as New York City, Paris, London and Tokyo.
Polestar (NASDAQ: PSNYW)
Polestar is a new, independent company that powers electric vehicles for consumers, businesses and utilities with clean energy. Founded by Volvo Cars, the Polestar brand represents a new direction for all-electric vehicles, and it aims to accelerate the adoption of electric vehicles by providing innovative products and services.
According to Bloomberg New Energy Finance, global EV sales will grow from 5.3 million units in 2017 to more than 50 million units by 2030. However, electric vehicle ownership is still only 1% of the global automobile market today. Polestar is working to accelerate EV adoption and increase the number of EVs on the road through its new business model of shared ownership models. It offers a compelling alternative to traditional car buying through its easy-to-use online platform and financing options for both consumers and businesses. As an independently owned company, Polestar has a strong commitment to sustainable mobility solutions that will help enable a cleaner future for all. -END-
Li Auto Inc. (LI)
LI Auto is an auto parts company that has been in business for over 30 years. LI produces a variety of products including tires, brakes, and engine components. LI was founded in 1982 by brothers Joe and Mike Li. The company currently operates under the leadership of CEO Joe Li. LI is headquartered in San Jose, California.
LIA Auto Inc (LI) provides various products and services to the automotive industry. They offer OEM aftermarket parts and custom installed solutions. Customers can choose from a wide array of products including tires, brakes, and exhaust systems. Their supply chain includes more than 1,000 manufacturers located in more than 100 countries across the globe. They also have two manufacturing facilities located in the United States. In addition to these facilities, they have warehouses located across the country. LIA Auto Inc (LI) has several subsidiaries including LIA Auto Distribution, LIA Auto Parts Distribution and LIA Auto Tire Distribution; all of which are based in the USA.
Lucid Group Inc (NASDAQ: LCID)
In the world of cannabis, Lucid is a name that's easy to remember. The company operates a platform that brings together genetics, cultivation, and extraction technologies to produce high-quality cannabis products. In short, it's both a cultivator and an producer. As one of the largest cannabis firms in North America, it's well positioned to capitalize on the growth of the industry in both the recreational and medicinal markets.
The company recently launched its LCiD Pure CBD product line and looks poised to expand into ancillary products as well. In addition to having a strong brand and large distribution network, Lucid has a growing presence in every major U.S. market, including California, Nevada, Colorado, Arizona, New Mexico, Illinois and Massachusetts.
Conclusions
Electric vehicles have experienced a rapid rise in adoption with significant government incentives and new legislation that supports their adoption. This has also brought an increased focus on the infrastructure necessary to support EVs, as well as the batteries used to power them. For investors, this presents an opportunity to capitalize on the significant change that has already begun in the auto sector. While there is always risk associated with investing in the auto sector, EVs are less susceptible to technological obsolescence compared to conventional internal combustion engine (ICE) vehicles. This reduces the risk of technological change and makes EVs a more attractive long-term investment. With the rise in adoption, there will be a greater need for companies to produce the batteries used to power EVs.