---
On May 11, the US West Texas Intermediate crude oil fell below the $100 mark
Standing at $106.00 on May 11, the Brent oil has set its eyes on breaking the key resistance of $107.05
As of May 11, the price of gold has not only touched the $1850 resistance but crossed it as well, standing at $1852 currently
Corn price has seen an overall improvement in the last two days, and today, on May 11, it is likely to close at $780
Natural Gas increased +4.69%
---
WTI Oil
On May 11, the US West Texas Intermediate crude oil fell below the $100 mark. That was a significant downfall of 3.23%. Note that this decline was the lowest for the WTI in the last two weeks. However, the price managed to jump up, shed off the daily losses and is standing around $105.00 area.
Still, the experts have predicted that the price would decline further by May 12 to at least $98.04. And if things take a turn for the worse, the price could fall to $95.14. Whatever happens, depends heavily on China's Zero Covid Tolerance policy. Being the world's most significant industrial player, the lockdowns in China are nothing but a threat to the oil prices.
Brent
Standing at $106.00 on May 11, the Brent oil has set its eyes on breaking the key resistance of $107.05. This 3.26% rise in price indicates that it's better to stay aside for now until the price has stabilized. If the Brent oil manages to cross the resistance, it will achieve more gains and hit the $107.15. From there, the $110.05 would be the next target.
Depending on the situation, the Brent oil price may decline from its current position. In this case, it is predicted to fall down to $98.95. Therefore, all things considered, the trading range for May 11 is $102 to $107.
Natural Gas
The natural gas price trend saw an overall rise as it soared up to $7.6 per million British thermal units on May 11. However, it came at a price as the commodity briefly touched $6.4 per million British thermal units, which is the lowest in the last two weeks.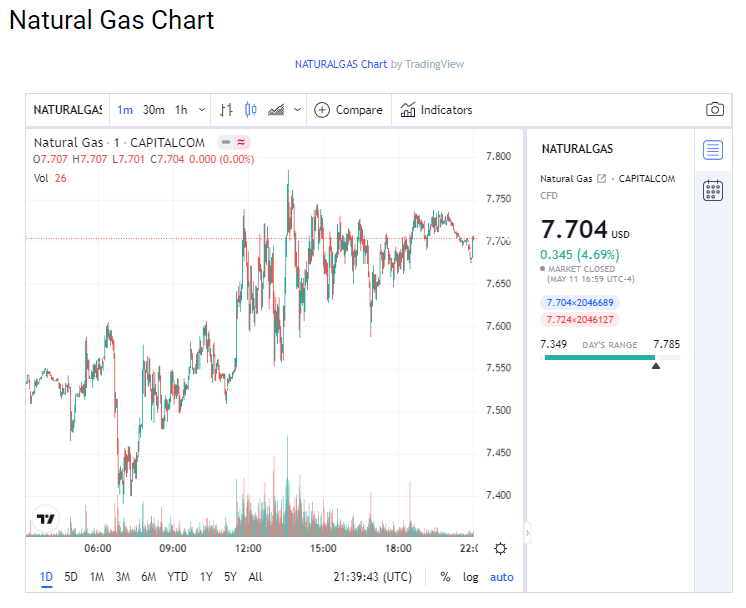 Gold
As of May 11, the price of gold has not only touched the $1850 resistance but crossed it as well, standing at $1852 currently. However, caution is required from the traders because this breach is likely to stop the adverse scenario of May 11. Further, the breach will allow the price to rise more. If the price consolidates below the resistance mentioned above, the bearish trend will prevail, eyeing the $1820 mark, followed by $1780.25 as the next target.
For now, the best trading range for May 11, 2022, is $1810 to $1855, where the former is support, and the latter is resistance.
Corn
The corn price has seen an overall improvement in the last two days, and today, on May 11, it is likely to close at $780. It's current standing at $781 support. The massive 1.61% rise in its price is because only 22% of corn was planted on Monday compared to the 50% five-year average. Therefore, the agronomists say that there is a risk of low yields. This, along with the Russia-Ukraine war and the poor weather conditions in principal growing regions, will only push corn prices further.