US crude fell below $100 to a two-week low as demand forecasts were hit by a coronavirus outbreak in China and rising recession risks
Brent futures are down 7% since March 30
June NYMEX gas futures were down $1,017 to $7,026 per MMBtu
US gold futures were down 0.8% at $1,844.30 an ounce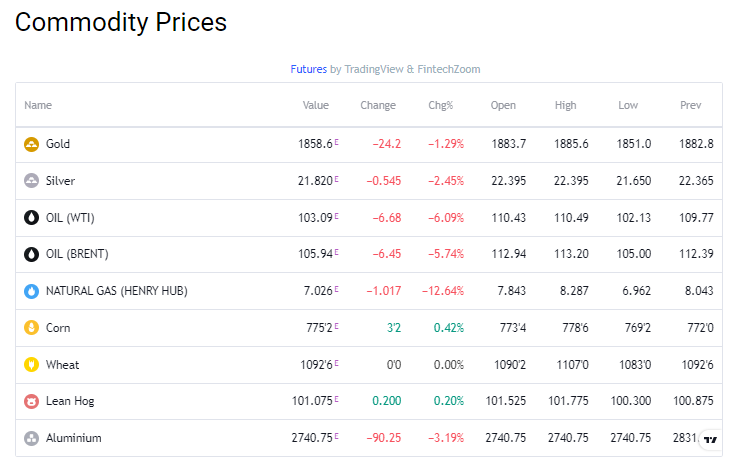 WTI
On Tuesday, US crude fell below $100 to a two-week low as demand forecasts were hit by a coronavirus outbreak in China and rising recession risks, while a strong dollar made oil more expensive for buyers.
The price of US West Texas Intermediate crude fell by $3.25, or 3.13%, to $99.85 a barrel.
WTI rose more than $1 a barrel following remarks by the energy ministers of Saudi Arabia and the UAE earlier in the session.
John Kilduff, a partner at Again Capital LLC, says the daily price bars are too big these days.
Since the EU is still unsure about imposing a Russian oil embargo, this also fundamentally changes the calculations on both sides, he added.
Brent
The gasoline price in the United States exceeded March's record on Tuesday. On Tuesday, the average retail price of gasoline broke the $4,331 record, as retail prices topped $4,374 early. Gasoline futures are up 9.4% since March 30, while Brent futures are down 7% since March 30.
Concern about the sustainability of the energy system was expressed by Prince Abdulaziz.
As he stressed during the ministerial meeting, "we require an energy system that allows us, not hinders, to realize our personal prosperity and sustainable development goals."
Natural gas
Today, June NYMEX gas futures were down $1,017 to $7,026 per MMBtu. On Friday, the monthly contract dropped 74.0 cents. As of Monday, the July contract was $7,106, down $1,022.
The NGI for national average spot gas fell 75.0 cents to $7,235, its second sharp decline in as many sessions.
Over the past two days, futures have dropped from the 14-year high reached early last week. Following prices reaching exceptional levels, traders took profits on Friday, while buyers, who had driven prices higher on supply concerns, retreated.
Stock and commodity markets generally struggled on Monday amid a resurgence of the pandemic in China and simmering conflict in Ukraine.
Gold
On Tuesday, gold prices fell as the dollar regained strength, and investors turned their attention to the US. The Federal Reserve is expected to announce its monetary policy strategy on Wednesday.
The price of gold is down 0.4% to $1,845.89 per ounce at the time of writing after gaining 0.6% earlier in the session. US gold futures were down 0.8% at $1,844.30 an ounce.
The dollar index gained 0.2% during the last session and held near a 20-year high. Meanwhile, the 10-year forecast is used in the US. As a result, government bond yields are at their lowest level in nearly four years.
Corn
It had been a very unpredictable day. Grain markets regained their momentum in the morning following a drop in overnight trading. Prices then dropped to test the lows of last night. Wheat prices have risen since then.
Corn is down 12.5 cents in July and up 1 cent in December. The July soybean price is up 3 cents, while the November soybean price is 4 cents. The July CBOT wheat price fell 1 cent, the KC wheat price rose 5 cents, and the Minneapolis wheat price rose 4 cents.