The United Kingdom government, under Prime Minister Rishi Sunak, has recently revealed plans to grant a substantial number of new licenses for oil and gas exploration and exploitation in the North Sea. This move, which has sparked a heated debate among politicians, environmental advocates, and the public, aims to fortify the country's energy security amidst rising global energy concerns.
A Strategic Move Towards Energy Independence
Britain's commitment to issue hundreds of new licenses for North Sea oil and gas extraction is part of its broader strategic goal to become more energy independent. This move is seen as a response to the escalating geopolitical tensions that have disrupted energy supplies and stalled growth in several countries around the world.
In a statement, Prime Minister Sunak pointed out the need to bolster the UK's energy security in light of the manipulative tactics employed by Russian President Vladimir Putin.
"We have all seen how Putin has manipulated energy, disrupting supplies and stalling growth in countries around the world," Sunak said.
Brent is now at flat price (-0.01%) at $85.03
As of today, the Brent crude oil, the North Sea benchmark, is at $85.03 [1], after achieve the lowest level $72.26 in June 27th, since before Russia invaded Ukraine. The UK government, now under Prime Minister Rishi Sunak, has revealed plans to substantially increase the number of new licenses for oil and gas exploration and exploitation in the North Sea [2]. This move is part of the government's strategy to address the ongoing energy and cost-of-living crises and may contribute to stabilizing oil prices in the future.


References: [1] Oil prices drop by $5 to lowest since before Russia invaded … [2] Brent & WTI Oil Futures Price & Updates [3] New UK Prime Minister Sunak Faces Major Challenge …
The Climate Compatibility Test
The North Sea Transition Authority (NSTA), the regulator responsible for overseeing the oil, gas, and carbon storage industries, is currently spearheading the 33rd offshore oil and gas licensing round. They anticipate that the first of the new licenses will be granted in the autumn, with the round anticipated to award over 100 licenses in total.
These future licenses will be subjected to a climate compatibility test, ensuring that energy security options align with the UK's commitment to reducing carbon emissions. This approach looks to create truly integrated offshore energy hubs that leverage the established infrastructure.
Domestic Gas Production: A Lesser Evil?
Even as the UK aims to achieve its carbon-neutral target by 2050, it is estimated that a quarter of the country's energy needs will still come from oil and gas. As such, the government argues that slowing the rapid decline in domestic production of oil and gas can curb the carbon footprint compared to importing liquified natural gas.
New analysis released by the NSTA shows that the carbon footprint of domestic gas production is around one-quarter of the carbon footprint of imported liquified natural gas. By this logic, the new oil and gas licenses are seen as a way to reduce the fall in UK supply and ensure vital energy security without increasing it above current levels.
The Green Controversy: Balancing Environment and Economy
While the government defends its decision as a practical approach to addressing energy security and job creation, the move has not been without its critics. Opposition politicians and environmental campaigners have lambasted the decision as "greenwashing" and a "smokescreen".
Jamie Livingstone, the head of Oxfam Scotland, called the new plan a "short-sighted and selfish decision," arguing that it disregards climate science and common sense.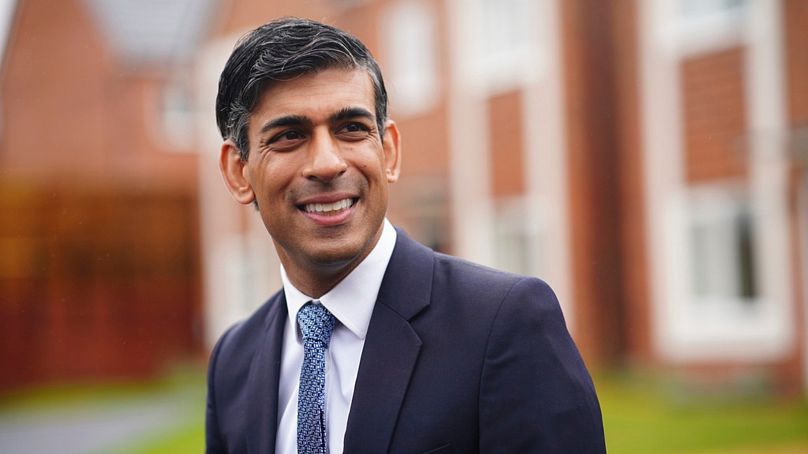 UK Prime Minister Rishi Sunak. Image Courtesy: AP Photo
Carbon Capture and Storage (CCS) Projects: A Silver Lining?
In the face of controversy, the UK government also announced its investment in two new carbon capture and storage (CCS) projects, one in northeast Scotland and the other in England. These projects are expected to create tens of thousands of jobs and aid the country in reaching its carbon-neutral goals.
Carbon capture and storage is a technology that captures carbon dioxide emissions from industrial processes before they reach the atmosphere and stores them underground. The UK government aims to capture and store 20 million to 30 million tonnes of CO2 by 2030 using this technology.
The two projects, known as Acorn in North East Scotland and Viking in the Humber, have been chosen as the third and fourth carbon capture usage and storage clusters in the UK. They are expected to support up to 50,000 jobs in the UK by 2030, creating a thriving carbon capture usage and storage industry.
Future Implications: A Balancing Act
As the UK navigates the complexities of energy security, economic growth, and environmental sustainability, the decision to grant hundreds of new North Sea oil and gas licenses presents both opportunities and challenges.
On one hand, it offers a solution to the country's energy security concerns and promises job creation. On the other hand, it poses significant environmental risks, drawing the ire of environmental advocates who argue that it undermines the country's commitment to combating climate change.
In this high-stakes balancing act, the UK's success will depend on its ability to effectively manage these competing interests and ensure that its energy strategy aligns with its long-term economic and environmental goals. The coming months will undoubtedly prove pivotal in shaping the country's energy future.