Elon Musk, the billionaire entrepreneur and CEO of Tesla, has been making waves in the cryptocurrency world with his tweets about Dogecoin. This once-obscure digital currency, which was created as a joke in 2013, has seen its value skyrocket in recent months thanks to Musk's endorsement on social media. With a single tweet, Musk can send Dogecoin prices soaring or plummeting, leaving investors and traders scrambling to keep up. But what is the Musk effect, and why is it having such a profound impact on the crypto market? In this article, we'll explore the connection between Elon Musk and Dogecoin, and delve into the fascinating world of digital currencies and social media influence. Whether you're a seasoned crypto investor or just curious about the latest trends, this is a topic you won't want to miss.
The impact of Elon Musk's tweets on Dogecoin
The world of cryptocurrency was rocked by the recent tweets of Elon Musk, the billionaire entrepreneur and CEO of Tesla and SpaceX. In particular, his tweets about Dogecoin, the meme-inspired cryptocurrency, have sparked a frenzy of activity in the market. Musk has been tweeting about Dogecoin for several months now, but his recent tweets have had a particularly strong impact on the cryptocurrency's value.
On May 8th, Musk tweeted that he was "working with Doge devs to improve system transaction efficiency" and that "potentially promising." This tweet caused the value of Dogecoin to skyrocket, with the cryptocurrency's value increasing by over 25% in just a few hours. This was not the first time that Musk had tweeted about Dogecoin, but it was one of his most significant tweets to date.
Musk's tweets have a significant impact on the cryptocurrency market because he is such a high-profile figure. As the CEO of two of the world's most innovative companies, Musk's opinions and actions are closely watched by investors and the media alike. When he tweets about a particular cryptocurrency or company, it can have a ripple effect throughout the market.
In the case of Dogecoin, Musk's tweets have brought the cryptocurrency into the mainstream spotlight. Dogecoin was originally created as a joke, but it has since become a serious investment opportunity for many people. Musk's tweets have helped to increase awareness of Dogecoin and have made it more accessible to the general public.
However, Musk's tweets have also been a source of controversy. Some people have accused him of manipulating the market with his tweets, and there have been calls for him to be more careful about what he says on social media. Musk himself has acknowledged the potential dangers of his tweets, saying that "cryptocurrency is promising, but please invest with caution!"
Overall, the impact of Elon Musk's tweets on Dogecoin has been significant. His tweets have helped to increase the value of the cryptocurrency and have brought it into the mainstream spotlight. However, they have also been a source of controversy and have raised questions about the ethics of social media influencers and their impact on the financial markets.
On 7th May 2021, The Dogecoin surge after Elon Musk's appearance on Saturday Night Live
The world of cryptocurrency has been buzzing since the recent surge of Dogecoin after Elon Musk's appearance on Saturday Night Live. The popular meme-inspired digital currency has been in the news for a while now, but it wasn't until Musk mentioned it on the famous TV show that its value skyrocketed. Dogecoin, which started as a joke, has now become a serious investment opportunity for many people.
Musk's appearance on SNL was hyped up for weeks, and his mention of Dogecoin only added to the excitement. The currency's value rose by over 20% in just a few hours after the show aired. This sudden surge is a testament to the power of social media and celebrity endorsements in the world of cryptocurrency.
However, it's important to note that investing in Dogecoin or any other cryptocurrency is a risky business. The market is highly volatile, and there's no guarantee that the value will continue to rise or even hold steady. It's crucial to do your research and invest wisely, especially when it comes to something as unpredictable as cryptocurrency.
Despite the risks involved, the Dogecoin surge after Elon Musk's appearance on SNL has been an exciting development for cryptocurrency enthusiasts. It's a reminder that anything is possible in this rapidly evolving market. Who knows what the future holds for Dogecoin and other digital currencies? Only time will tell, but one thing is for sure – this recent surge has put Dogecoin on the map and made it a force to be reckoned with in the world of cryptocurrency.
On 14th January 2022, Musk says Tesla to accept dogecoin for merchandise
Elon Musk stating that Tesla will start accepting Dogecoin for merchandise on January 14th, 2022 [1][2][3].
Following the tweet, Dogecoin rose to $0.20 and has increased by 5,859% in the last 12 months [2]. Tesla then implemented payments in Dogecoin on its website, allowing users to buy items such as an electric quad bike for kids [2]. However, it's unclear whether the company has been simply holding on to the tokens used for merch purchases or has made dedicated buys of the Dogecoin cryptocurrency [3]. While Tesla had sold 75% of its Bitcoin holdings in Q2 of 2021, it still held on to its Dogecoin holdings, with the company owning $218 million worth of digital assets, with the bulk of it likely being Bitcoin and now Dogecoin [3].
References:
[1]
Dogecoin price surges after Elon Musk tweet about Tesla …
[2]
Dogecoin value soars after Elon Musk says it will be …
[3]
Elon Musk discloses that Tesla owns Dogecoin, but how …
And on 29Th May, Elon Musk told Tesla accepts Dogecoin for some merchandise and SpaceX will do the same
Elon Musk tweeted that Tesla would accept Dogecoin for some of its merchandise [1]. He also announced that his aerospace company SpaceX would soon follow suit and accept Dogecoin as a payment option for merchandise [2][3]. However, no specific date for when SpaceX will begin accepting Dogecoin has been announced yet. Currently, SpaceX's merchandise shop only accepts credit card payments, and no cryptocurrency conversions or prices are available for any items in the shop. Additionally, Musk hinted that "maybe one day" Starlink users could pay for their subscriptions with Dogecoin, but no deadline was given [2][3].
References:
[1]
Dogecoin | Tesla Support
[2]
After Tesla, SpaceX to accept Dogecoin for merchandise …
[3]
After Tesla, SpaceX to accept Dogecoin for merchandise soon
Now, Elon Musk decide to changed Twitter's to the Dogecoin logo
Elon Musk changed Twitter's logo to the symbol for Dogecoin, a popular cryptocurrency, in some parts of its website. While Musk has not offered an explanation for this move, it is widely known that he has expressed his fondness for Dogecoin in the past. Some users speculate that it could be an April Fool's Day prank or a response to his current Dogecoin lawsuit. The value of Dogecoin rose after Musk's announcement, with a 30% increase. However, the currency settled under $0.1, which is lower than the 2021 high of $0.64 [1][2][3].
References:
[1]
Elon Musk just changed Twitter's logo to the Dogecoin symbol
[2]
Why did Elon Musk change Twitter logo to Doge meme?
[3]
Twitter makes unexplained logo change to Dogecoin …
And… After that Dogecoin Price Increased?…Yes:30%
Dogecoin's price surged by 30% after Elon Musk, the CEO of Twitter, changed the Twitter logo from a blue bird to a Shiba Inu, which is also the logo of Dogecoin [1][2][3]. This sudden logo change was a reference to an earlier Twitter interaction where a user suggested Musk buy Twitter and change the bird logo to a doge. Moreover, Musk has been supporting Dogecoin for several years and has been nicknamed "The Dogefather." Despite facing a $258 billion lawsuit over promoting the cryptocurrency, Musk's endorsement of Dogecoin is limited to social media messages or accepting Dogecoin as payment for some merchandise.
References:
[1]
The Dogecoin price spikes after Elon Musk changes Twitter …
[2]
Dogecoin jumps more than 30% after Twitter changes logo …
[3]
Twitter logo changed: Did Elon Musk replace Blue Bird with …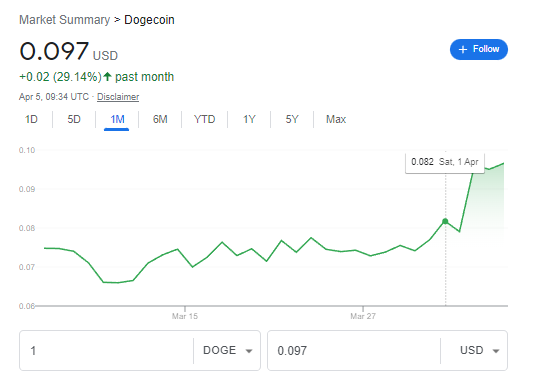 But this Elon Musk's actions can be considered as Market Manipulation?
Musk's tweets about cryptocurrencies and Tesla's investments in Bitcoin are likely within legal bounds. However, there have been concerns raised about the legitimacy of his influence on the market, leading to discussions about the need for regulation to clarify what is acceptable. Musk's tweets have been shown to significantly affect market prices, leading to concerns about whether his comments are all above board. While there is no suggestion of intentional misinformation, questions have been raised about Musk's hastiness to reverse decisions, with some likening the use of his tweets to "pump and dump" scams. However, as cryptocurrencies are not currently regulated, no one entity can hold Musk accountable for market movements caused by his tweets [1][2][3].
References:
[1]
Elon Musk's Bitcoin Tweets Move Markets. Is That Illegal?
[2]
Elon Musk's tweets are moving markets
[3]
Why Elon Musk's bitcoin and dogecoin tweets don't break …
Are crypto investors accused him of intentionally inflating the price of dogecoin?
Yes, investors have accused Elon Musk of intentionally inflating the price of Dogecoin. Musk is currently facing a $258 billion lawsuit, which he has asked a U.S. judge to dismiss, calling it a "fanciful work of fiction" over his "innocuous and often silly tweets" [1]. However, the investors' lawyer said they are confident they will be successful with their case [1].
References:
[1]
Elon Musk seeks to end $258 billion Dogecoin lawsuit
[2]
Elon Musk sued for $258 billion over dogecoin tweets
[3]
35.9K
Since Dogecoin is not Regulated this actions couldn't considered as Manipulation but they are Ethical?
The lack of regulation in the cryptocurrency market means that actions such as Elon Musk's tweets about Dogecoin and Bitcoin can have a significant impact on their prices. While some may view Musk's actions as unethical, others may argue that he is simply expressing his opinions and exercising his right to free speech. It is up to individuals and regulatory bodies to decide whether or not such actions are ethical or manipulative. It's worth noting that while Dogecoin is not regulated, there are still laws that apply to its use, such as tax laws, anti-money laundering laws, and securities laws that could be enforced in certain circumstances.