Hopes that a rally in the price of major crypto currencies could be maintained have been dashed, as today's crypto carnage rounds off an already damaging week.
Bitcoin plunged by more than 5% in a matter of minutes, down to a 3-week low, while Ether also dropped like a stone. It's not showing the pattern of a flash crash, as the assets didn't immediately rebound sharply but sank even lower in the hours that followed. This fresh chill has descended amid fears that the market is heading for a crypto winter. Although at $21,800 Bitcoin is still some way off its June lows of under $19,000, volatility is once again wracking the market.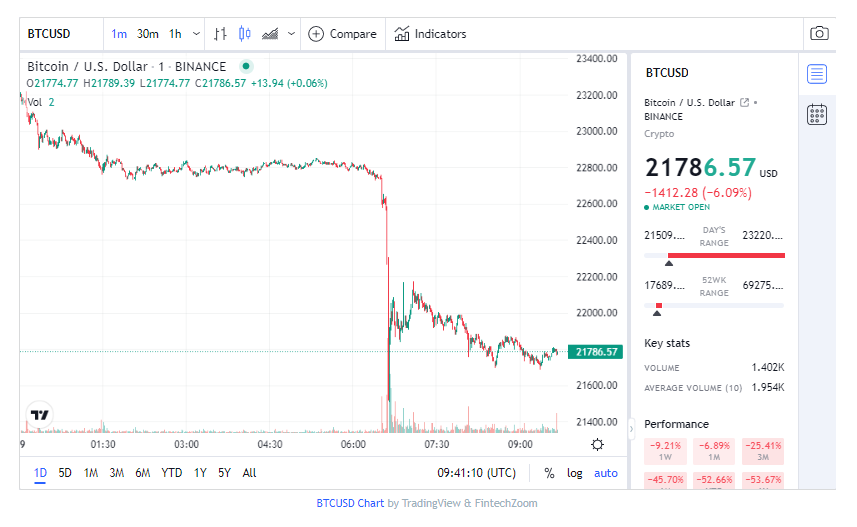 Weakness has seeped into the crypto sphere as speculators retreated from highly risky assets amid expectation that higher interest rates were set to linger for much longer, after minutes were released from the US Federal Reserve indicating policymakers were intent to stay firmly on their monetary tightenng path.
See here Bitcoin Live Prices.
Ether had been significantly out-perfoming Bitcoin ahead of speculation about the benefits of the Ethereum blockchain's major upgrade – the so-called 'Merge'. Speculation has been swirling about the change to how Ether transactions are validated which is expected to take place in mid-September. The network is moving to 'proof of stake' system, which has emerged as an alternative to crypto mining, or what is known as the 'proof of work' process. Instead of miners being more likely to add blocks to the blockchain if they generate more computer power, by staking, users are more likely to be randomly selected to add blocks if they lock away more currency. Although the proof of stake system is viewed by some as a way the crypto world can limit its environmental footprint and burn less energy, the upgrade hasn't insulated the currency from today's wild swings in price.
This latest dark turn in the wheel of fortune demonstrates that speculating in cryptocurrencies is extremely high risk and is not suitable for the vast majority of people. Cryptocurrency values are driven entirely by the speculation that in the future they will have a meaningful role in the financial system. This makes it impossible to attribute a sound valuation to, or to make a call on, their current or future price. Their use as a means of exchange is very limited, and until they're widely accepted, the price will continue to be driven by purely by speculation and right now with confidence plummeting, the use case seems even more shaky. There may be speculators waiting in the wings to buy what they may see as just a big temporary dip, but expect the volatility to continue as liquidity washing around financial markets evaporates as interest rates are hiked further.