The Dow Jones Industrial Average (DJIA) was trending upward in Thursday morning trading, hitting 30,703.73 points as investors continued to react positively. This rise comes on the heels of a strong performance by the S&P 500 index (+0,71%) and Nasdaq Composite which are also up substantially today. Russell 2000 index is increasing +0.97% .
| | |
| --- | --- |
| Previous Close | 30,423.81 |
| Open | 30,411.92 |
| Volume | 140,349,833 |
Dow Jones Industrial Average – DJIA Market Data
| | |
| --- | --- |
| Day's Range | 30,411.92 – 30,822.96 |
| 52 Week Range | 28,660.94 – 36,952.65 |
| Avg. Volume | 340,058,281 |
Dow Jones Industrial Average – DJIA Market Data
Analysts attribute the strong stock market performance we are seeing today to a number of different factors. One key driver appears to be expectations related to first-time unemployment claims. As it turns out, these claims dropped significantly in recent weeks, coming in at just 214,000 — significantly lower than the expected rise to 235,000.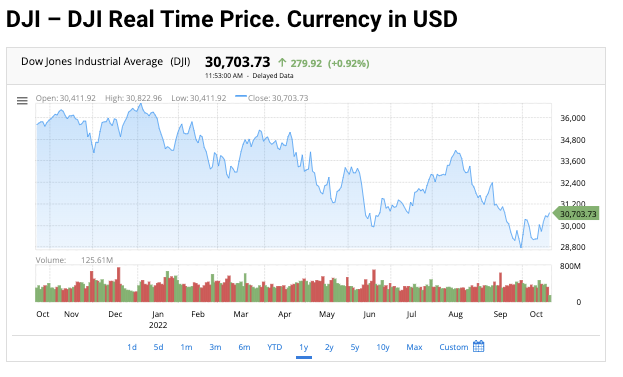 This surprising development has caught the attention of analysts and investors alike, who are now viewing it as a sign of growing economic strength and stability. Additionally, market performance is also being driven by positive data related to other key economic indicators such as retail sales and manufacturing activity.
All in all, it seems clear that there are a number of factors contributing to the strong market performance we are seeing today. And with many analysts predicting further growth ahead, it looks like this upward trend is likely to continue well into the future.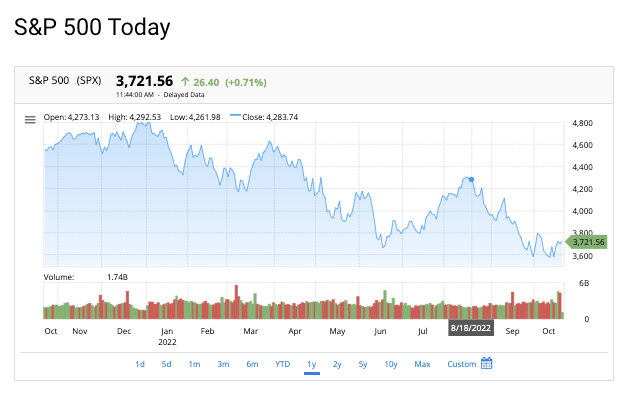 Whatever the driving factors behind it, it seems clear that now is a good time to be in the stock market, and savvy investors are undoubtedly capitalizing on these positive trends.
Tesla Stock (TSLA)
Yesterday Elon Musk release Tesla Earnings Q3 2022. Since its founding in 2003, Tesla has been at the forefront of the electric vehicle industry, breaking new ground with its innovative designs and technologies. And in the third quarter of 2022, it once again proved its leadership by reporting record sales and strong profits.
During this period, Tesla saw a 55.9% increase in revenue compared to the previous year, driven largely by a 102,439 increase in vehicle deliveries across all types. Additionally, operating expenses remained relatively flat, indicating that Tesla was able to keep costs under control even as it experienced growing material costs.
All in all, this was a very successful quarter for Tesla. With its continued leading position in the electric vehicle market and its ability to deliver strong results despite cost pressures, it is clear that Tesla will continue to set the pace for years to come.
In the third quarter of 2022, Tesla saw a marked increase in the production of its Model S/X and Model 3/Y vehicles. Over 19,000 Model S/X vehicles were produced during this period, up from just over 16,000 at the end of Q2. This impressive increase indicates that Tesla is working hard to stay ahead of the curve in the automotive industry.
The company's cutting-edge technology and innovative approach have helped to set it apart as one of the leading producers of high-quality electric vehicles on the market. As more drivers turn to electric cars that offer performance as well as efficiency, it is clear that Tesla will remain a leader in this space for years to come. With its commitment to excellence and cutting-edge technologies, Tesla is well positioned to stay at the forefront of this rapidly evolving industry.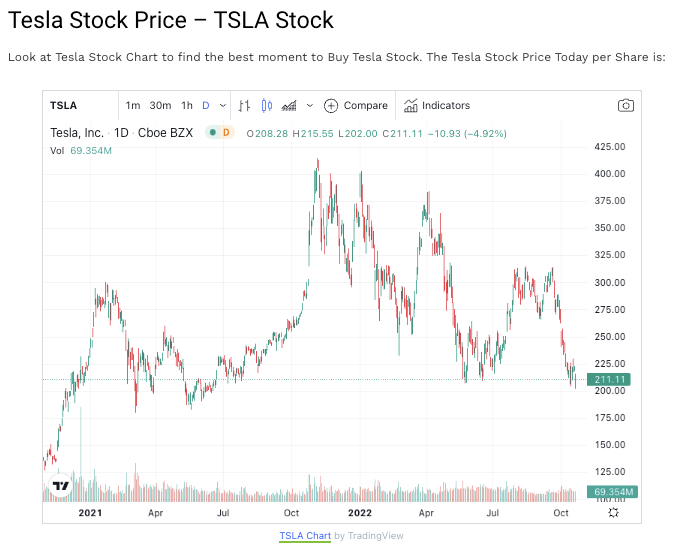 DOW 30 (DJI) Top Gainers
Today on the Dow Jones Industrial Average, several stocks were driving positive results. Leading the charge was IBM, which was up by over 4.3% as investors continued to show enthusiasm for the company's latest innovations in data analytics and cloud computing. Additionally, CRM experienced strong gains of nearly 3.64%, reflecting increasing confidence in the company's ability to compete in a rapidly changing business climate.
Meanwhile, DOW saw significant gains of over 2.81%, thanks largely to new investments by major shareholders and positive market sentiment overall. And finally, Boeing also experienced strong upside, with a gain of over 1.62% driven by rising demand for its aerospace products and services.
Overall, these stocks are responsible of a market that is gaining momentum and created renewed resilience in the face of turbulent conditions.
| Ticker | Pre Market Price | Chg.% | Price | Chg.% | 52W Range | 1 M % |
| --- | --- | --- | --- | --- | --- | --- |
| IBM | 126.02 | 2.87 | 127.78 | 4.30 | 114.6144.7 | -3.00 |
| CRM | 153.26 | -0.27 | 158.98 | 3.46 | 137.6311.8 | 2.58 |
| DOW | 45.23 | 0.22 | 46.42 | 2.86 | 42.971.9 | -2.08 |
| BA | 138.87 | 0.35 | 140.63 | 1.62 | 113.0233.9 | -5.17 |
| V | 185.25 | -0.62 | 189.12 | 1.45 | 174.6237.0 | -2.95 |
| VZ | 36.86 | 0.79 | 37.07 | 1.35 | 35.055.5 | -9.90 |
| INTC | 26.17 | 0.65 | 26.34 | 1.31 | 24.656.3 | -10.22 |
| UNH | 523.54 | 0.62 | 525.86 | 1.06 | 423.4553.3 | -0.47 |
| WBA | 33.24 | -0.45 | 33.68 | 0.85 | 30.455.0 | -1.77 |
| MSFT | 235.50 | -0.41 | 238.40 | 0.81 | 219.1349.7 | -2.46 |
| CSCO | 41.65 | -0.55 | 42.18 | 0.72 | 38.664.3 | -1.64 |
| AAPL | 142.88 | -0.68 | 144.85 | 0.69 | 129.0182.9 | -8.31 |
| WMT | 133.97 | 0.16 | 134.58 | 0.61 | 117.3160.8 | 0.16 |
| AXP | 144.01 | 0.03 | 144.73 | 0.53 | 130.7199.6 | -6.20 |
| DIS | 98.99 | -0.00 | 99.37 | 0.38 | 90.2179.3 | -7.98 |
| CVX | 168.90 | 0.54 | 168.44 | 0.26 | 109.8182.4 | 7.50 |
| JPM | 116.86 | 0.30 | 116.69 | 0.15 | 101.3173.0 | 0.59 |
| JNJ | 165.24 | 0.33 | 164.70 | 0.01 | 155.7186.7 | -0.17 |
DOW 30 (DJI) Top Gainers (right click to save the data)