FTSE 100 opens in the green but trading may be muted ahead of interest rate decisions
Wall Street stocks end the session higher after choppy trading as traders mull over next move of the Fed
Liz Truss rules out a fast free trade deal with the US raising concerns about trade prospects
Oil steadies as China lifts lockdowns and US sells more crude from its strategic reserve
''Business as usual has quietly resumed on the London Stock Exchange after the sombre, historic scenes in Westminster, and trading is expected to be pretty muted. The FTSE 100 has opened higher, taking a lead from the close on Wall Street, and cheered by the lifting of a chunk of Covid restrictions in China. But investors are largely expected to be biding their time, waiting for a flurry of central bank activity later in the week, with large rate hikes expected on both sides of the Atlantic.
On Wall Street stocks fluctuated in value, drifting higher at the close, amid an absence of a new raft of data to grab onto. But expectations are firming up, that given strong jobs reading and stubborn inflation, another 0.75% rate rise will wash up on shore on Wednesday, the third such hike in a row.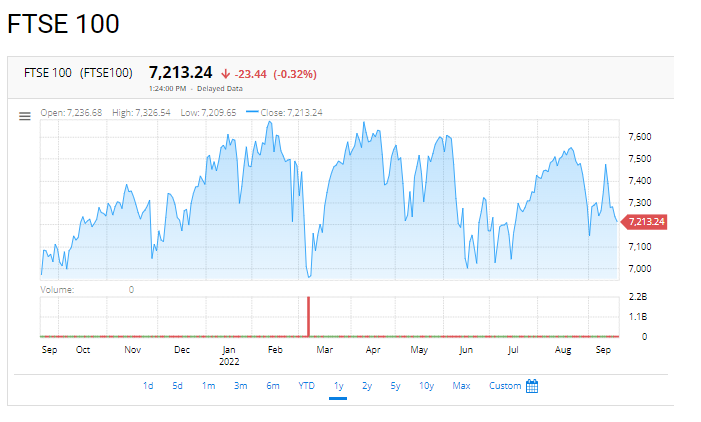 In the UK, the focus will switch back to speculation over whether the new Truss government is heading for a collision course with the Bank of England with a slash and spend approach to buoy up the economy, at a time when central bank policymakers are trying to suppress demand to try and sink inflation. The Bank of England is expected to decide on another 0.5% rate hike when policymakers meet later this week, but speculation is growing that they could plump for a 0.75% hike given inflation looks set to head back up to double digits. Friday's retail sales snapshot showed that consumers were spending less, so in terms of reining in the price spiral, it was a step in the right direction. But it's not the path Liz Truss wants the economy to take right now, given she is seemingly intent on stimulating growth even if it means high inflation may hang around for much longer.
An aura of pessimism over Britain's prospects is set to continue given that no quick fix is on the cards to boosting trade with overseas partners. There will be particular disappointment among Brexiteers with Liz Truss' admission en route to talks at the UN in New York, that a free trade agreement with the US, is unlikely in the short to medium term. This acknowledgement comes after Joe Biden's administration warned the UK government not to rip up the Northern Ireland protocol governing trade arrangements, which was an essential part of the Brexit trade deal with the EU. There are no fresh talks yet scheduled with European counterparts to move this protracted dispute forward with the government's in tray overflowing with difficult issues to resolve, not least the cost-of-living crisis and energy security headaches.
Oil prices have steadied with Brent crude hovering around the $92 a barrel mark, as traders assess the darkening global outlook with interest rates set to march up again this week, which is expected to limit overall demand. Prices are being supported though to some extent by the easing of Covid restrictions in China, with the huge city of Chengdu leaving lockdown and 21 million people allowed to resume their lives once more. Supply nerves have also been eased after the US said it would sell an extra 10 million barrels into the market from its strategic reserves for delivery in November, ahead of the EU ban on Russian oil which is looming in December.''