---
⦁ FTSE100 plunges 2% amid commodities and banking sector.
⦁ China's lockdown puts global economic growth at risk.
⦁ Technically, the 200-SMA continues to cap the gains.
---

As investors braced themselves for a week of corporate reports, commodities and banking stocks sent the FTSE 100 down almost 2% today amid fears of a global economic slowdown. After falling 2.4%, the blue-chip index gained 1.9% to close at 7380, its lowest level in five weeks.
FTSE Stock Market Analysis

Global markets have been rattled by a fresh outbreak of Covid in Beijing, which has sparked fears of a new lockdown. As a result, around £40 billion was lost by London's largest companies when the FTSE 100 fell just under 2%.

As a result of fears that prolonged Chinese lockdowns will hinder demand for metals and crude, oil majors BP and Shell were among the biggest losers. As Covid lockdowns hit China's economy and throw global supply chains into chaos, British consumers are facing a summer of shortages.

Western economies face grave consequences as the world's second-largest economy shrinks and may already be in recession. According to Craig Botham at Pantheon Macroeconomics, China's GDP contracted 0.5% in the first quarter of the year and will contract another 0.6% this quarter. He said a blow from China would result in inflation when a deficit kicks in.

Despite companies striving to improve their environmental and sustainability credentials, most UK retail investors don't care whether their money is being invested ethically. According to a study conducted by brokerage firm Charles Schwab, 66% of UK retail investors don't care whether their investments are sustainable.
The proportion of existing investors who consider environmental, sustainability, and governance (ESG) considerations has declined to 28% from 44%.

FTSE100 technical analysis: 200-SMA to cap gains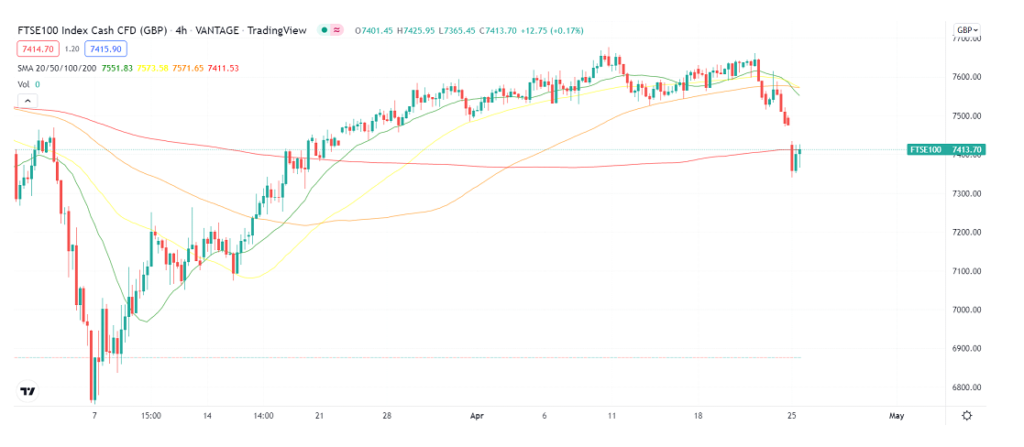 The 4-hour chart of FTSE100 shows that the price is wobbling around the 200-period SMA. The SMA holds back the buyers. Any subsequent selling may break the 7400 mark and aim for further lows around 7350.